After a sixteen-year absence, Senegal's football team returned to the World Cup, but their sporting success belies the risks and uncertainties of an unequal global sports industry.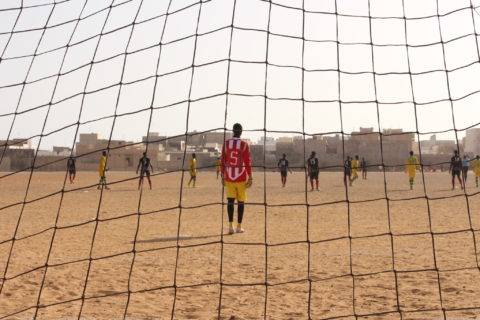 On May 31, 2002, Senegal stunned the football world with a 1-0 victory over the title holders France, a hugely symbolic victory over their former colonizers on the opening day of the 2002 World Cup in Japan and South Korea. A week later, the Lions de la Téranga (the lions of hospitality, the national team's nickname) faced Denmark. Trailing by one goal at half time, the Senegalese substitute Henri Camara won the ball with a sliding tackle just outside his own penalty area. His pass forward was cleverly flicked on by El Hadji Diouf into the path of Salif Diao, who—without breaking stride—played the ball to Khalilou Fadiga on the left wing. Diao continued his run across almost the entire length of the pitch before collecting the return pass, and finishing with the outside of his boot (cleats) past the helpless Danish goalkeeper.
This was a watershed moment for Senegal. By any standards, the goal was remarkable—an example of outstanding teamwork and counterattacking finesse destined to be forever replayed in nostalgic highlight reels of the World Cup's greatest moments. Senegal's presence in the World Cup was no fluke—Diao's memorable goal proved that the team could compete at the highest level. Senegal subsequently progressed to the quarter finals where they lost to Turkey, the best ever performance by an African team at the competition, and wrote themselves into history in the process.
Thousands of young men dedicate their entire lives and train to the point of exhaustion in the pursuit of an almost impossible dream.
The success of what came to be known as Senegal's génération 2002 put the country on the football map, and placed Senegalese players firmly on the radar of European clubs and scouts. Since 2002, Senegalese players have increasingly been recruited by European clubs, and the export of talented footballers to Europe and elsewhere has emerged as a lucrative business. In 2015, Senegal was the leading exporter of football players from Africa, and tenth worldwide (Poli, Ravenel, Besson 2015). Many football schools and academies have been set up with the aim of servicing this pipeline of players, ranging from highly professionalized clubs such as Diambars and Génération Foot to smaller, opportunistic institutions hoping to capitalize on the football boom. Consequently, increasing numbers of young men set about pursuing the dream of an international career, even though the chances of actually making it remained remote.
While conducting fieldwork on the trajectories of aspiring athletes in Dakar between 2014 and 2016, I regularly visited the football school set up by Salif Diao, scorer of that famous goal against Denmark. Here, young players trained in the hope of following in their idols' footsteps. Playing trial matches in front of European scouts and agents, the players dreamed of earning contracts with French, English, or Spanish teams and becoming wealthy, successful professional footballers. Diao himself was one of the first players in recent times to transfer from Senegal to a European team, earning a contract at AS Monaco (which established an academy in Dakar in the 1990s) before going on to play in England for Liverpool FC and Stoke City. However, Diao's primary goal for his football school was not to produce elite international footballers: he hoped to use football as a motivational "carrot" to encourage young players to focus on education. Players could only participate in training if they demonstrated regular school attendance, and some players did receive prestigious athletic scholarships to universities in the United States.
The relationship between sport and education in Senegal is marked by ambivalence and tension. On the one hand, some football schools and academies seek to combine sports and studies, ensuring that those players who do not succeed as professional footballers can pursue higher education or vocational training. On the other hand, the dream of a football career can be a powerful distraction both for young players and their families. Many players told me some variation of a common story in which their parents forbade them from playing football, but they sneaked off and did so anyway, neglecting their homework and risking punishment both at home and in school. Conversely, in some families, football was seen as a livelihood strategy.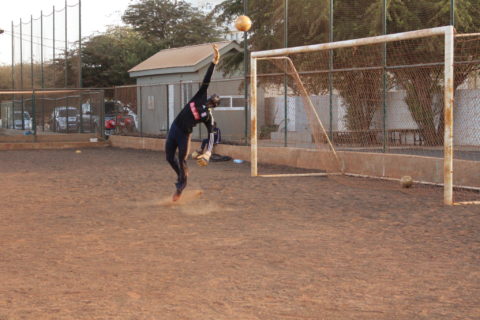 During my fieldwork, I met Moussa, a technically gifted nineteen-year-old midfielder and the star of his local navétanes (interdistrict) team. His father Ababacar identified Moussa's footballing talent as an investment for the whole family, showering his youngest son with gifts and privileges such as his own room (while his siblings shared), new football boots, and a laptop. However, this placed a heavy burden on Moussa's shoulders: he was expected to eventually succeed in gaining a contract abroad, and financially support the entire family.
Another young player, Lamine, was frustrated in his ambitions to play abroad. He regularly played in trial matches in front of scouts but without success. Determined to take matters into his own hands, he came into contact with a French agent on Facebook. Lamine was told that he would have to raise half of the money to cover the costs of flights and accommodation for a trial at a French lower division club—a huge sum for a young man who had practically no income at the time. After managing to raise the funds by asking relatives living abroad for support, Lamine ran into a series of administrative difficulties in obtaining a visa—problems that his online interlocutor insisted could be solved by sending more money. Lamine abandoned the plan before losing too much to the scam, but others were not so lucky: cautionary tales of players and their families being tricked out of their life savings by unscrupulous conmen claiming to be agents are rife. And even though these stories are widely circulated among players and within clubs, the powerful dream of making it in football leaves young players vulnerable to exploitation (Esson 2015).
Lamine ended up staying in Dakar, abandoning his dreams of becoming a professional footballer and settling down to start a family. He managed to find regular (if low-paid and insecure) employment in hotel kitchens, but the years—almost a decade—that he had spent pursuing the elusive football contract now counted against him. His commitment to football prevented him from building a more stable working life through school, apprenticeships, or vocational training, incurring both a loss of earnings and delaying his working life in the process. Although he did manage to get married, he could not yet afford a house or even a room of his own, so both he and his wife still lived with their respective families. The social repercussions of an unfulfilled football career can therefore be experienced as a delay of adulthood—or in other cases I encountered, long-term unemployment or substance abuse.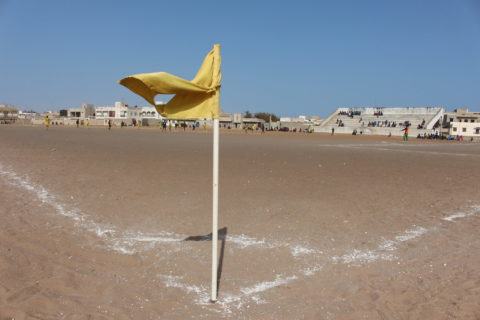 The hope of participating in the global football industry attracts thousands of young boys and men, who undertake considerable risk in doing so. While certain high-profile cases of trafficking through football and exploitation have attracted media attention, these are only the most spectacular ways in which the football industry impacts its margins. The more mundane reality is that thousands of young men dedicate their entire lives and train to the point of exhaustion in the pursuit of an almost impossible dream. Football can bring huge rewards to the lucky and talented few who make it, but the success of these elite few depends on the fruitless toil of countless teammates who fall by the wayside.
For the first time since the success of the génération 2002, Senegal found themselves back at the World Cup this summer. Despite winning their opening match and impressing spectators with tactically astute performances, they were knocked out of the competition in the first round via the fair play ruling, having accrued more yellow cards than their rival Japan. All but one of Senegal's 23-player squad play in a major European league, with nearly half of the players having graduated from academies in Senegal before acquiring contracts abroad. The other half are members of the Senegalese diaspora, born and trained mostly in France. Some diasporic players are viewed with suspicion and scrutiny by fans in Senegal. Mbaye Niang, the French-born striker currently playing in Italy for Torino, initially rejected the chance to play for Senegal to join the French national team. But when it became apparent that he would not be picked for France, he reversed his decision and declared his allegiance to Senegal—a decision met by outrage and criticism by Senegal fans who accused him of a lack of patriotism. His redemption arrived during the first match of the World Cup, when his goal and man-of-the-match performance contributed significantly to Senegal's victory over Poland.
Despite the unfortunate circumstances of their exit, Senegal can take pride in being the best African team at the 2018 World Cup—the performances of Mbaye Niang, Sadio Mané, and their teammates gave hope to a nation that in recent years has turned increasingly to the immensely popular sport of wrestling for stories of sporting success. But as Senegalese football returns to global prominence, it is worth considering the hidden social cost behind the success. Senegal remains at the margins of a global football industry marked by stark inequalities, and most aspiring players will not realize their dream of a professional career. This leaves them in a precarious position—a position that Diao and a handful of other football schools seek to change by combining sport with educational goals to ensure that "failed" footballers have something to fall back on. As the current team's success will no doubt inspire a new generation of young men to pursue a career in football, tackling this problem is more important than ever.
Mark Hann is a doctoral candidate in Anthropology at the University of Amsterdam. A member of the ERC funded project GLOBALSPORT, his research focuses on the precarious trajectories of young wrestlers and football players in Senegal as they seek to translate their body capital into wealth, fame and success.
This article is based on research conducted as part of the GLOBALSPORT project based at the University of Amsterdam and funded by the European Research Council.
Hann, Mark. 2018. "Senegalese Football's Impossible Dream." Anthropology News website, July 10, 2018. DOI: 10.1111/AN.900