Why archaeology is really not about the past.
There are numerous examples of archaeologists moving beyond an expert-driven approach and embracing a collaborative approach to archaeology that acknowledges diverse heritage values (e.g., Indigenous archaeology, postcolonial archaeology). These approaches underscore that what is most needed is not better archaeology but better anthropology.
Most people associate archaeology with the past: learning about what happened in the past, preserving remains of the past, and keeping both the knowledge and artifacts safe for future generations. Within American anthropology, archaeologists have largely focused on the tangible remains of the past—buildings, sites, and artifacts. "Saving the Past for the Future" was the title of two conferences sponsored by the Society for American Archaeology in the 1990s, a tagline that is an example of what
Spenneman (2011)
calls a "battle cry" for American archaeologists. But the battle cry has only rarely addressed questions such as:
In what ways is archaeology useful and in what ways or contexts it is destructive or harmful?
Which things from the past should we save?
Which memories should be erased or forgotten?
Which future and who in the future are we saving the past for?
Why do we think that archaeology will be useful in a future that differs from the present?
Who gets to decide the answers to all of these questions?
Archaeologists often argue that their work provides cautionary tales so as not to repeat the mistakes of the past (e.g., the collapse of ancient civilizations). However, most archaeologists have not articulated the precise relevance of our work to the future. By and large our work tends to focus on studying and curating objects and spreading knowledge about the past, with a strong, underlying preservation paradigm (Holtorf 2014; Högberg et al. 2017). This has changed to some degree in the twenty-first century with the influence of postmodernism and the postprocessual critique, and the rise of critical heritage studies—an area of enquiry that focuses on the role of the past in the present and that focuses on heritage as a process embedded in contemporary social and political relationships. For example, the 2012 Manifesto of the Association of Critical Heritage Studies emphasized the importance of highlighting marginalized and excluded histories from the "Authorized Heritage Discourse," and a movement away from a focus on tangible artifacts that sustain Western narratives of cultural dominance.
There are numerous examples of archaeologists moving beyond an expert-driven approach and embracing a collaborative approach to archaeology that acknowledges diverse heritage values (e.g., Indigenous archaeology, postcolonial archaeology). These approaches underscore that what is most needed is not better archaeology but better anthropology. Archaeology is but one methodological and epistemological approach to a study of the human condition. Sometimes what is needed to best understand either what happened in the past or its implications for the present and future goes beyond what is traditionally done by archaeologists. In fact, letting go of archaeological sites (whether through erosion or development), while not what archaeologists are trained to do, can sometimes be in the best interest of descendent or local communities. In my own collaborative work with tribal members in New England, I found that sometimes facilitating the safe and respectful erosion of an archaeological site is the best course of action (Chilton 2012). In that particular setting, I had to call on my broader anthropological training to understand the complex relationships among multiple stakeholders and to be sensitive to power relationships embedded in the historic preservation laws and practices. This is not to deny the value of archaeology; an archaeological perspective that foregrounds material culture as products and precedents of human behavior (Wobst 1978, 307) is critical to understanding the knowledge and values that are inherited from past generations—and the heritage we are creating for the future.
Archaeology is heritage
Heritage, as I define it here, consists of "traditions, monuments, objects, and living environments, and, most importantly, the range of contemporary activities, meanings, and behaviors that are drawn from them" (Chilton and Mason 2010). Therefore, heritage values and priorities are ever-changing. The sites that we choose to excavate, preserve, or let go of reflect cultural values and norms of those who are in positions to make such decisions. These decisions are based on factors such as nationalism, economics (tourism or otherwise), ethnic identities, and political power in the present. We know that we can't save every archaeological site, building, and monument in perpetuity. Thus, decisions about what we save for the future constitutes a heritage activity. There is an urgent need for an anthropological approach to—and guiding principles for—how our decisions and actions in the present impact the future.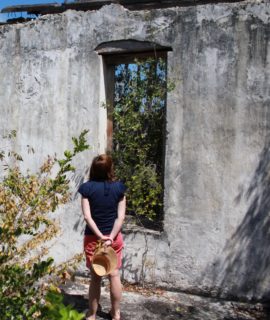 The AAA Executive Board's Cultural Heritage Guiding Principles and Values provide one such set of recommendations. The guiding principles stress that in the present context of significant global challenges (climate change, displacement, warfare, and large-scale development), all subfields of anthropology have a great deal to contribute to an understanding of the significance of the past for the present and future. Heritage work in collaboration with diverse stakeholders and memory communities is a key component of such efforts.
Archaeological and heritage futures
In "No Future in Archaeological Heritage Management?" Högberg et al. (2017, 640) note that there has been little engagement with future issues within archaeology and heritage management, or in national and international policies. Of course, the future is difficult to predict, but as archaeologists we are more familiar with identifying long-term trends than most! They note the importance of a future consciousness for archaeologists and heritage professionals and scholars and call for a broad examination of "how specific perceptions of the future inform heritage practices." Most importantly, they argue that rather than viewing the future as a far off, detached entity that we acknowledge our role in creating the future and call for heritage professionals to work towards desirable transformations and outcomes.
Clearly, much more scholarly attention is needed in this area, and the newly created UNESCO Chair on Heritage Futures investigates what this means in the inherent uncertainty of the future. While climate change, violent conflict, and large-scale displacement and migration are not things that archaeologists or anthropologists can affect in any direct or immediate way, the work that we do has important implications for all of these issues on a global and local level. Our work will certainly impact the future—for better or worse. What is more, our success in addressing the challenges of the present will also affect the future significance of archaeology and the cultural heritage sector.
Elizabeth S. Chilton is a professor of anthropology and dean of Harpur College of Arts and Sciences at Binghamton University and is the president-elect of the Archaeology Division of the AAA.
Cite as: Chilton, Elisabeth S. 2018. "Back to the Future." Anthropology News website, July 11, 2018. DOI: 10.1111/AN.902