The future of ethical research with American Indian and Alaska Native communities lies in recognizing tribal authority over cultural data.
Many researchers are aware of ethical dilemmas that have transpired over the years in human subjects research with AI/AN communities.
Anthropology has endured a variety of self-implosions relating to past research in American Indian and Alaska Native (AI/AN) communities. Moving forward out of the shadows cast by salvage anthropology and identity politics and towards rigorous, principled investigations with AI/AN communities entails recognizing tribal sovereignty and adapting to tribal authority in the governance of data.
Historical backdrop
Prior to World War II and the development of the Nuremburg Code, anthropological research in Indian Country relied heavily on a researcher's individual conscience to extract data in an ethical manner and to use it in a non-exploitive fashion. Before principled ethics of research were established, numerous researchers flirted with social Darwinism and contributed their voices to the eugenics movement by equating AI/AN people as objects not yet capable of being a subject and therefore in need of social regulation (for one salient example, see Lawrence 2000.) This trend continued well into the later twentieth century.
Things have changed since those troubling times, and many researchers are aware of ethical dilemmas that have transpired over the years in human subjects research with AI/AN communities. Research ethics pertaining to the protection of AI/AN communities have developed from these previous discussions of anthropological practices (e.g., Deloria 1988). This is not a new topic, but one that continues to change and remain relevant for each new generation of anthropologists.
As Institutional Review Boards (IRBs) grapple with the task of protecting AI/AN populations participating in research, tribal sovereignty has given AI/AN communities greater autonomy to protect their community members as a collective when participating in research.
Tribal IRBs
They are out there. You just might not be aware of it when submitting a research proposal, and nor might the IRB at your institute of higher education. Tribal IRBs provide tribal nations with a mechanism for regulating the implications of research on their community often overlooked by conventional mainstream institutions' IRBs. Numerous researchers have found themselves discouraged to find that federally recognized tribes require distinctly different approval than that covered by IRBs at mainstream public or private colleges and universities. Research plans and timelines can be terribly disrupted if one does not factor in tribal sovereignty and the distinct politics that undergird research with AI/AN communities.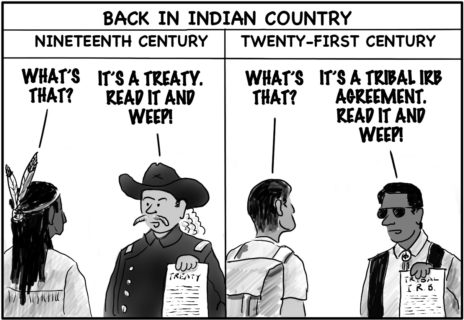 With the passing of The Indian Self-Determination and Education Assistance Act of 1975 (Public Law 93–638), tribal nations have begun to develop protective measures to address risks associated with research conducted in their communities. As a result of the US Department of Health and Human Services (HSS) codified human research regulations known as 45 Code of Federal Regulations (CFR) part 46, tribal nations created IRBs and research codes to protect their communities and culture. This reflects a trend among AI/AN communities to protect cultural data as intellectual property rights of the tribe and to make the regulation of research a direct function of tribal sovereignty.
Research "with" versus "on" tribal people has evolved since the days of forced sterilization. Concepts and terminology have shifted to realize tribal sovereignty as a legitimate issue and not simply rhetoric. Indigenous data sovereignty is a concept concerning data governance that facilitates self-determination. This concept stresses that data governance is an inherent right of each indigenous nation when it comes to the collection, possession, and use of their communities' cultural information.
According to the Indian Health Service (IHS), two types of IRBs are currently serving AI/AN communities: Indian Health Service IRBs and Independent Tribal IRBs. Navajo Nation's Human Research Review Board serves in a dual role as both an IHS area IRB and as a tribal IRB. There are currently 11 IHS area IRBs and 15 independent tribal IRBs. Some communities require a meeting with a Tribal Research Review Committee or Tribal Council to attain a Tribal Council Resolution or formal agreement of support for a research project (though such stipulations do not fall under formal requirements of HHS's 45 CFR 46).
Tribal IRBs are located within Indian Health Boards and Indian Health Service centers, tribal governments, tribal research departments and research groups, tribally related epidemiology centers, and tribal colleges and universities (TCUs). Tribal IRBs can be intertribal and serve a consortium of tribal nations and AI/AN groups. Richard Meyers currently sits on his tribal college IRB and is intimately involved in research topics that confront his reservation in South Dakota (The "Research in Indian Country Roundtable Discussion" on KOLC-TV provides a good example of the salient issues).
What exactly does this all mean for the future of anthropological research in Indian Country? Respecting tribal IRBs is an integral component of any strategic plan for research collaborations with AI/AN communities. To conduct a research project in Indian Country without them is virtually impossible unless a researcher seeks to do so incognito. Although awareness has grown, there are still many researchers unaware of tribal IRBs and the processes of establishing meaningful research relationships with AI/AN communities. Tribal IRBs exist to protect cultural communities that have often been victims of unethical research projects. Tribal IRBs help to formally increase participatory research with AI/AN communities so that the terminology of "collaboration" holds meaning to the Native people involved, instead of being empty verbiage spouted by researchers. This does not mean that tribal IRBs are without their flaws. Community consent comes with a litany of issues and limitations. The possibility that community consent is not communally informed is a real problem for AI/AN communities. Nonetheless, tribal IRBs are a step forwards towards more ethical forms research with AI/AN communities. The future of anthropological research in AI/AN communities is inextricably intertwined with the recognition of and respect shown to tribal IRBs.
Scott Ketchum (Choctaw) is an anthropologist and postdoctoral research scientist. His work explores the use of participatory research and community engagement methods with AI/AN communities in health and genetic research. His research interests include tribal cultural preservation; tribal sovereignty; and the ethical, legal, and social implications of genomic research with AI/AN communities.
Richard Meyers holds a PhD in anthropology from Arizona State University and an MA in English from the Breadloaf School of English at Middlebury College.  He serves as faculty in the Humanities and Social Sciences Department at Oglala Lakota College, South Dakota on the Pine Ridge Reservation.  Meyers is president of the Association of Indigenous Anthropologists.
Cite as: Ketchum, Scott, and Richard Meyers. 2018. "Recognizing and Respecting Tribal IRBs." Anthropology News website, July 11, 2018. DOI: 10.1111/AN.908