Mainstream popular culture resonates with the past, present, and future of Africanist Anthropology.
Afrofuturism encompasses aesthetics, politics, and philosophy to imagine technological sci-fi futures through a Black cultural lens.
Black Panther
(2018) is one of the highest grossing films in history. That a high-budget, sci-fi, action-hero movie is popular around the world is not a surprise. Yet, a global cinematic hit made by a mostly Black cast and production team, and set in East Africa, is unprecedented.
Black Panther
and its commercial success
are products of and contributors to a growing popularization and even valorization of forms, metaphysics, symbols, and other cultural elements recognizable as "African." Through its representations of "Africa,"
Black Panther
introduces to mainstream movie audiences an alternative way of envisioning Africa and Black futures:
Afrofuturism.
Afrofuturism encompasses aesthetics, politics, and philosophy to imagine technological sci-fi futures through a Black cultural lens. Mark Dery coined the term and defined Afrofuturism as "African-American signification that appropriates images of technology and a prosthetically enhanced future" (1994, 180). The influence of this "signification," especially in literature and music, predates its appellation by decades in Africa and the vast "African Diaspora." Building on techno-spiritual mash-ups, cyborg identities, and new class politics based on Black integrity, Afrofuturism moves beyond colonial histories and racialized processes of underdevelopment. It frequently and unapologetically deploys traditions, symbols, and other cultural markers that are decidedly "African" as it celebrates Black identity and sovereignty. Together with related movements such as Afropunk, Afrofuturism makes its presence known in contemporary fashion, art, literature, film, academics, music, and politics in Africa, the Caribbean, and the North Atlantic.
As a fictional place that was never colonized and never experienced the direct terrors of white supremacy, the movie's Wakandan society retains its "African" traditions while having developed some of the most advanced technologies on the planet. With typical Hollywood dazzle, the movie shows audiences a vision of Africa that contrasts sharply with the more dismissive summaries we have heard of late from some in the current US administration. The nation of Wakanda models high technology, clean energy, and sleek infrastructure while proudly featuring recognizable African symbols. Such symbolism also permeates clothing, art, wares, and more. The film demonstrates veneration of the ancestors while tangling with the problems of dynasty and male leadership, as the character T'Challa inherits the throne. It hints at women becoming significant leaders beyond the military, as embodied in the ethical character Nakia and the tech genius Shuri. And, when cooperation falls apart after a slight puncture to the Wakandan vibranium-enhanced bubble, the conflict is relatively short-lived—another utopic element that highlights the promise of collaboration and better tomorrows.
A common theme in Afrofuturism is mastery over technology. Anthropologists are increasingly documenting the rise and importance of telecommunications and other technologies in Africa. Heralded by the economic prognosticators' phrase "Africa rising," the last two decades witnessed substantial economic growth in numerous states on the African continent, while many democracies stabilized and middle classes grew in size and political influence. These developments built on technologies and infrastructure that connect people across regions and the continent; hundreds of innovation hubs have sprung up in the past few years and from them, hundreds more businesses have emerged. Cellular technology rapidly diffused throughout Africa and opened up new opportunities, applications, and livelihoods. Today, most African countries have more mobile phones than adults. For example, Kenya is home to M-Pesa, which launched a mobile money transfer phenomenon in 2007, and the emerging Konza City, dubbed the "Silicon Savannah." Of course, these digital and information-based industries rely on raw material inputs, and those typically come from sacrifice zones—areas that become environmentally degraded and marginalize local communities and low-skilled workers. Columbite-tantalite (coltan) is a key ingredient in the global digital revolution, and the vast majority of it is mined in central Africa, most notably the Democratic Republic of Congo. Black Panther shows us how rare and powerful resources, represented by the fictional metal vibranium, can be recast so that our past tales of Afropessimism could become positive, collaborative acts of Afrofuturism.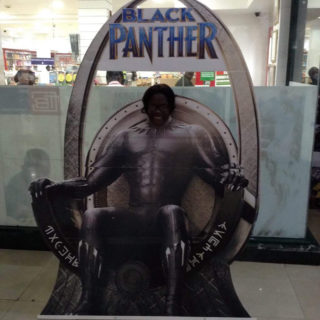 A second theme in Afrofuturism is the use of forms of mythology from different African cultures in living, modern ways, rather than traditional and folkloric. Anthropologists in West Africa produce scholarship analyzing "indigenous religious systems" as expanding, modern—even postmodern—ways of seeing and being (e.g., Montgomery and Vannier 2017). Scholars turn their attention to the growing number of citizens of Europe and North America making their ways to indigenous shrines throughout the region. Many come in search of healing for physical ailments that have been unsuccessfully treated by orthodox biomedicine. Others come to heal psychological stresses such as anxiety, depression, addiction, and malaise. Some individuals come in search of the sacred feminine, turning away from patriarchal and paternalistic religious systems they already know, and others come because their own religious systems no longer answer the questions they are asking. Some of these pilgrims take these knowledge systems and service to the spirits back with them, so that West African Vodún is now studied in Atlanta and Toronto in addition to Cotonou and Lomé. Black Panther showcases the allure of Wakanda to European characters such as Klaue, evil and interested in exploiting its wealth and technology, and Americans such as Ross, a seemingly well-intentioned CIA agent saved by Wakandan technology and who then adopts other forms of it to fight against—and win back—former allies. With great power comes great responsibility, as the saying goes, and the Wakandan state's readjustment to others symbolizes the challenges and potential of African futures.
The study of spirit service on different continents leads to our final example. Afrofuturism is not produced solely in Africa or Afro-America but is a burgeoning aesthetic drawing influence from numerous experiences of Black culture from Africa and Europe to the Caribbean and North America. The newest generation of Africanist scholars builds on the foundation of venerable ancestors, such as Melville Herskovits, Zora Neale Hurston, and Katherine Dunham by conducting multi-sited ethnographic fieldwork in Africa and the African Diaspora. The collective result of these scholarly endeavors is the expansion in scope of what it means to be an Africanist anthropologist and demonstrates the evolution of our subdiscipline and the worlds in which we conduct our research. The expansion in scope also includes the growing number of universities within Africa and the number of student enrollments in undergraduate and graduate programs in anthropology. With these developments come opportunities for collaboration and intellectual growth on both sides of the Atlantic.
The trends outlined here are only a few examples of challenges and opportunities for Africanist anthropologists in the twenty-first century. This year, AfAA's 25th anniversary, we are intensifying our engagement with other theoretical and subdisciplinary orientations as we focus on contemporary issues facing "Africa" as both a geographical and conceptual space. As we look towards these African futures, we should not forget our histories. Black Panther seems to uphold a maxim popularized by James Baldwin: "Know from whence you came. If you know whence you came, there are absolutely no limitations to where you can go." As Africanist anthropology and anthropology in general have demonstrated, the details of knowing and making sense of aspects of our pasts can change over time, and may affect where and how we go in the present. Baldwin also stated, "…if you alter, even by a millimeter, the way people look at reality, then you can change it." That, in nutshell, is the promise of Afrofuturism.
By movie's end, Wakanda is presented as a near-utopian society that uses technology for the betterment of its inhabitants, invests in poorer communities, and uplifts citizens through particular forms of education. All of these actions tie back to worldview ideals that address the practicalities of daily living in a less-than-equitable world. Even though the challenges to T'Challa's position as Wakandan leader do not end with the movie, Afrofuturism and the popularization and valorization of "Africa" more generally promote a reimagining, a reengaging, and a desire to fight the good fight.
Jennifer Coffman is professor of integrated science and technology and the associate executive director for the Center for Global Engagement at James Madison University.
Christian Vannier holds a joint lecturer position in the Departments of Africana Studies and Sociology, Anthropology, and Criminal Justice at the University of Michigan, Flint.
Cite as: Coffman, Jennifer,  and Christian Vannier. "African Futures and Afrofuturism." Anthropology News website, July 12, 2018. DOI: 10.1111/AN.903