How my research on DNA ancestry tests became fake news.
When I was sent a link to a Snopes article  asking, "Did DNA Testing Companies Admit to Altering Tests to 'Screw with Racists'?" (2017), I knew that my research had become "fake news." Even though I spent years at UCLA's Institute for Society and Genetics with professors Aaron Panofsky and Christopher Kelty researching the use of DNA ancestry tests by white supremacists, I was not immune from becoming a vector for online propaganda and conspiracy theories.
People increasingly use DNA ancestry tests to explain not just heredity, but their biological identity as well.
As social scientists, we wanted to know more about how white people, particularly white nationalists, interpret DNA ancestry tests to justify racial purity. It was an important question for us because we were also witnessing the early growth of a white nationalist movement, rebranded as "the Alt-Right" in 2015. Fast forward to December 2017 and the satirical website Cracked.com reported that an anonymous employee from a DNA ancestry company said that they were purposefully messing with some customers' data in order to anger racists. How and why does a conspiracy theory like this emerge and spread?
Our research on DNA ancestry tests became national news around the same time as white supremacists rallied in Charlottesville in August 2017. We work in a small subfield of sociology assessing the impact of genetics on society. People increasingly use DNA ancestry tests to explain not just heredity, but their biological identity as well. We focused on understanding how DNA ancestry tests are used to negotiate contemporary white identity. To do this, we looked at instances in which white nationalists posted their DNA test results on Stormfront, a message board founded in 1995 by former KKK grand wizard Don Black. We analyzed over 3,000 discussion posts about DNA ancestry testing and highlighted 153 cases in which users posted their ancestry test results between 2004 and 2017.
During our study, white supremacists often wrestled with results that challenged beliefs in their own racial purity. Because DNA ancestry tests often focus on genetic markers associated with specific regions across the globe, results can show a panoply of origins for each customer. These results can be confusing and sometimes contradict family histories. Alondra Nelson, a sociologist of science and technology, refers to this confusion as "genealogical disorientation" (2008). In our study, we found no instance in which a white supremacist left the movement if they found out they had African or Jewish ancestry. Instead, to reckon with their genealogical disorientation, they turned to conspiracy theories. Often, Stormfront posters complained that the science was fallible and results should be ignored in favor of "looking in the mirror."
Throughout the fall of 2017, our study became a point of contention among Alt-Right podcasters who did not refute our research, but rather pushed conspiracy theories further. They were convinced that DNA companies are part of a vast Jewish conspiracy to deracinate white Americans.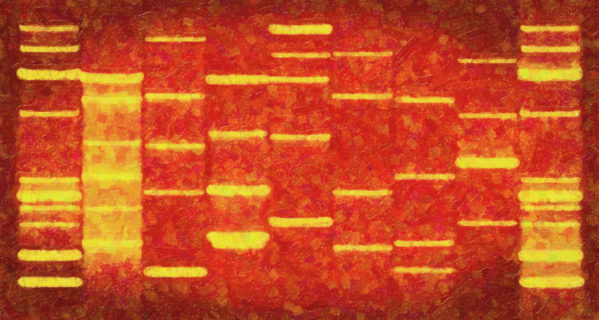 Because of my awareness of conspiracy thinking on Stormfront and hearing the Alt-Right's response, I was not surprised to see our research twisted by fake news and satire websites. Conspiracy theories are meant to be just as entertaining as they are convincing. They also provide a way out of confronting reality and reckoning with facts that don't confirm preexisting worldviews. For white nationalists and racists, if test results showed traces of African American or Jewish ancestry, either the tests did not work, or the results were planted by some ideologically motivated scientists, or the tests were part of a global war against whites. With conspiracy theories, debunking is rarely useful because the individual is often searching for an interpretation that confirms their prior beliefs.
As such, DNA conspiracy theories allow white supremacists to plan new escape routes for the traps they laid for themselves long ago. With DNA testing, the one-drop rule—a belief made law in the 1900s that one drop of African blood makes one Black—becomes transmuted genealogically into the one-percent rule, according to which to remain racially white, an individual's results must show no sign of African or Jewish origin. Through the genealogical lens, American white nationalists consider "one hundred percent European" as good results, which in turn substantiates their "birth right" to the United States as a marker of heredity and conquest.
Yet, fake news conspiracies about DNA companies reveal more than just a funny story or a clapback on racists. It is white supremacy in action, through which the recent debates about what it means to "make America great again" turn on the same logics of race, nation, and empire. Careful as we were to lay out our research, the use of DNA ancestry tests is not a simple foil against white nationalist's racism. Genealogical disorientation reminds us that biological history is just as messy and confused as our politicized present, in which debunking conspiracy theories has become as commonplace as reporting the news itself.
But it's not just fake news that is upending our understanding of genetics; race science is staging a major public comeback. From online forums where YouTube e-celebs eagerly debate white supremacy to the pages of the New York Times, the new prophets of "racial realism" and "human biodiversity" insist that race is a critical lens from which to view human biological differences. Racial realism is a wrongheaded perspective that asserts racial categories are genetically determined and can account for behaviors as wide ranging as intellectual capacity and criminality. While it is easy to dismiss those proselytizing in YouTube videos, whose viewership can reach into the hundreds of thousands, it is much harder to undercut the power of this biological reductionism when it is written by geneticist David Reich and printed by the New York Times.
In his column on race and genetics, Reich proclaims, "It is simply no longer possible to ignore average genetic differences among 'races'" (2018). Yet, if geneticists insist that race matters, then the question becomes, "In what ways?" The countervailing research comes from anthropological accounts of race in society that contextualize how race becomes a proxy for a host of environmental factors—research that we need in order to inform present debates and future understandings of biological difference. In the words of the 67 scholars and researchers who rebutted Reich, "Instead [of looking at biological difference as a correlate of race], we need to recognize that meaningful patterns of genetic and biological variation exist in our species that are not racial" (2018). That is to say, anthropologists understand that race matters not as a marker of biological difference, but because race relations structure not only our environments, but also science itself. And, that is not fake news.
Joan Donovan is the media manipulation research lead at the Data and Society Research Institute. Her postdoctoral research at UCLA studied white nationalists' use of science and DNA ancestry tests in the search for racial purity.
Cite as: Donovan, Joan. 2018. "Written in Blood." Anthropology News website, July 12, 2018. DOI: 10.1111/AN.905