Two anthropologists embark on an intradisciplinary exploration of ruination and vitalism in urban spaces of scrap metal accumulation and sex work.
In this stretch of road we are reminded of the outcomes of life; the ends and afterlives of people and things. A metal scrap yard hosts a pile that reaches several stories before being loaded into cargo ships bound for China. Across disarticulated computer memory boards, strands of Christmas lights re-sellable for just over a dime a pound, and broken pool equipment, we see an appeal to the capacity for change and discard. Such spaces are not endings but rather a glimpse of transitions and fragmentations; of the ragged edges of late capitalism.
We see the ways in which material waste regains value while the bodies within these spaces are understood as dirty and devoid of value.
With the exception of a lone small diner and a donut shop—a quintessential feature of any New England urban landscape—this stretch of space is known simply as a "bad" part of town for the presence of sexualized spaces, such as strip clubs and erotic bookstores. But what makes a space bad can also be what allows for it to exist. These spaces have the material elements of devaluation and reclamation, which exemplify the implicit, often unspoken rules of the modern city: clean, no waste, sanitized, and, importantly, no public sex. What we see happening here is something of an inversion, distortion, or paradoxical version of this urban logic. This is what draws us toward symbiotic ethnographic futures. Our current theoretical interventions are linked to our cooperative and messy engagement with urban space, a space conditioned by queered, discarded, and toxic assemblage.
We are two anthropologists with different backgrounds—one working in trans studies and the other on e-waste—yet while working in the same department in Providence, Rhode Island, we found ourselves both drawn to a particular urban site. Echoing Tsing et al. 2017, we consider how the future of anthropology requires meaningful "symbiotic relations" not just between anthropologists but also across and within our spaces of research. In our work, we have found that the symbiotics of ruination and vitalism (i.e., the relationships between destruction and valuable production) are both what enable intradisciplinary collaboration and are made possible through spaces of scrap metal accumulation and sex work. In our shared field site, we see the ways in which material waste regains value while the bodies within these spaces are understood as dirty and devoid of value.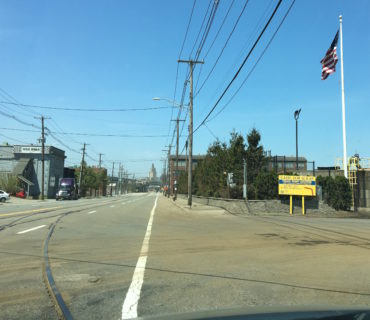 Providence is the state capital, and is unique in both its antiquity and continued reliance on industrial production for income. Our work in urban industrial landscapes reflects the symbiotic needs of spaces and practices that are understood as undesirable or invisible. This is how waste becomes a site of vitalism and reclamation. Providence remains one of the few cities across the northeast corridor of the United States to still rely heavily on industrial production and associated waste, as well as a booming scrap metal industry. Along our field site, a road that stretches several miles along a riverbed from the urban center of the city, we find active industrial and waste sites alongside liminal sexual spaces, wherein discourses of "contamination" have been used by city officials and persons in positions of authority to reference not just the land and water, but also the bodies that occupy and travel through these spaces. In many ways the pressures of gentrification and the sanitization of space apply to both spaces of sexuality and a scrap metal salvage yard.
Our project is not one of evaluation but rather an exploration of the relationships between the ways in which discarded materials regain value and human bodies are rendered valueless. This requires temporal care and patience. Our collaborative ethnographic project has required us to slow down and co-think the multiple concrete and imagined themes, linkages, and dynamics erupting from this urban port of valuation and devaluation, where scraped metal, hazardous waste, and marginalized and stigmatized sex workers and businesses coexist—and possibly co-create—together. We are co-thinking not only the boundary transgression between the social and the material in our field site, but also the elusive and explicit boundaries between globalized metal economies, interstate sex work, and hazardous waste recycling.
For us, exploring urban political and queer ecologies in this space calls for grounding the start of this work in a conversation about what is contributing to its sustained vitality. What are the various affects and practices erupting in this space? How does thinking about the comingling of social and material life bring urban political and queer ecological together? What are the various forms of intimate connection and mutual constitution of scrap metal, sex work, and hazardous waste recycling that can serve as new terrain for urban political ecologies of queered and discarded life? What else might be gained through meaningful collaborations between anthropologists?
Elijah Adiv Edelman is an assistant professor in the Anthropology Department at Rhode Island College. His work has appeared in the Journal of Homosexuality, Porn Studies, and the Journal of Sex Research as well as in the edited volumes Queer Necropolitics; Queer Excursions: Retheorizing Binaries in Language, Gender, and Sexuality, and Out in Public: Reinventing Lesbian/Gay Anthropology in a Globalizing World.
Peter C. Little is an assistant professor in the Anthropology Department at Rhode Island College. He is the author of Toxic Town: IBM, Pollution, and Industrial Risks (2014).
Cite as: Edelman, Elijah Adiv,  and Peter C. Little. 2018. "Collaboration and Co-Thinking." Anthropology News website, July 13, 2018. DOI: 10.1111/AN.906