To tackle agricultural problems we need research that is both pragmatic and holistic.
What is the future of agricultural anthropology? Perhaps we will be "studying up" and turning our ethnographic attention to industrialized food systems. Perhaps we will be focusing on "win-wins" and identifying policies that promote solidarity between economic and environmental goals. If the results of the 2017 Netting Student Paper Prize are any indication, the future lies with scholars like Nako Kobayashi and Andrea Rissing, and the mutual embrace of holism and pragmatism that characterizes their work.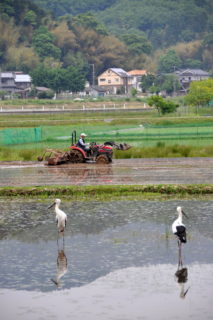 While Kobayashi and Rissing engage two very different agricultural contexts—rice farming in Japan and alternative agriculture in Iowa, respectively—both are concerned with the pragmatic problems farmers face, the inadequacy of solutions derived from dualistic frameworks, and the possibilities opened up by more holistic understandings of farmers' lives and decision-making processes. We spoke with them both recently, to discuss their approaches to studying agriculture and the insights it provides them into the future of sustainable food production.
Drawing on three months of experience as an intern with the Department for Co-existing with Storks in the Toyooka City Government, Japan, Kobayashi examines how rice farmers and city employees were able to work together to successfully re-introduce the Oriental Stork. The extinction of this species in Japan was directly related to the industrialization of rice farming, particularly the use of chemical inputs that killed the fish and other organisms storks relied on for food. The last Oriental Stork died in Toyooka in 1970, and the city government committed itself to their re-introduction. As Kobayashi explains, "The goal was to release them back into the environment and they knew they had to change aspects of the environment, including the agriculture, to make sure the storks didn't just go extinct again." Specifically, they needed farmers to grow rice organically.
This effort included marketing "stork-friendly rice" and public education campaigns to support the higher cost of the rice, as well as farmer-to-farmer recruitment and education. The shift to organic agriculture was not just about saving the Oriental Storks, though, but also about creating a good environment for people and children, an approach that relied on culturally endogenous ideas about what it means to live with wildlife. "In Toyooka they call this 'reintroducing storks into the wild' but their definition of the wild isn't a separate conservational area [as compared to the United States]; it's just a regular community where everyone is living and [it extends] into the rice paddies where people are performing actual agriculture," Kobayashi explains.
"Understanding the full picture of the global food system—and figuring out the most effective changes to improve agricultural futures—requires opening the black box of industrial food production, too."
While rice farming in Toyooka had focused on production to the exclusion of all other concerns, the successful re-introduction of the Oriental Stork required a shift away from this approach and demonstrates that other agricultural futures are possible. In this case, futures characterized by an openness to co-existence with nonhuman beings. Within such a future, Kobayashi sees an important role for anthropology: "This kind of research can show that there is really no one-size-fits-all solution to agricultural problems, and that effective solutions are the ones that really take into consideration and fit the specific cultural, social, environmental and economic context of the surrounding area." Solving practical problems in ways that eschew reducing solutions to one set of interests or another, that address the needs of all stakeholders in a "win-win scenario," is a hallmark of this agricultural future. And one made all the stronger through application of anthropology's holistic, ethnographic lens.
Refusing dualities also plays a prominent role in Rissing's research. Between 2015 and 2016, Rissing conducted fieldwork with beginning farmers (<10 years' experience) in Iowa's alternative agriculture. As she explains, "There is a strong need to recruit, train and support beginning farmers [in the United States]. So, the question becomes, 'What does it take to make it in farming, in the long term?'" In order to answer this question, Rissing takes on Gudeman's (2001) dual model of the economy as always comprising both the market realm and the community realm, to demonstrate that alternative farming is also inevitably comprised of both. Yet mainstream agricultural training and advice for these farmers focuses on the market realm through a strong emphasis on the profitability of the farm. While many beginning farmers and their advisors conflated the idea of "making it" with profitability, Rissing found that "profitability was not the best predictor of who stayed in farming long term." Drawing on 14 interviews with people who had stopped farming, Rissing found that many had been running profitable farms. "Finances are a big and important part of the puzzle, but they are not the end all and be all of who makes it in farming," Rissing explains. Their reasons for quitting the business were not only economic, but included family stress as well as burnout and physical exhaustion.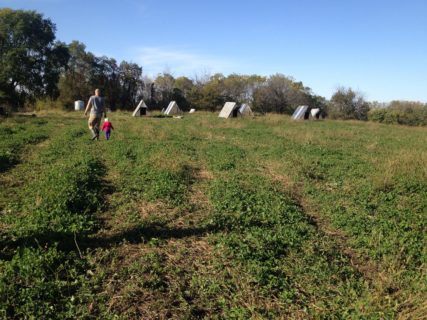 Rissing's findings led her to conclude that if beginning farmers are to be adequately supported, greatly expanded ideas of "making it" are needed. That is to say, the future of alternative agriculture in Iowa depends on the ability of farmers and educators to take a more holistic view of what it means to be a farmer and to succeed in farming. Rissing makes good use of anthropology's non-reductive approach to reframe the very practical problem of keeping more producers farming and hopes agricultural anthropology will expand its sets of concerns into the future
Moving forward I hope anthropologists interested in agriculture also find ways to draw industrial agriculture into the ethnographic spotlight. I'd argue we should "study up" the food system, spending time not only researching small organic farms (which I've done and which I loved!) but also with agribusiness offices, grain elevators, and farm input salespeople.
Agricultural anthropologists might do well to challenge our own binary concepts of alternative and mainstream, and recognize, as Rissing says, that "understanding the full picture of the global food system—and figuring out the most effective changes to improve agricultural futures—requires opening the black box of industrial food production, too."
By paying careful ethnographic attention to why farmers, educators, and policy-makers take the decisions they do, Kobayashi and Rissing present us with analyses that are at once richly holistic—in the finest anthropological tradition—and unapologetically pragmatic. What good, they ask us, is a thick description of farmers' constraints, motivations, and lived experiences if this description cannot speak to the practical problems of farming in the twenty-first century? Problems which, given our collective dependence on agriculture, affect us all. The future of agriculture may well depend on our ability to approach these challenges with a pragmatic holism that seeks solutions while avoiding reductionism—an approach that agricultural anthropology is uniquely positioned to offer.
Megan Maurer is the Culture & Agriculture co-contributing editor and an incoming postdoctoral research fellow at the Earth Institute, Columbia University.
Ioulia Evgenyevna Fenton is the Culture & Agriculture co-contributing editor and ABD in anthropology at Emory University. She researches sustainability with a focus on food systems, and currently works in Guatemala.
Cite as: Maurer, Megan,  and Ioulia Evgenyevna Fenton. 2018. "Sustaining Agrarian Futures." Anthropology News website, July 17, 2018. DOI: 10.1111/AN.914