Robots are already reconfiguring our labor and political landscapes. Will they transform nationalism and citizenship too?
The term "robot" first appeared almost 100 years ago with the publication of Rossum's Universal Robots (R.U.R), a science fiction play by the Czeck writer Karel Čapek. The play, a critique of emerging mechanization, takes up themes present in Marx's The Fragment on Machines ([1857–8]1974). But although R.U.R. was widely read, celebrated, and performed, unresolved concerns surrounding human/machine relationships have been brought forth to the present through artworks, films, cultural theory, and politics. As robotics engineering, digital software, environmental degradation, and neoliberal imaginaries develop at breakneck speed, questions about what our world might soon look like beg the construction of an appropriate anthropological response. An anthropology of and for the future will need to reflect on how the new artificial intelligence (AI) and robotics technologies (motivated by the potential for significant financial rewards) are already impacting urban, national, and transnational regimes of life and governance.
We anthropologists are going to have to radically reimagine our ideas about both humans and personhood, a project sure to be complex and contentious.
Many debates about AI hinge upon binary predictions. On the one hand, technology will propel us into a utopian, post-human world in which disease, disability, and even death will be conquered (or at least substantially reduced) (
Friend 2017
). Conversely, thinkers such as business magnate
Elon Musk
and the late physicist
Steven Hawking
foresee a dystopian and possibly violent AI takeover that may eradicate human society. For either prognosis, we can act now to suggest some ethical standards that engineers or AI architects might consider to encourage the design of innovations that are helpful rather than harmful to humans. For example, we might insist that software announces the existence of surveillance programming or we could advocate against weaponizing mechanized "animals" such as the cheetah funded by the
Defense Advanced Research Projects Agency
at the MIT lab.
AI is already at work in our workplaces and homes, but in reality, we are at least a decade out from the kind of artificial general intelligence that will rival our own. The good news is that this gives us time to ponder the vital questions about human interaction and human nature that are at the core of the anthropological project. The bad news is that qualities that were once taken to be relatively unique to humans, or at least animals—and here I am talking about such philosophical chestnuts as subjectivity, consciousness, agency, intention, knowledge, and emotion—may appear or seem to appear to some degree in machines. We anthropologists are going to have to radically reimagine our ideas about both humans and personhood, a project sure to be complex and contentious.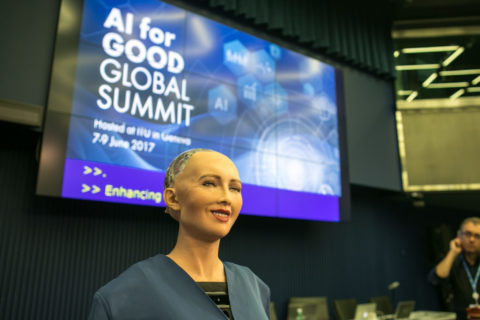 The question is not so much whether robots like Hanson Robotics' Sophia, Amazon's Alexa, and Apple's Siri will be persons, but how they already are. Sophia's makers have considered human characteristics, aesthetics, gender, voice, humor, love, compassion, and generosity in their design decisions in an attempt to shape human relationships with their machines. For example, the company explains that Sophia's face is created with a patented material called Frubber ("flesh rubber," a nanotech veneer that mimics human musculature and skin); the Frubber helps the robot to more easily simulate human facial features and expressions. These innovations reflect a desire to make robots come to life by creating the impression that they think and feel just as humans do. This would allow us to more easily believe in a shared fate, encouraging us to co-world with the product.
In keeping with these person-y qualities, Sophia was recently granted Saudi Arabian citizenship. If a robot can become a citizen of Saudi Arabia, what other rights and privileges might "she" and other technologies like her eventually earn? And how might the concept of nationalism and citizenship be reconfigured as a result? When this happened, many people scoffed, but John Weaver, an attorney who specializes in AI law, notes in an article for Slate that Article 25 of the International Covenant on Civil and Political Rights grants to every citizen the right to "take part in the conduct of public affairs," as well as "to vote and to be elected," and "to have access, on general terms of equality, to public service in his country." Granted, the Saudi's have not signed on to it, but the Covenant suggests that all citizens are persons, and being a citizen in one place might mean being a legal person everywhere else. There are all kinds of as yet untested implications for Sophia as citizen/person. Could she come to expect protection under the UN Declaration of Human Rights? Or apply for American naturalization if Hanson were to bring it/her to the United States? Even if this was just a PR stunt by the Saudi state, it remains the kind of case that animates new questions of nationalism, citizenship, labor, and self-determination.
Sofia-style AI is also driving urban design. Saudi Crown Prince Mohammed bin Salman (partly in response to dropping oil revenues) is planning Neom, a city that will have more robots than humans. Neom will operate outside of traditional Saudi constraints and have an economy based on AI, advanced manufacturing, biotech, media, and airlines. More globally, Sophia is the face of SingularityNET, a decentered, transnational network project created to connect disparate AI programs. The network will be powered in part by the circulation of cryptocurrency. Blockchain, the technology underpinning new cryptocurrencies, is also being mobilized for smart contracts and art provenance programs. Developers are even looking for ways to use it for identifying citizens and for voting. An experimental blockchain-based nation, BitNation, is now accepting new citizens.
Related to these tentative expansions of nationality and citizenship are reconfigurations of the labor market and the political landscape. Recent publications predict the effects of AI-driven mechanized labor, with some writers suggesting we must provide a guaranteed salary to ex-workers. We have also heard a great deal about how Twitter bots impact public opinion. Democratic hopeful Andrew Yang is already campaigning for the 2020 US presidential election on a platform focusing on labor and emerging technology (Roose 2018). I am encouraged to see that Yang is now taking up the questions and concerns that Čapek raised a century ago. Ethnographers working on issues related to changes in nationalism/citizenry, labor, politics, and the production of space should also consider how these emerging technologies will or already are reaching widely across and ever more deeply into the communities with whom they are working.
Susan Falls is a cultural anthropologist whose work focuses on the intersection of material culture, semiotics, and political economy. Her new book, White Gold: Stories of Breast Milk Sharing, explores how decentered, digitally enabled infrastructures are mobilized for dissent. She is working on more intentionally decentered networks such as blockchain, AI, and cryptocurrency.
Cite as: Falls, Susan. 2018. "Homo Roboticus." Anthropology News website, July 18, 2018. DOI: 10.1111/AN.923