The first time I ever questioned my decision to become an anthropologist—a listener, a questioner, a participant, an observer on the margins—was during a camping trip before grad school classes started.
Up there in the mountains, the upperclassmen and we newbies huddled together in the cabin. Summer rains are colder up there. We gathered around the fire and tried to dispel the cold from our limbs­: some with alcohol, some with warm socks, some with warm hugs. Words flowed freely—stories, jokes, impromptu singing. Laughter filled the night.
In the midst of the revelry, my conversation partner launched into a slightly slurred monologue on the supposed virtues of anthropology: it takes no category for granted. It respects a multiplicity of views. It values difference. All reasons why I had embraced this profession and expected it to embrace me back.
I got ready to say as much, but his final flourish silenced me: "To be a good anthropologist, you must be willing to question everything, even your deepest beliefs. Are you willing to do that?" he said, looking pointedly at my hijab.
As if I hadn't already gone through this game. As if I didn't wrestle with my own biases. As if I didn't struggle against blind prejudice every, single, day.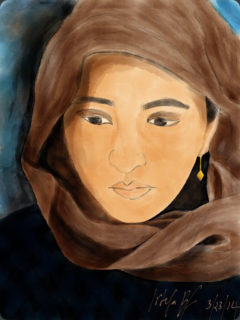 I could have said, "My Muslim mentors actually taught me that faith and the deepest of doubts naturally go together." That to believe in God, we must be willing to question all human categories. That only arrogance allows man to claim, "I know," and ignore all other views. That to be a good believer, we must observe the world around us and question our own privileges. We must speak up against injustice and stand bravely with the dispossessed.
The Prophet said:
If you see injustice, act to remedy it.
If you cannot act, speak out against it.
If you cannot speak, know it is wrong in your heart.
The Qur'an says:
It is incumbent upon every Muslim man and woman to seek knowledge.
My family says:
Knowledge without action is empty.
In Bengali, the proverb goes, "To acquire knowledge is to become more human." My father explains, "Learning should help us grow into our full humanity, and empower us do our part to heal the world." Tikkun Olam.
I learned it from my Muslim family first.
I could have said, "I came to anthropology through Qur'anic teachings that encourage all Muslim men and women to observe the world, learn from others, respect all peoples, pass the mic to those who don't have a platform to tell their stories."
But I said none of this. It doesn't do to look like an angry Muslim woman among your peers on your very first day, (or ever, really).
He soon lost interest in our conversation, or perhaps in my non-response.
After all, I didn't immediately disavow my faith in God and tear off my hijab.
His words silenced me, not because I agreed with the premise of his question, but because I was afraid that my faith in the discipline was wrongly placed.
That the "multiplicity of views" mantra was really code words for Western, secular, supposedly rational sources of knowledge.
I was afraid that I would have to spend the rest of my career proving how I could be a good anthropologist: a good listener, a good questioner, and a good observer from the margins—despite my faith, not because of it.
In my classrooms, we deconstruct scientific rationalism as another cultural lens, a belief in the "view from nowhere," which allows the default white man to erase himself from the object of his study and elevate his own point of view as Truth.
Now, though, I choose to embrace this unease, this tension in my body every time I walk into a classroom, where students are often taught to value "impartial" knowledge over the politicized rants of a Muslim woman. I choose to challenge and decolonize the discipline that I love.
In my classrooms, I begin by putting the rhetoric of objectivity front and center.
We read theories regarding the social construction of knowledge and the power of representation. But I also talk to my students about the violence inherent in having to prove my grasp of the subject matter because I am automatically read through my hijab, my skin color, and my gender, before I am viewed as an expert. I explain how I've learned to buttress my claims and give weight to my own experiences with countless theories and citations because my voice alone is often unheard.
In my classrooms, we deconstruct scientific rationalism as another cultural lens, a belief in the "view from nowhere," which allows the default white man to erase himself from the object of his study and elevate his own point of view as Truth. We reveal the asymmetry of power between the observer and the observed, between the author and the character, because all knowledge is partial, political, positioned.
But still, I am regularly asked, "Are you willing to question your beliefs?"
My usual answer is "I do it every day, but you, will you be willing to question your assumptions about my ability to think based on the piece of cloth on my head?"
Irtefa Binte-Farid is a PhD candidate in sociocultural anthropology at the University of Virginia. Her doctoral research explores how marriage patterns, when viewed within a transnational historical framework, can help us understand the shifting concepts of genealogical purity, racial boundaries, and national belonging in the Sultanate of Oman. She is also an anti-racist organizer in Charlottesville, Virginia, and has written and spoken about her experiences as a brown Muslim academic activist in both popular and academic contexts.
Cite as: Binte-Farid, Irtefa. 2018. "Politics of Sartorial Choices." Anthropology News website, July 18, 2018. DOI: 10.1111/AN.922