At the beginning of June 2018, I set off for my first field season in the valley of Oaxaca, Mexico, to learn more about traditional medicine involving edible insects. One day, the group of students that I was traveling with stopped at a restaurant to have comida (lunch). We were offered an array of snacks, soups, salads, meats and a make-it-yourself tostada bar. Among the toppings offered in the tostada bar was a small bowl of chapulines (the local name for grasshoppers), and I convinced a few of the students to try some along with me. Most were afraid, some willingly put them on their tostadas like I did, while others struck up the courage to eat a single chapulín to say that they did it. What we found out later, though, came as a surprise: the taquitos at the snack bar were not just filled with cheese, but with chapulines as well. So, as it turned out, those afraid to try this mighty morsel were surprised to discover that they, in fact, had already enjoyed eating a few.
Because of the intensity of entomophobia and neophobia in Western society, it may be difficult to imagine eating an insect on purpose, especially as a form of medicine.
In addition to these moments involving edible insects, there were many other instances in which the students displayed their fear of bugs. The most extreme moment occurred on an overnight trip. Crickets had invaded a bedroom, and the students residing in it needed to move because they were too creeped out by their new roommates. All of these instances highlighted and prompted me to consider the relationship people have with insects. What is it about insects that makes them so frightening or disturbing? Is it their size, shape, or general way of being that makes us tremble in fear and squirm when one is near? What could we be missing by taking insects for granted in our daily lives?
This innate fear automatically conditions people to view insects with aversion and disgust, without any regard for the positive things they do for society. Because of the intensity of entomophobia and neophobia in Western society, it may be difficult to imagine eating an insect on purpose, especially as a form of medicine. One possible way to introduce insects as an acceptable food choice today may be to introduce the nutritional and environmental benefits of this practice. By providing nutritional information about various edible insects, such as those given on the Nutrition Facts panel of commonly purchased goods, people may become aware of these benefits and may be more likely to try insects if given this information. According to the 2004 Food Marketing Institute's Shopping for Health survey, popular consumers check these labels 83 percent of the time when trying new foods for the first time. Thus, leading to the thought that if given proper nutritional information about edible insects, consumers may be more willing to try them. Despite the fear ascribed to insects, let alone the fear of eating them, we might have to adopt this practice sooner than expected.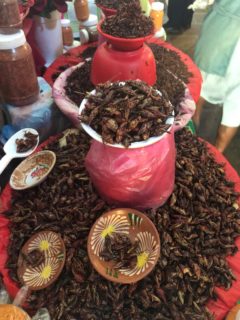 With the global population on the rise, resources for providing adequate nutrition are becoming scarce, and there is an increased need for cheap, reliable and easily-farmed sources of essential micronutrients and protein. To address this, the Food and Agriculture Organization of the United Nations has proposed the inclusion of edible insects into everyone's daily diet as they offer crucial health and environmental benefits as well as an increased improvement of economic and social factors for developing areas.
Edible insects can be an important resource for human diets, rich in beneficial micronutrients and protein. In some cases, it has been noted that just 100 grams of certain insects can account for more than 100 percent of the daily recommended value of necessary minerals and vitamins. In addition, depending on the species, the amount of protein in insects can be a better source than other commercially available sources of protein such as beef, chicken, and pork. Furthermore, farming insects reduces the strain on the environment in comparison to our current livestock practices. Environmentally, the cost to farm this protein source is significantly reduced as land, water, and waste are limited.
Beyond the nutritional and environmental benefits, insects themselves can serve as a type of medical food. As defined by the U.S. Food & Drug Administration, a medical food is "a food which is formulated to be consumed or administered enterally under the supervision of a physician and which is intended for the specific dietary management of a disease or condition for which distinctive nutritional requirements, based on recognized scientific principles, are established by medical evaluation." Yet, this definition fails to consider traditional medical remedies that have been practiced successfully around the globe for years. Instead, I would argue that a medical food is a resource, rich in micronutrient benefits, that is used as an enhancement to the normal diet in order to treat nutritional-related deficiencies or diseases.
When I asked vendors about why people should eat chapulines, they told me that these insects are good for the body and our health.
Currently, there are over 1,900 edible insect species and a vast array of these are being used for medicinal purposes. Mexico has the most edible insect species in the world,
between 300-550 species
, as well as a vast, vibrant, and variable record of insect eating habits.
Julieta Ramos-Elorduy
has done extensive research on the nutritional and medicinal importance of edible insects in Mexico. For instance, specifically looking at species from the state of Oaxaca, Mexico,
Ramos-Elorduy et al. (1997)
examined seventy-eight edible insect species for their nutrient composition. Additionally, an
earlier study
recorded the ancient medicinal uses of forty-three species of insects from various states of Mexico. Specifically, my research focuses on the use of grasshoppers as a treatment for anemia in Oaxaca.
During my time in Oaxaca, I was able to speak to vendors selling chapulines as well as eat them. Most often the chapulines are used as toppings on things like tlayudas (a pizza-like, traditional dish in Oaxaca) and quesadillas, or even ground and added to chili powder and salt as a palate cleanser for the throat-burning mezcal (a close cousin to tequila). In conversations with vendors in the many markets in Oaxaca, I learned that most know the nutritional importance of chapulines. Yet, aside from protein, no one could name an exact vitamin or micronutrient that is beneficial. At least, not until prompted by my other questions regarding what fields the chapulines thrive in or if they might contain iron.
The vendors went on to describe the sizes and flavors of their products. The chapulines come in three sizes—grande, mediano, or chiquito (large, medium, small)—and are bought based on preference. All three varieties come in three basic flavors as well: plain, chili, or lemon and garlic. These varieties allow for a range of purchasing options for locals and tourists alike to select the perfect chapulín for their consumption.
Being afraid of these creatures is all-too-common in Western society, but by showing the nutritional potential that these insects contain and by advocating for their use in both cuisine and medicine, perhaps some of the uneasiness we feel about insects might be assuaged. When I asked vendors about why people should eat chapulines, they told me that these insects are good for the body and our health. Without hesitation, all the vendors I talked with told me about the large amount of protein inside chapulines, while some added that a cough can be relieved from eating them, although they are unsure as to why or how. With that in mind, perhaps then, society-at-large would benefit if we slowly introduced more insects into our diets as a healthier alternative to other sources of protein. By disseminating the associated nutritional benefits and global environmental factors that edible insects produce, perhaps more people will be open to eating insects, simultaneously reducing their fear of insects in the process.
Kayla J. Hurd is a doctoral student in the Department of Anthropology at the University of Notre Dame. Her interests include traditional medicine, pharmaceutical design and resistance, evolutionary medicine, and the application of chemistry within medical anthropology. She will explore non-human actors (insects and micro-organisms) and their relationship with human diseases.
Please send your comments, contributions, news and announcements to SMA contributing editors Dori Beeler ([email protected]) or Laura Meek ([email protected]).
Cite as: Hurd, Kayla J. 2018. "Fear and Food, Two Extremes of Human-Insect Relations." Anthropology News website, August 2, 2018. DOI: 10.1111/AN.937