This piece is a continuation of the earlier discussions in ASA about ways to think about preserving our research data. Find more here.
It is getting ever easier to share something valuable from fieldwork or writings sparked by those materials, whether you are early, middle, or late career. But particularly in those retrospective moments around the time of retirement, the idea comes to mind of sifting some things out to donate to an archivist at your alma mater, workplace, or a national repository like the vast space at the Smithsonian Institution. Holding all one's work in one location is helpful to future researchers who are hungry for the full context of your life. But human stamina, finding aids, and other physical storage impediments may keep the buried treasures from discovery. So it makes sense to select some of your gems —primary documents, published or unpublished thinking, or audio and visual recorded material—and share them online at a location easily searchable and designed for serendipitous discovery. This article bypasses the important task of engaging full archive hosts and, instead, looks at preparing selected parts of your material to share electronically now—while others can still contact you—and for future generations. The article ends with a modest offer by the author to assist a few colleagues who fill in the request form online for guidance on how to digitize and upload a few things of greatest interest or value.
Why strive to capture or convert some of the especially meaningful or interesting parts of your work into digital form? Put another way, who might benefit from easy, electronic searching and use of your materials? One audience is your contemporary colleagues and scholars in subsequent generations. Another audience is people outside of your discipline who seek language and area studies knowledge. Your collected material could be engaging fodder for them to improve language fluency, social proficiency, and cultural literacy. A third audience is people of the field location, those alive today and those in future lifetimes. Of course, certain cultural information is not meant to be publicly seen or discussed. But from all your collected notes and recorded material such sensitive parts can be left offline and undigitized so that the other, shareable subjects can go forward in digital form.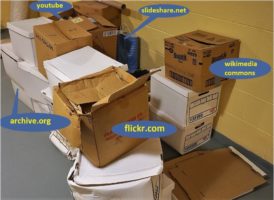 What sorts of things should be captured in digital form? Each scholar best knows the value of things that they have collected or documented, large and small. But as to the practical matter of what is possible to digitize when the original material is paper, magnetic tape, or three-dimensional artifact, the answer is that just about anything can be given electronic form. A flatbed scanner can turn two dimensional things into a true likeness. A digital camera can capture something that is too big for a scanner, including three dimensional materials. And recorded sound, video or film, can be played back to capture on specialty apparatus or with a consumer camcorder or PC, for instance.
Beyond the subject of preparing selected parts of your materials to share online, a related avenue to explore is directly sharing one's voice and mind in the form of making some armchair tours of a set of slides, images, artifacts, or texts. Whether it is 10 minutes or a longer lecture, the viewer can search for the subject you have listed, then press "play" to hear your voice-over or indeed see you in person speaking. PowerPoint has a feature called "record narration." Screen recording such as JING (free version up to 5 minutes per recording; hosted then at screencast.com) lets you record all or part of the screen that you are talking through, slide by slide, paragraph by paragraph, or window by window. Movement of mouse icon and your voice are captured as you proceed through the armchair tour. Youtube is another outlet for recording yourself on PC, camcorder, or digital camera. Audio-only recording can also be found on Youtube (a place-holder image or title slide makes possible the uploaded audio recording as if a movie). Subjects of armchair tours to speak about include the things you know a lot about professionally or a-vocationally as an enthusiast. Topics to record yourself as source material include techniques you became proficient in, thoughts on how to handle certain topics or materials (learning curve), reflections on early-, middle-, or late-career life cycle and trajectory advice, messages in a bottle to scholars yet to come in your field of expertise, or image sets to give cultural footnotes about.
Maximum utility in the materials online comes from making it easy to discover the digital files (using keywords, using long-lasting and well-known host sites and services), easy to obtain a copy (allowing direct download), and easy to use that file (few use-restrictions, widely used software, and file type saved in high quality). Some suggested reference points for images, audio, and video digital conversion or recording are listed at bit.ly/care2018online.
Hosts that are thriving in 2018 and may be expected to persist for years to come include archive.org (all file types), slideshare.net (all file types, no longer focused on slide presentations; bought by Linked In, itself later bought by Microsoft), Wikimedia Commons (a pool of images and recordings that may be referenced from the scores of languages using the Wikipedia platform), and flickr.com (museums, Library of Congress and other national libraries, genealogy institutes) is a place for images and video (3 minutes per recording). Two other outlets for sharing some of the treasures or base line data that you have documented, collected, or distilled include e-book publication (paid or free) hosted in the storefront of Amazon or Apple or Google, for instance; and Wikipedia contributions—if not authoring a subject entry, then login and look at subjects you know: enrich the list of references, add related or external links, or elaborate on the main text with your expertise. Both outlets deserve their own primer, but a good head start on preparing your e-book or e-pamphlet I have assembled at https://sites.google.com/site/anthroview/ebooks.
In summary, start small by picking a set of images or primary materials to digitize. Seek help from family, friends, colleagues, or feel free to fill in your details and request a reply from the author at bit.ly/your2018online. After you have uploaded one project, look for the next one. Encourage others to follow your lead!
Guven Peter Witteveen is an anthropologist of Japan with interests in outreach education, multi-media production, and helping museums, libraries, research centers, and scholars to make their expertise easier to find and to engage with. His email is [email protected]
Cite as: Witteveen, Guven Peter. 2018. "Your Fieldwork and Thinking Lives On." Anthropology News website, August 3, 2018. DOI: 10.1111/AN.938