In Ghana, the creative culture and the contemporary art sphere is in a period of exponential growth and reconfiguration. Across Accra and Kumasi, the contemporary creative scene has been growing at an unprecedented rate since 2011—spreading to public spaces, transportation infrastructure, historical sites, and online social networks such as Facebook, Instagram, and Twitter. In the absence of support structures for the arts, many artists and institutions have begun using urban public spaces as creative venues and substantive mediums for producing and displaying art. Artists and digital art activists are strategically employing social media to draw attention to projects that are inextricably embedded in the local, diverse modernities of Accra. Instagram photos track the progress of installations in Jamestown neighborhood, while Facebook Live feeds allow local and international publics to remotely attend performances and panels, such as those at the Museum of Science and Technology. Va Bene and other artists routinely use digital call-outs on Whatsapp to solicit participants for performances. The breadth of formats involved is a dynamic force, emphasizing the diversity of artistic engagements within contemporary worlds. With a heterotopic approach to curation, art festival organizers, curators, and artists have mobilized hands, voices, and ideas, creating unpredictable and open-ended dialogues with one another in the process.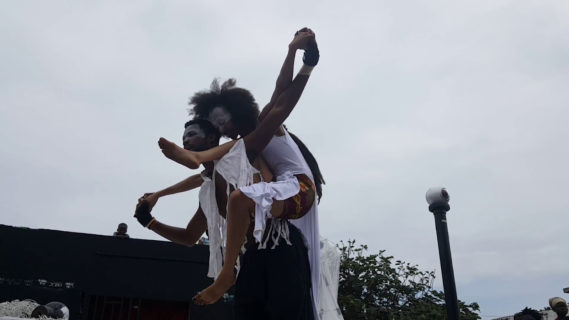 Chale Wote is an annual contemporary art festival in Accra, Ghana, led by the independent cultural network and alternative arts platform Accra[dot]alt, in conjunction with Accra arts organizations and other artists, institutions, philanthropists, and entrepreneurs. Co-founded in 2011 by arts scholar Sionne Neely and media guru and Accra[dot]alt Director Mantse Aryeequaye, Chale Wote has relied on the continuing participation of key artists such as multimedia artist Serge Clottey and sound artist Steloo Live, who are as much known through their artwork as through their recognizable personal brands. Their self presentations, just as their art, are icons of an embattled contemporary moment with a complex and anachronistic feel: do these artists offer an image of a once-Afro-future that is now past, or a present that aspires to a nostalgic future? I will briefly describe creators of contemporary art who are staking their claims as creators of a vibrant and youthful Accra. Each artist demonstrates a new vision of "collaboration" in their approach to the art, stretching boundaries and pioneering new meanings of the creative.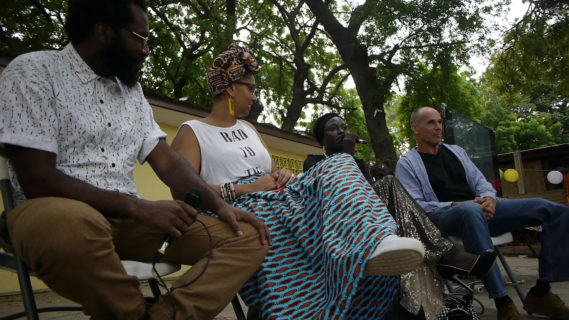 First, collaboration extends beyond national borders as Ghanaian artists travel to work in other sites. Creators such as Jeremiah Quarshie and Va Bene Elikem Fiatsi have separately completed fellowships in Lagos and throughout Europe. Despite immense capital pressure to export their art, artists and organizers are not only keeping their art in West Africa, but also drawing transatlantic voices to share the stage, bringing in talent from the United States, the Caribbean, Brazil, and Argentina. Chale Wote 2017 welcomed artists from Martinique, Brazil, Lesotho, Zambia, and South Africa to participate in performances and art displays in Jamestown. Many Artists such as DJ Noss of Martinique run workshops and collaborate with local talent. They also critically consider their performances within broader frameworks of contemporary art in Chale Wote's impressive lineup of panels. For example, Pamela Ohene-Nyako moderated one panel on art and community healing: "Artist Flows on Chaos, Body Technologies and Community Regeneration Systems." Her questions prompted energetic dialogue between DJ Noss (Martinique), Va Bene Elikem Fiatsi (Ghana) and John Herman (Germany) about the role of injury and therapy in art making and community reconstruction following historical trauma.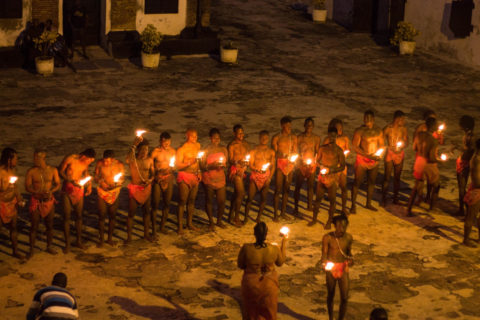 Va Bene Elikem Fiatsi has been singularly successful in challenging the established meaning of collaboration in the art world. SHe (preferred pronoun) considers the occasionally volatile publics as co-collaborators in performance art, as onlookers are challenged to allow Fiatsi's continued existence as both a womanly man and manly woman in a Christian political milieu that has criminalized LGBT existence. Fiatsi's other performances include staging a harrowing overnight performance locked within the Elmina Slave Castle, with 500 crowd-sourced collaborators. Surprising even Fiastsi, Accra residents formed long queues in order to participate. More recently, in April 2018, sHe live-streamed their arrest on Facebook during a performance piece that was reported as a lynching by an onlooker. As the police boarded Fiastsi into a pickup truck, sHe thanked them as collaborators and continued to do so as sHe was hauled to the police station, and promptly released after filing a report.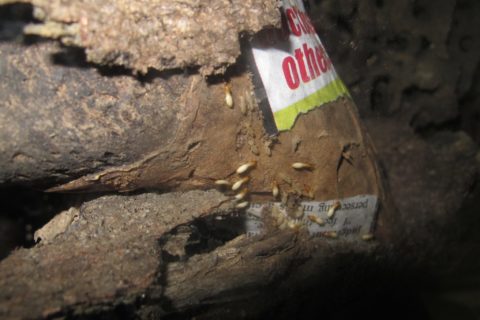 The collaborations occurring between artists in Accra also cross species boundaries. Artist Martin Toloku pursues post-human performative collaborations with termites that are co-creators of undulating wooden sculptures plastered in half-eaten political news segments (see a video of his work here). He plasters the outside of tree trunks and wooden poles with wet newspapers that urgently ask "Nuclear War?" or demand "Votes for Change!" Burying these large wooden pieces for the termites to graze upon, he digs them up periodically to offer the termites fresher wood and fresh news stories. Feeding the termites in a slow ritualized process over many months, he creates an ever evolving sculpture, calling to mind the ephemeral quality of political and global news as it urgently arises, is forgotten, and is replaced by newer events.
As a fully multimedia annual platform for art, fashion, personality, and critical commentary, Chale Wote Street Art Festival and its founding organization has nurtured online engagement in the contemporary art scene in an unprecedented way. Its participants and audiences co-produce cutting-edge digital content on Facebook, Twitter, Instagram, Whatsapp, and Tumblr. This curation approach lends itself well to virtual venues for media exchange. With feeds curated by artists as well as organizations, social platforms produce emergent, customized "narratives" of city life (qua individual content streams) for each user. On Twitter and Instagram, emergent narratives that arise in users' content streams are further facilitated by stripped-down technical limits on the dimensions and number of photographs, or the number of words that can be used within a single post. By limiting what producers can say about their posts—such as an image of a performance, or a photograph of a new art piece inside one's studio—audiences are given great breadth for interpreting, commenting, or reading the art piece in the context of other artworks within their content stream. As users and cultural producers co-create social media narrative streams, the digital technology behind Twitter, Facebook, and Instagram further shapes suggested content according to users perceived tastes.
These intensive, multimodal collaborations leave us with important questions about art, artistry, production, and credit: if art is imagined by one person, but executed by hundreds, whose art does it become? If audiences actually participate in performing the end product, then who—if anyone—is responsible for it, and how should it be preserved, if at all, and by whom? What seems clear is that creators in Accra are transforming the very notion of artists, artistry, and aesthetic value in this process of creation. The collective effects of these works capture something of the ineffable layering of voices in the city, the anachronistic "feels" of daily life, and the contradictory experiences and social discontinuities that characterize the many forms of the contemporary as it is made local and palpable in Ghana. These works of art, festivals, and the artists themselves offer a number of implicit suggestions, but perhaps none as engaging and refreshing as the assertion that the contemporary world of art is a public, participatory, entangled, and activist space.
Go on a 360 degree walkthrough of Cornfields in Accra, the KNUST year-end art show for 2016.
Alissa Marie Jordan is a postdoctoral fellow at the Center for Experimental Ethnography at the University of Pennsylvania. She is a multimodal cultural anthropologist interested in bodily being, security/insecurity, and creative expression in Haiti, Ghana, and virtual environs.
Cite as: Jordan, Alissa Marie. 2018. "Creators of the Contemporary in Africa." Anthropology News website, August 6, 2018. DOI: 10.1111/AN.939