This article is part of the Maintaining Refuge series. Part one of the series can be found on AnthroSource.
Activist appeals to moral and national ideals hold lessons for the future of refugee rights in Australia.
In recent years, and in the wake of the largest recorded global displacement of people since World War II, the brutal living conditions in Australian offshore detention centers has fallen under international scrutiny. In March 2015, the United Nations Special Rapporteur on torture criticized the Australian government for inadequate detention conditions and for violating the right of asylum seekers to be free from "cruel, inhuman, or  degrading treatment." With 13 people dead due to suicide and negligence of fatal health conditions, activists have called offshore detention a "systematic regime of neglect and cruelty" and a form of imprisonment. Activist critiques in Sydney and Melbourne have also been marked by a sense of confusion and frustration at how a government with such a comprehensive refugee resettlement policy could at the same time reject and even punish those who seek refugee status in Australian territory? The distinction between treatment toward those who have been given refugee status and those who await it has opened up a national conversation on the deeper history of how Australia has exercised territorial sovereignty, and whom the Australian nation-state was meant to benefit.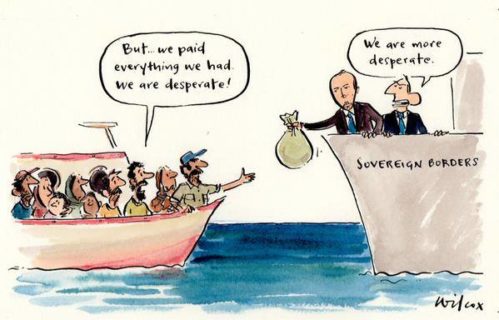 In 2012, in response to what it viewed as an unprecedented wave of asylum seekers trying to enter Australia via boat from Afghanistan, Iraq, South Sudan, and Iran, among other countries, the government rerouted asylum seekers to newly built detention facilities in Manus Island, Papua New Guinea, and Nauru, where they would have to wait for a decision on their claims. In 2013, under Prime Minister Tony Abbott, the Australian government added another layer to its policy. Through Under the policy, no asylum seeker who attempted to reach Australia by boat would ever be resettled within Australian territory. Instead, they would have to wait in detention indefinitely to either be returned home or resettled somewhere else within the Papua New Guinea region.
Drawing on interviews and participant observation with activists in Melbourne in 2016, I hope to provide a glimpse into how offshore detention is being framed as a form of injustice along moral lines. An anthropological perspective on activist efforts can reveal the possibilities and limitations of moral arguments in the struggle for justice and equality for asylum seekers.
Making detention visible
By banning detention center health workers from speaking publicly about center conditions and barring journalists from obtaining visas to Manus or Nauru (via the Border Force Act of 2015), the Australian government has actively hidden the ways in which offshore detention works. Since the early 2000s, the Refugee Action Collective (RAC), a national coalition of refugee rights groups, has sought to counter this concealment and to render visible the realities of offshore detention.
While it is one thing to view asylum seeker struggles as an opportunity to exercise a particularly Australian form of compassion, it is quite another to situate them as part of a broader history of structural inequalities.
In a recent RAC-hosted public forum that I attended in Melbourne, Abdul Aziz Mohammed, who is from South Sudan and who had been at Manus detention center for four years, spoke to the audience through Skype about life in the center. He explained that during a recent prison break-in by local Manus residents, detention center guards immediately assumed asylum seekers were at fault and began firing at them from every angle, which was typical of the ways in which asylum seekers were considered criminal. Mohammed expressed how prolonged detention resulted in the stripping away of the conditions under which a meaningful life could be had. He told the audience, "We [the detained asylum seekers] wish we died four years ago so we didn't experience this torture or see it. We had only one option. I'm seeking asylum for a few things—for shelter and a safe place to sit. [I thought] If I risk my life in an ocean and if I made it, I would have been a hero. If I die, I'll be eaten by a fish, but at least my soul will be left in peace." Mohammed made visible to the audience not only that Australia has failed to live up to human rights ideals of dignity and equality, but also the precise ways through which it has failed. These include the state's creation of existential limbos, in which asylum seekers' capacity to make and find meaning in the everyday is compromised (
Haas 2017
), and how waiting is mobilized as a weapon against migration (
Andersson 2014
).
At the forum, several audience members yelled that the public should be incensed that policymakers have allowed this regime to flourish and chanted "Shame! Shame!" Another RAC activist pointed to how Mohammed's story indexes a broader political history of violence toward immigrants, noting that the state's criminalization of "boat arrivals" was reminiscent of how it turned back Vietnamese asylum seekers in the 1970s, the first group of migrants to be termed "boat people" in Australian discourse. By putting asylum seeker narratives in conversation with Australia's past treatment of displaced migrants, activists are attempting to show how offshore detention is inextricably part of a broader history of technologies of migrant exclusion, and thus demands a political solution grounded in moral values.
The politics of welcoming
The values-led reorientation of the refugee rights movement has also taken a more nationalistic approach. The now nationally recognized "Real Australians Say Welcome" campaign started by Peter Drew, an artist from Adelaide, South Australia, involved hanging posters of the mantra on building exteriors, lamp posts, train station entrances, and other public spaces throughout the country. In a public forum I attended in 2016 at the state of Victoria's Immigration Museum, Drew noted that his campaign was inspired by the following lines in the Australian national anthem: "For those who've come across the seas / We've boundless plains to share / With courage let us all combine / To advance Australia fair." Drew argued that the poster was designed to avoid shaming people, and instead get the public, especially white Anglo people in rural areas, to rediscover their capacity for compassion as Australians. He noted that through "rediscovering Australian identity" and pointing to "ordinary people's courage, rather than chastising people for their inhumanity," they could "realize that they are an accepting public." He continued, "'Have courage instead and be real Australians' is the strategy we should use; emphasize their values rather than what they are not."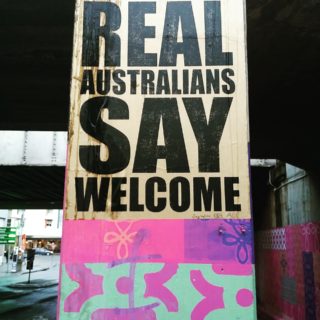 While the campaign's message is compelling in its simplicity, it also relies on a particularly sanitized and essentialized idea of what it means to be Australian. Although it calls on Australians who fear refugees to recognize that their own ancestors were also migrants who arrived by boat, it does not ask them to reflect on the conditions under which white Anglos were part of the European colonial settlement in Australia. Other migrant groups, including Southeast Asian, Middle Eastern, and South Asian refugees, did not get to set the terms of their settlement and the conditions of their acceptance. The campaign falls short of a deeper reflection on who counts as the "we" who are able to say "welcome" to the new migrant, and the historical processes of exclusion from the polity and systemic racism (including the White Australia Policy of 1901) through which that Australian "we" was generated. The campaign then, omits the fact that some of the first migration policies were actually policies designed to further white settlement on indigenous land, and that current migration policies are seen by indigenous communities as, on some level, a continuation of their dispossession. While the campaign has gained traction, it falls short of interrogating how the white majority has wilfully ignored the histories of violence that created its social and political identity as the majority (Tambar 2016, 30). The "Real Australians Say Welcome" campaign, then, raises the question of who benefits from doing the welcoming and from being welcomed.
What does justice look like?
The two initiatives examined here show the merits and limitations of using a values-based approach to raising public consciousness about asylum seeker struggles. Pairing asylum seeker narratives of living and dying with Australia's broader history of exclusion can prove to be a powerful force in revealing the logics through which migrant lives are rendered precarious, thereby raising a critical social consciousness around Australian nationhood. However, when justice for asylum seekers is framed as an extension of practicing a particularly Australian mode of welcoming, it runs the risk of reinforcing the us/them narrative that continues to situate refugees and asylum seekers as mere guests and aliens (Sassen 2000). As several powerful ethnographic accounts have shown (e.g., Besteman 2016, Cabot 2015, Ticktin 2011), it can be shortsighted to view asylum seeker's arrival in a new country or even the success of their protection claim—all things that might be categorized as part of the welcoming process—as the end of injustice and the beginning of a better life. While it is one thing to view asylum seeker struggles as an opportunity to exercise a particularly Australian form of compassion, it is quite another to situate them as part of a broader history of structural inequalities. Both examples raise important questions about the assumptions and notions of Australian history, nationhood, and sovereignty that current campaigns to address asylum seeker injustices both rely on and disavow.
Helena Zeweri is a PhD candidate in the Anthropology Department at Rice University. Her work focuses on how advocacy around family violence intersects with changing immigration policies in Australia.
The Committee on Refugees & Immigrants (CORI) focuses on the global problems of forced dislocation, the provision of asylum and resettlement to refugees, and the adjustment of immigrants. The first series of Maintain Refuge articles from CORI is available on AnthroSource.
Cite as: Zeweri, Helena. 2018. "Australia's Values-Based Asylum Activism." Anthropology News website, August 28, 2018. DOI: 10.1111/AN.952