Trump condemns "all types of racism" on the anniversary of Charlottesville.
One year ago, after the deadly Unite the Right rally in Charlottesville, Donald Trump issued a condemnation plagued by his signature self-contradictory prevarication: "We condemn in the strongest possible terms this egregious display of hatred, bigotry, and violence—on many sides, on many sides."
A year later, Trump was at it again, tweeting: "The riots in Charlottesville a year ago resulted in senseless death and division. We must come together as a nation. I condemn all types of racism and acts of violence. Peace to ALL Americans!"
Although Trump's latest dog whistle may not be as clearly audible as the previous year's message, it holds an equally troubling de-historicized view of racism that is willfully blind to social power. The tweet gives another nod and wink to white supremacy while wrapped in ostensibly anti-racist language.
To unpack the message, we must ask, what types of racism does Trump have in mind when he condemns "all types of racism"?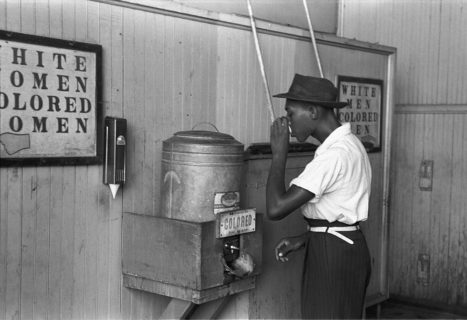 Jim Crow racism enforced legal segregation across the United States from the 1880s through the civil rights era of the 1960s. Jim Crow laws replaced the Black Codes put in place by the Confederate states at the end of the Civil War. Black Codes allowed local authorities to arrest African Americans for minor infractions and sentence them to involuntary labor, effectively reinstating a system of slavery while denying legal rights. After the passage of the Fourteenth Amendment in 1868, which required equal protection under the law, Jim Crow laws would replace the Black Codes to provide an updated version of racial discrimination. Overt acts of bigotry, hatred, and discrimination marked the Jim Crow era, manifesting in lynching, anti-black violence, voter disenfranchisement, and other expressions of white supremacy aimed at imposing an inferior status upon blacks.
Jim Crow racism drew from scientific racism to rationalize racial inequality and justify discrimination. From its beginning in the eighteenth century, scientific racism was more pseudoscience than science, coupling appeals to scientific authority with flawed methodologies and erroneous assumptions that linked physical traits and intelligence to racial categories. Races were thought to be discrete biological categories, an erroneous understanding of human differences that has persisted in the popular imagination despite scholarly recognition that human differences exist on a cline. Early physical anthropology played a role in perpetuating scientific racism, continuing well into the twentieth century. But modern anthropology, led by the work of Franz Boas (e.g., Boas 1912), began to challenge scientific racism and has gone on to contribute substantial scholarly work on the concept of race and workings of racism.
After the civil rights movement won gains against legal discrimination in the 1960s, the overt racism of the Jim Crow era gave way to new forms of racism that have become subtler and more covert—operating alongside the outward endorsement of racial equality across the political spectrum. In symbolic, or modern racism (e.g., Sears and Henry 2005, Tarman and Sears 2005), whites indirectly express racial prejudice through a moral discourse focused on values (e.g., individualism, hard work) rather than direct expressions of racial antipathy. Relatedly, in laissez-faire racism (e.g., Bobo, Kluegel, and Smith 1997), whites take a hands-off approach to dealing with racial inequalities while blaming African Americans for the failure to end racism. Even those who sympathize with victims of past racial injustices may exhibit aversive racism (Dovidio and Gaertner 2004) in which they harbor feelings of uneasiness toward and experience anxiety around minorities.
Scholarship on these new forms of racism provides insight into the way racism operates at the level of the individual, but this focus on "individual beliefs and psychological states" (Hill 2008) remains primarily concerned with personal prejudice rather than systemic racism (Feagin 2006)—that is, the way racism operates as a system of power that has developed over time to structure social relations and differentially distribute social, economic, and political advantages. Viewing racism as a system of power requires looking beyond the mental states of individuals to understand the way institutional racism perpetuates historical patterns of discrimination from one generation to another—from slavery to Jim Crow to modern racism—in defense of white privilege.
Trump's tweet on the anniversary of Charlottesville fails to conceptualize racism as anything other than a decontextualized form of personal prejudice unconnected to current and historical power relations in US society.
Race in modern US society figures into the exercise of social power through the racial ideology of color-blind racism (Bonilla-Silva 2003), which consists of the frames, styles, and stories used to defend white privilege while maintaining a non-racist image. According to sociologist Eduardo Bonilla-Silva, the central frames involve an embrace of abstract liberalism (e.g., "equal opportunity for all") while minimizing racism (e.g., "society has moved beyond race") to characterize current racial inequalities as natural outcomes (e.g., "that's just the way things are") resulting from "cultural differences" (as opposed to biological differences per scientific racism).
Trump doubtfully had in mind all of these "types of racism." The one exception is old-fashioned Jim Crow racism that still shapes popular understandings by foregrounding overt racist acts perpetrated by bigoted individuals. Trump's tweet echoes popular discourse by implicitly reducing racism to personal prejudice and bigotry (rather than recognizing it as a historically situated system of power). Drawing from this definition, Trump's multiple "types of racism" allude to various permutations of racial prejudice (anti-black, anti-white, etc.), ignoring the way racism in US society developed historically, operates systemically, and continues to shape the power relations between whites and non-whites in domains that include (but are not limited to) education, policing, and housing.
In other words, Trump's tweet dismisses the lived reality of systemic racism by signaling that perceived anti-white discrimination (so-called "reverse racism") is on a par with racial injustices carried out in defense of white privilege. The tweet does this wrapped in ostensibly anti-racist language drawn from the color-blind frame of abstract liberalism to lay claim to an "equal opportunity" stance against racism. But this façade presumes a false symmetry that does not exist. The problem is that the message fails to conceptualize racism as anything other than a decontextualized form of personal prejudice unconnected to current and historical power relations in US society.
Adam Hodges is a linguistic anthropologist with interests in political discourse. His books include The 'War on Terror' Narrative: Discourse and Intertextuality in the Construction and Contestation of Sociopolitical Reality, and his articles have appeared in Discourse & Society, Journal of Linguistic Anthropology, Language & Communication, and Language in Society.
Cite as: Hodges, Adam. 2018. "What 'Types of Racism' Does Trump Recognize?" Anthropology News website, September 5, 2018. DOI: 10.1111/AN.959