Opening Keynote with Labor Leader Dolores Huerta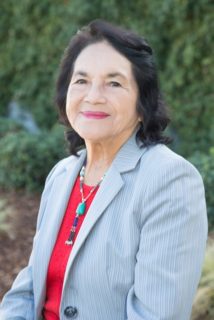 Dolores Huerta, co-founder of the United Farm Workers of America and president/founder of the Dolores Huerta Foundation, will present the opening keynote at the 2018 AAA Annual Meeting.
Huerta is a labor leader and community organizer who has worked for civil rights and social justice for over 50 years. In 1962, she and Cesar Chavez founded the United Farm Workers union where she served as vice president and played a critical role in many of the union's accomplishments for four decades.
Huerta has received numerous awards including the Eleanor Roosevelt Human Rights Award from President Clinton in 1998 and the Presidential Medal of Freedom from President Obama in 2012. In 2002, she received the Puffin/Nation $100,000 prize for Creative Citizenship which she used to establish the Dolores Huerta Foundation (DHF). DHF is connecting groundbreaking community-based organizers and organizations to state and national movements so that they can register and educate voters, advocate for education reform, bring about infrastructure improvements in low-income communities, advocate forgreater equality for the LGBT community, and create strong leadership development.
Join us at the Opening Ceremony on Wednesday, November 14, 2018 from 6:15 p.m. to 7:30 p.m. in Grand Ballroom A at the San José Convention Center. Reception to follow.
Distinguished Lecture with Emily Martin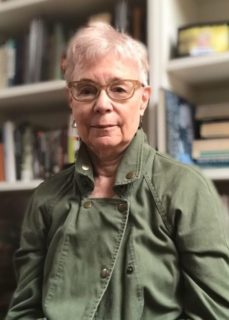 Emily Martin, feminist anthropologist and anthropologist of science and gender, will present the Distinguished Lecture at the 2018 AAA Annual Meeting.
Martin has combined feminist analysis with ethnographic investigation to explore technoscience, reproduction, the immune system, and psychology. She is the author of six books and more than 100 articles including The Woman in the Body: A Cultural Analysis of Reproduction (1987) and Bipolar Expeditions: Mania and Depression in American Culture (2007), which were honored with the Eileen Basker Memorial Prize and the Diana Forsythe Prize, respectively. She is the founding editor of the general interest publication Anthropology Now and her work has been translated into 12 languages.
In addition to serving on the Board of Directors of the Social Science Research Council and as president of the American Ethnological Society, Martin has taught anthropology at the University of California, Irvine, Yale University, Johns Hopkins University, Princeton University, and New York University. Her research has been supported by Fulbright awards, a Guggenheim fellowship, an American Council of Learned Societies Fellowship, and grants from the National Science Foundation, the Social Science Research Council, the Wenner-Gren Foundation, and the Spencer Foundation. In 2015, she received the Society for the Anthropology of North America Prize for Distinguished Achievement in the Critical Study of North America.
Join us for the AAA Distinguished Lecture on Saturday, November 17, 2018 from 6:15 p.m. to 7:30 p.m. in Grand Ballroom A at the San José Convention Center.
Register on the AAA website to join us in San José!
Follow the Annual Meeting on Twitter at #AmAnth2018.
Cite as: Anthropology News. 2018. "Meet the Featured Speakers, Labor Leader Dolores Huerta and Anthropologist Emily Martin." Anthropology News website, September 18, 2018. DOI: 10.1111/AN.977