Isaiah Nengo on racist tweets, evolutionary misconceptions, and his ancient ape skull discovery.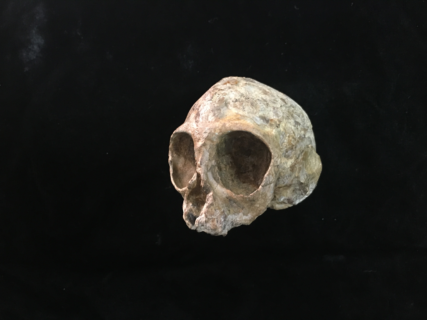 In a tweet from 2013, Roseanne Barr called former United Nations National Security Advisor Susan Rice a "big man with swinging ape balls." This year, Barr was at it again, tweeting "If Muslim brotherhood & planet of the apes had a baby =vj." VJ was a reference to Valerie Jarett, a former senior advisor to President Barak Obama. In 26 characters, she let the genie of racism out and this time it erupted all over Twitter. Comparing of black people to apes was once standard practice in anthropology textbooks (e.g., Nott and Gliddon 1854). We know that early scholars of anthropology pushed the notion that Africans are the missing link with the apes and that this was used to justify slavery. For many of us, fighting this deception provided purpose and a calling. Yet, despite anthropologists' repeated, widely disseminated assertions that race is a cultural construct, the belief of closer biological affinity between apes and black people is alive and well. How do we counter it now? Still the genie hides, only to bust forth from collective unconscious in unguarded moments, once again on public display. This article is for all anthropologists, a revisiting of the stakes at the core of the work we do.
I am hypervigilant about any tendency among anthropologists to abandon skepticism and assert that we—humans and our cousins the apes—are all kin, before the evidence is in. And I view as code, as some sign of conceding to popular opinion, the statement that we arose at different times from different places. Too often, we can expect a subtext claiming that we are not even remotely African. The need to understand the nature of human differences and our relationship to extant apes and other living beings is great. Barr's racist sentiments offer a clue as to just how prominently apes figure in Americans' thinking about what it means to be human, a thinking that could certainly benefit from what we actually now know about ape-human evolution. We do ourselves a great disservice by diminishing interest in the proper study of the evolution and relationships of apes and humans in our anthropology curricula by only casually enumerating some of the key hominin fossils and skirting the subject of race in our private and public discourse. From my own observation and experience, even as the United States becomes more diverse, our discipline is increasingly developing less interest in the race-related problems that people of color grapple with daily.
Having spent my entire adult life studying and teaching ape evolution, I hold these four major lessons to be necessary for the proper understanding and interpretation of modern human differences and human-ape kinship:
Humans may not see themselves as apes today, but we most certainly are from apes.
Humans are one of many in a once lush and bushy tree of apes, now severely pruned, not the end product of some stairway to heaven. Humans, like chimpanzees, gorillas, and gibbons are the few survivors of a surprisingly diverse lineage.
Humans do not represent the final apotheosis of an evolutionary march of progress.
The empire of the planet of the apes was in Africa.
We do well to revisit and rehearse them everywhere. Here I will reprise the last point in light of a recent discovery of a new ape species in Africa.
In The Descent of Man, Charles Darwin hypothesized that progenitors of apes (including humans) most likely evolved in Africa. Over the last five decades, paleoanthropologists have done a remarkable job of finding fossils that help us to reconstruct our extinct cousins and ancestors and flesh out key events and the general pattern of hominoid (humans and apes) evolution. Although the evidence is clear that the origin and diversification of the hominin lineage occurred in Africa, fossils of the ancestors we share with the extant apes are still elusive—yet these are most likely to have evolved in Africa as well.
The discovery of Alesi is an indication that we are yet to reach the asymptote of new ape species discoveries, although the general topology of hominoid evolution is beginning to emerge.
The case for the origin of the common ancestor of hominoids in Africa is now reinforced by the recent discovery of the infant cranium KNM-NP 59050, nicknamed Alesi (Turkana for ancestor). It was spotted at the Middle Miocene site of Napudet in the Turkana Basin, Kenya, during a cigarette break at the end of a fruitless search on the evening of September 4, 2014. John Ekusi, one of a super talented handful of Turkana and Dassanech field technicians on my field research team made the find (
Nengo et al. 2017
). Alesi is the only infant and most complete cranium of an ape known in the fossil record. After preparation of the specimen, it was scanned using synchrotron X-ray tomography in Grenoble, France, in 2015, generating almost two terabytes of digital data and revealing in high resolution both its external and internal morphology.
Currently, there are just over a dozen reasonably complete juvenile to adult cranial specimens of fossil apes from the Miocene (circa 23 to 5 million years ago) fossil record, in spite of the fact that there are over 40 ape species recorded. In Eurasia, partial crania are known for Pierolapithecus, Anoiapithecus, Ankarapithecus, Ouranopithecus, Rudapithecus, Hispanopithecus, Sivapithecus and Lufengpithecus (see Begun 2002; Kelley 2002; Kelley and Gao, 2012; Ji et al. 2013; Moyà Solà et al. 2004; 2009). In Africa, partial ape crania are known for Ekembo, Afropithecus, and Turkanapithecus (see Harrison 2010). The Ekembo specimen is distorted throughout and lacks the cranial base. Afropithecus and Turkanapithecus, though not distorted, preserve only the face and parts of the neurocranium. Juvenile hominoid crania are particularly rare in the fossil record, with a total of three specimens. Two specimens, attributed to Lufengpithecus, preserve most of the facial skeleton and the frontal bone of a juvenile and an individual at the stage of the infant to juvenile transition. The specimen of Nyanzapithecus alesi, KNM-NP 59050, is the only infant and the most complete hominoid cranium in the fossil record so far.
KNM NP 59050 is unique in that nearly all elements of external and internal morphology are preserved in a single extinct hominoid specimen. Aspects of the internal morphology available for study include the unerupted teeth, the inner ear bony labyrinth housing the organs of hearing and balance, the middle ear (including ossicles on both sides), the nasal cavity and paranasal sinuses, and the brain endocast preserving excellent surface detail. Using various analytical techniques, these elements of anatomy will allow us to explore aspects of diet, positional behavior, hearing, social behavior, growth and development, and life history, as well as systematics and phylogeny. Based on the morphology of the unerupted adult teeth inside the infant ape's skull, we have established that the specimen belonged to a new species, Nyanzapithecus alesi. A phylogenetic analysis revealed that Nyanzapithecus alesi belonged to a now extinct lineage, nyanzapithecines, which existed in Africa for over 10 million years, starting from about 25 million years ago and was very close to the origin of the common ancestor of humans and apes.
The discovery of Alesi is an indication that we are yet to reach the asymptote of new ape species discoveries, although the general topology of hominoid evolution is beginning to emerge. There was a tremendous diversity of ape species in Africa in the Early-to-Middle Miocene, these spreading to Eurasia in the Middle-to-Late Miocene. Nyanzapithecines were part of the early ape radiation. Dated to approximately seven MYA, Oreopithecus from Italy could be a late surviving member of a nyanzapithecine group that migrated to Eurasia and that was derived from the earlier radiation centered in Africa (Harrison 1986, Nengo et al. 2017). Another major diversification of the hominin line that also centered in Africa in the PlioPleistocene was followed by migrations of species such as Homo erectus into Eurasia, and Homo sapiens everywhere. Modern chimpanzees, gorillas, gibbons, orangs, and humans are but mere twigs on the family tree after the end of this grand flowering over millions of years, first in Africa and with later immigrant branches outside of Africa.
What can we deduce from this pattern? A diversity of species in a lineage occurs when a landmass supports a corresponding variety of ecological possibilities. The story of our becoming human is of ape species thriving in Africa—a petri dish for evolutionary experiments on ape-human form, conjuring up variety after variety over millions of years. If anything, a better understanding of our ape origins and our relationship to our few surviving cousin species could inspire us to reflect on our true place in nature.
Isaiah Nengo is associate director of research and science at the Turkana Basin Institute, Stony Brook University. He was born in Nairobi, Kenya. He holds a BSc in zoology and botany from the University of Nairobi, and a PhD in biological anthropology from Harvard University. He was Fulbright Scholar at the National Museums of Kenya and the University of Nairobi. His research focuses on the origins and evolution of apes.
Cite as: Nengo, Isaiah. 2018. "Great Ape Haters." Anthropology News website, September 18, 2018. DOI: 10.1111/AN.968