Other-than-human actors in politics
Anthropologists have begun to take seriously the other-than-human entities at play in the world and in political life. In Earth Beings: Ecologies of Practice Across Andean Worlds, Marisol de la Cadena details "co-laboring" closely with Mariano and Nazario Turpo, a family of ritual practitioners and land-rights activists. She describes how Ausangate—both a mountain and an earth-being—brings suerte (literally translated as "luck" but in Andean shamanic practices a much broader concept) and protects land activists. de la Cadena intimates the possibility that other-than-human entities, in close relationship with human actors, are engaged in political activism on behalf of oppressed peasants and marginalized communities. Implicit in this cosmopolitical project is an ethical claim that the presence of earth-beings like Ausangate makes the world a more just place.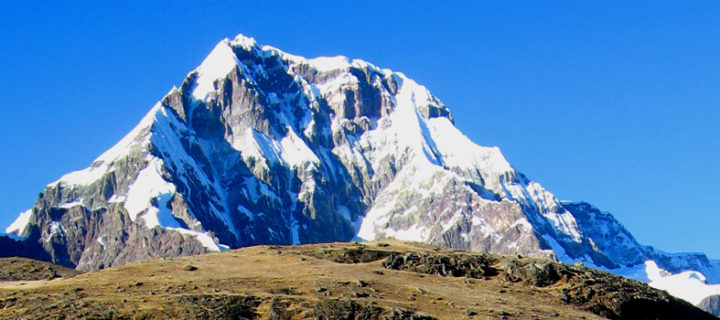 Her ethnography is compelling, grounded, and unsettling. It asks us to slow down and consider what kinds of beings might go unrecognized in our political landscape, and to take seriously the possibility that their actions reverberate not only in a spiritual or esoteric realm, but also in the here-and-now of recognizable politics that is mediated through the state. I very much appreciate her commitment to recognizing and taking seriously the "worlding practices" of communities—including their other-than-human elements that she herself cannot access directly—that are not typically taken seriously in politics. In doing so, de la Cadena strives to unsettle the epistemologies and power systems that maintain modernity's hierarchical status and cast Peruvian peasants as backwards and outside the realm of modern state-craft.
Ausangate is hardly the only other-than-human actor who plays a role in political life. Here in the United States, Attorney General Jeff Sessions recently claimed a biblical justification for the Trump administration's policy of separating children from their parents. White House Press Secretary Sarah Huckabee Sanders doubled down on the same justification in a press briefing later the same day. Their claim recognizes the role that a (version of a) Christian god plays in political life at the highest levels of the US government.
I don't discount the possibility (likelihood, perhaps) that Sessions and Sanders don't believe their own justification: that their argument is straight-up hypocrisy. I can't claim to know their minds or the true motivations behind their statements, but Sanders and Sessions clearly thought their invocation of a Christian god would be persuasive to some audiences. For millions of people in the United States, direct access to this god is a central element of their political practice. They make political decisions based on prayer and study of the Bible, and engaged in conversation with religious communities. I cannot access this god directly, but neither does de la Cadena claim to access Ausangate directly.
Not every other-than-human entity fights on the side of the oppressed or works to make the world a more just place.
So, on what grounds should I argue that recognizing Ausangate's participation in politics makes the world a better place, while recognizing that the participating of an evangelical Christ does not? Who am I to say that a Christian experience of the world—worlding practices that recognize other-than-human actors that I cannot access directly, but which many Christians can—should not be welcomed in politics? And, if a Christian god is a political actor, which version? When faced with different interpreters, all speaking for Christ, who should I take to be accurately representing Jesus's political activism?
One obvious difference between the invocation of an evangelical Christian god and an invocation of Ausangate, is that systematically separating children from their parents in order to send the message that the United States will treat immigrants with monstrous cruelty is clearly unjust, while titling land in favor of indigenous peasant communities in order to reconfigure in-community social relations with the landscape is not. This is intuitively clear to me, but I can't quite tell you how.
I suspect that I'm not alone, that we (anthropologists) often leave our own ethical commitments unexamined. We side reflexively with the communities where we work. And we often work with communities that face struggles against more powerful and avaricious forces (either because the power structures of colonialism leave them exposed to our inquisitions, or because we reflexively work with communities that face struggles against powerful and avaricious forces, or some combination of both reasons). Further, it would be nearly impossible to do our work if we did not experience some kind of solidarity with the people we spend our time with. For all of these reasons, siding with the communities where we work feels right.
But we rarely do the normative work to ground our politics in explicit, deliberate, and deliberated ethical choices. "Ours is an empirical project, not a normative one," we say. I'm not sure this is a good enough answer. We make ethical choices about which communities we support and the activism we participate in. We should make the motivations behind these commitments explicit.
An ethical project like this does not need to draw on the modern divide—between human and non-human, language and reality, civilized and savage, male and female, culture and nature, reason and fantasy, modern and primitive, etc.—but it should be able to articulate some set of values that help us distinguish between emancipatory projects like the Turpos' and oppressive projects like Sessions's.
Not every other-than-human entity fights on the side of the oppressed or works to make the world a more just place. There is obviously a difference between a Christian god who compels border police to tear babies from their parents' arms and an earth-being who protects activists seeking to overturn an exploitative regime of land tenure.
How do we distinguish which other-than-human beings ought to be welcomed into an ethical cosmopolitical project? In what kind of ethics should we ground our cosmopolitical commitments so that we avoid allowing odious politics to claim recognition and legitimacy? Thinking about political practice in the United States with de la Cadena's openness to other-than-human beings reminds us that other-than-human beings abound in political life everywhere. But taking them seriously raises difficult questions.
Chuck Sturtevant is a PhD candidate at the University of Aberdeen's Centre for Citizenship, Civil Society and Rule of Law. He writes about political anthropology in the Amazonian lowlands of Bolivia. His recent published work includes "Habilito: Debt for Life."
Cite as: Sturtevant, Chuck. 2018. "Christian Cosmoplolitics." Anthropology News website, September 26, 2018. DOI: 10.1111/AN.967