Anthropologists grapple with the responsibility of producing knowledge about other people. From understanding values and beliefs to practices and behaviors, the act of generating knowledge about others is an exercise of power that few other disciplines acknowledge or regularly reflect upon. The methodological tools of our discipline—ethnography, qualitative interviews, participant observation—are fundamentally relational and afford us opportunities to reflect on our role in the production of data that the tools of other disciplines do not. The intensiveness of our methods and approach lead to other kinds of reflection, such as whose perspectives are included in the data we gather and, importantly, whose are not. Practicing anthropologists within Department of Veterans Affairs (VA) and their interdisciplinary colleagues push our discipline's reflexive tendencies upstream, creating space for the "subjects" of our research to participate in the production of knowledge—from identifying important questions to be explored to the interpretation of data collected.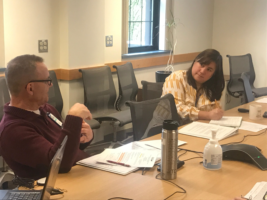 The VA is the largest integrated health care system in the country. In addition to providing health and social services to veterans, the VA also funds veteran-focused research. Many anthropologists working in the VA are health services researchers and work in multidisciplinary teams to study how "social factors, financing systems, organizational structures and processes, health technologies, and personal behaviors affect access to health care, the quality and cost of health care, and ultimately our health and well-being" (Lohr and Steinwachs, 2002). At the risk of overgeneralizing, many of our research colleagues are quite comfortable generating knowledge by relying on published literature, "big data," and highly structured questionnaires. Actually engaging with Veterans, talking with them about their health and health care experiences, observing their interactions with health care providers, and trying to understand their health beliefs and practices have not historically been common research practices. By engaging with veterans, we gain powerful narratives that address questions of how and why we see trends in clinical and administrative data. These narratives cause disruptions: they challenge our interpretations of data; they lead us to reflect on circumstances and experiences that affect health outcomes; and they make us think differently about the kinds of resources and approaches that could be developed to improve veterans' health and wellness.
However, the use of ethnographic approaches in health services research does not address ethnocentrism. In the complex health care settings in which many of us work, we struggle with the tendency to rely on our own worldviews and experiences throughout the research process—from the formulation of research questions to the interpretation of data. What we ask in our research—and how we ask it—matters. We may be very good at formulating questions, mindful of question structure and appropriateness of language. But how do we know they are the right questions to ask? And importantly, what are the assumptions that underlie our questions, and how do these assumptions align with those of the participants in our studies?
These vexing questions have led a growing number of VA anthropologists and allied colleagues to engage Veterans and those who care for them as collaborators in the development and execution of our research. These efforts, often referred to as "Veteran Engaged Research," entail a broad range of activities that bring Veterans and researchers together to discuss research ideas. The concept of Veteran engagement gained momentum as VA leadership began seeing connections between engagement of Veterans in all aspects of their health and health care. In 2017, the VA's national Health Services Research & Development (HSR&D) Office funded an effort to synthesize knowledge and inventory practices related to Veteran Engagement in Research across VA's HSR&D research centers. With this funding we formed the Strengthening Excellence in Research through Veteran Engagement (SERVE) team, which was comprised of colleagues from seven different VA hospitals in as many states. Our charge was to learn about the different approaches that individual researchers and research centers were using to engage Veterans in the research process and the benefits and challenges of engagement.
Our training also demands that we reflect on our own cultural assumptions in the research we conduct.
Over the course of a year, we talked with VA researchers and Veterans, who have been engaged as collaborators on research projects, about different engagement models, models' strengths and challenges, and the resources required. (Figure 1 in
Nicolaidis et al. 2011
provides a succinct visual representation of the complementary roles that veterans and researchers can play in the research process.)
We learned a lot from our VA colleagues and Veteran collaborators. Our final product is public-facing SERVE Toolkit that has recently become available online. It has five main sections, each corresponding with a phase of developing an approach to engaging Veterans in research (from Planning to Evolving) and a sixth section that provides a range of resources that our colleagues developed to support their engagement efforts. We think of the SERVE Toolkit as a resource to help get things up and running, leveraging the wisdom of the group to help avoid our collective pitfalls.
To some extent, developing the Toolkit was the easy part—the first step toward creating opportunities for Veterans and others to learn about research, share their experiences and opinions, and work with research teams. We are acutely aware that the Toolkit does not address the harder, less tangible work that is required to change the culture of research from one that values a particular kind of expertise and incentivizes individual productivity to one that is reflective of positionality and perspective, values the knowledge and expertise of non-academics, and allows for space and time to co-produce knowledge.
Cultural shifts do not happen overnight. Many of us working in the space of engaged research will keep chipping away at ingrained institutional habit. We will continue to invite as many people as we can to the research table, stay open to critical feedback on our own assumptions, and work collaboratively to develop useful research that informs meaningful action. Shifts in thinking, changes in perspective, recognizing diverse values and contributions, and re-aligning institutional incentives are often subtle and take time. Our training in anthropology provides us with numerous examples of the incredible variation in beliefs about health and wellness that exists within and between cultures. Our training also demands that we reflect on our own cultural assumptions in the research we conduct. We are in a national moment when communication is fraught and our ability to listen to each other tested. This is an opportune time to lead by example and create space for Veterans and those who care for them to join us at the research table.
Justeen Hyde
Justeen Hyde, PhD is a research health scientist at the Center for Healthcare Outcomes and Implementation Research at the Bedford, MA VA and soon to be an assistant professor of research at Boston University School of Medicine.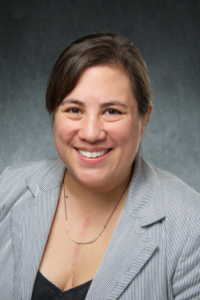 Sarah Ono, PhD is a core investigator at the Center to Improve Veteran Involvement in Care (CIVIC), VA Portland Health Care System and an assistant professor in the Department of Family Medicine at Oregon Health & Science University, Portland, OR.
Gemmae Fix and Megan McCullough are contributing editors for Anthropology in the Public Sector. The views expressed in this article are those of the authors and do not necessarily represent the views of the Department of Veterans Affairs or the United States Government.
Cite as:  Hyde, Justeen, and Sarah Ono. 2018. "Creating Space for Veterans' Voices in the Production of Knowledge." Anthropology News website, October 9, 2018. DOI: 10.1111/AN.987