In the era of #MeToo, we need collective liberation, not the tears and tantrums of white male entitlement.
In less than the time it takes you to read this, someone in the United States will be sexually assaulted. One person is assaulted every 98 seconds; almost 37 people in an hour and 888 people a day. There is less than a 1 percent chance that any given perpetrator will go to jail. Rape is underreported, under-prosecuted, and disbelieved. Ours, as anthropologist Peggy Sanday might say, is a rape prone society.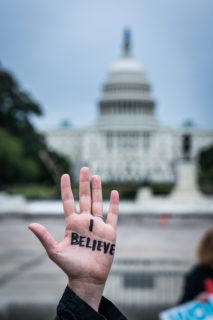 Sexual violence survivors today face not only the pain of individual suffering but also the pain of collective betrayal. October 2018 was a watershed month for sexual violence atrocities and awareness in the United States. Brett Kavanaugh was tried in the court of public opinion, and white male entitlement walked off with a slap on the wrist. Even in the era of #MeToo, Americans can be sure that men who flaunt the allegations of sexual assault levelled against them will not be barred from occupying all three branches of government. This includes the man currently sleeping in the White House residence and at least two others sitting on the Supreme Court bench with a lifetime appointment. Senator Lindsey Graham worried aloud, in so many words, that if Kavanaugh could not get confirmed, no one could ("God help anyone else who is nominated!").
This is the bellyache of white male entitlement, as though any white man qualified to occupy this seat could, under the current pretenses, be accused of sexual assault. Indeed, the anyone-we-nominate-will-suffer-the-same-fate argument does not hold men in very high esteem. It says that Graham is fairly confident that influential white men have a problem with abuse of power. We certainly would not want to "rush to judgment" with our accusations. We reserve hasty generalizations for Black men like the Central Park Five.
But, Kavanaugh's detractors are told we owe him an apology. And an apology he got—on national television from the president himself for "terrible pain and suffering." While this may look like an apology to one man and his family, it's not. The president's apology is to all white American men. His discourse on "unfairness" is supposed to be an antidote to demands for them to "check their privilege."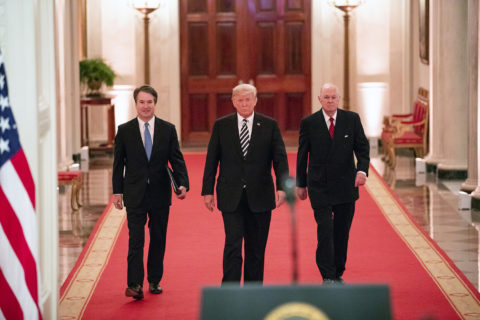 We must not weep for the patriarchy; he's doing just fine. Given the dangerous disinterest of those we put in power, the script cannot flip to one of sympathy for white male entitlement threatened, what has been called "white male victimization anxiety." Rather, we should weep for what has become a performative sham of politicians representing nothing more than their own self-interest. We should weep for the survivors who, in coming forward and being rebuffed or mocked, are the collateral damage of attempts to put the raging patriarchy in "time out." And still, it was rage that saved Kavanaugh.
Kavanaugh cried not because he was falsely accused; his tears were those of white patriarchy on the brink of being held accountable, fearful of losing the social welfare package of white male privilege. His was a tantrum. As most parents know, a child's tantrum sometimes results in the child getting what the child wants: Hush now, here's your Supreme Court seat. Hush now, here's your lifetime appointment. And so we have October 6, 2018, the day that that white male privilege got its pacifier and could live to power grab, or pussy grab, another day. There is hope, however. During Christine Blasey Ford's testimony calls to the National Sexual Assault Hotline increased by 147 percent.
Some have called the Kavanaugh hearings and Blasey Ford's testimony an example of a "zero-sum relationship" between men's status and women's status—they are, in this view, inversely correlated. Overturning this misconception is the real challenge, particularly when men's individual accountability is framed as weakness. But we have some tools. We learned about interlocking systems of oppression from Black feminist powerhouses like Kimberlé Crenshaw and Patricia Hill Collins and the many descendants of intersectionality theory; the trick is, our liberation is also interlocking, an idea prevalent in American civil rights thought and activism.
Sexual violence is personal, emotional, and ethically unsettling; it's also preventable. Certainly, anthropologists can be involved in collective liberation "que cura," that cures.
Collective liberation involves fundamentally redefining both power and well-being in terms of someone else before myself, although we're socialized to define power and well-being via individual actualization. This is the thinking behind gender mainstreaming in human rights discussions and
universal design
in architecture. This kind of thinking has motivated sexual violence prevention and education campaigns that work
from "the margins."
So, we might say that, when indigenous women's reproductive and sexual health care needs are taken care of, then bodily autonomy for all women will be assured. When Black trans women no longer have to fear being assaulted in a bathroom, then neither will her cis white sisters. When my gender non-conforming sibling no longer has to fear sexual violence, neither will my gay brother. When rape ceases to be a frighteningly common assertion of power over another human being, the patriarchy won't be on trial because men, too, will be liberated. Once this is not about fear over what's being "loss" for historically privileged social groups—and instead becomes about what all of us can gain from a more equitable society—we can begin to heal collectively.
Recently, Aimee Villarreal and David F. García made the case for anthropolocura, anthropology that involves the stickiness of "personal enmeshment, family ties, durable commitments, challenging emotional work, and unsettling ethical dilemmas." Sexual violence is personal, emotional, and ethically unsettling; it's also preventable. Certainly, anthropologists can be involved in collective liberation "que cura," that cures.
When news broke that Kavanaugh had been confirmed, I needed curing. I wrote this piece with the hope of making a statement and being a part of a collective healing process; I can start with work on my campus. Increasingly, anthropologist faculty members are defining their role in this undertaking. Indeed, contributors to Anthropology News have called attention to the role of faculty in facilitating difficult dialogues about sexual violence as well as in developing projects that critically examine the longstanding and metastatic roots of sex/gender discrimination in higher education. Some colleges and universities put large sums of money and institutional support behind ethnographic research of the climate of sexual health on their campuses. It's on us to speak up as faculty, researchers, scholars, community members, and caring adults to say: We know we can do better. We believe you.
Jamie E. Shenton is assistant professor of anthropology at Centre College in Kentucky. Shenton is a medical anthropologist specializing in questions of gender, the body, and social change, particularly among lowland indigenous peoples of South America. Her current research focuses on questions of inclusion and exclusion within contemporary social movements.
Cite as: Shenton, Jamie E. 2018. "White Patriarchy Gets a Pacifier." Anthropology News website, October 15, 2018. DOI: 10.1111/AN.1000