Silence can be a powerful communicative tool in today's political landscape.
Words take center stage in the verbal sparring of the Twitter age. Against the backdrop of Trumpian shenanigans and political divisiveness, speaking increasingly involves uttering more provocative or exaggerated words. Take, for example, Robert de Niro's expletive-driven denunciation of Trump at the 2018 Tony awards, followed by Trump's insult-driven response on Twitter. Pundits, politicians, and other sociopolitical actors jockey to voice their perspectives through words—whether kind or mean, well-reasoned or ill-conceived. Words, after all, are fundamental to human language and how we use language to engage in social interaction.
But, amid the endless talk and noise of today's political landscape, we often overlook the powerful communicative potential of silence.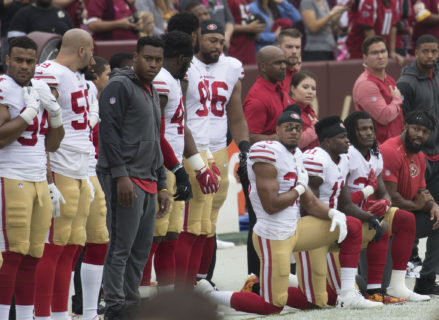 Linguists and anthropologists have long recognized the importance of silence in human communication. In his ethnography of communication of a Western Apache community, Keith Basso (1970) details several types of situations in which acts of silence—that is, refraining from speech—are deemed culturally appropriate and meaningful. The meaning of such acts of silence—just as with verbal acts—must be worked out in specific contexts of situation. "Although the form of silence is always the same, the function of a specific act of silence—that is, its interpretation by and effect upon other people—will vary according to the social context in which it occurs," Basso explains.
Other scholars have gone on to explore the multiple discursive functions of silence (e.g., Tannen and Saville-Troike 1985; Jaworski 1997). Depending upon the situation, silence can be negatively or positively valued (Tannen 1985). It can be interpreted as a sign of respect, as when we pause for "a moment of silence" to remember the deceased. It can be used to manage conflict (Tannen 1990) or to express closeness and intimacy, as in "the silence of perfect rapport between intimates who do not have to exchange words" (Tannen 1985). Silence can express uncertainty and distrust, defiance of authority, or solidarity (Jaworski 1998). Silence can be deployed to avoid speaking the unspeakable (e.g., taboo topics) or to avoid being impolite ("if you can't say anything nice, don't say anything at all"). Silence can be seen as powerlessness ("staying silent" or "being silenced") in the presence of more powerful voices, or silence can be seen as an expression of power, as in the trope of the "strong silent type."
The role silence plays in the diagram of power follows Michel Foucault's (1978) "rule of the tactical polyvalence of discourses," which emphasizes the way silence—as with words—is not only "both an instrument and an effect of power, but also a hindrance, a stumbling-block, a point of resistance and a starting point for an opposing strategy." Anna Marie Trester (2013), for example, illustrates the way anti-war protestors performed acts of silence to actively communicate a message of peace before and after the US invasion of Iraq in 2003. In a recent paper on the "sounds of democracy" in Nepal, Laura Kunreuther (2018) further explores the active performance of silence as a means for protestors to "gain a voice." Kunreuther notes that "metaphors of political voice" typically refer to verbal speech but emphasizes that silence can be an equally valuable discursive move in democratic practice.
Take, for example, Colin Kaepernick's silent image featured in a recent Nike ad. Kaepernick, of course, launched NFL pre-game protests against racial injustice in 2016 by taking a knee during the national anthem and has since been blackballed by the league. As detailed in an analysis by the New York Times, Kaepernick's use of silence (punctuated by selective verbal speech acts) has allowed him to position his voice within the national discourse on racism in policing—mostly without saying a word. This can be seen in the Nike ad that implicitly echoes his protest message, his photo displayed on the cover of GQ magazine last November (without an accompanying interview), and his 11,000+ tweets (mostly retweets rather than his own words) since then.
Kaepernick's mostly silent protest has allowed him to communicate his message and exercise his "voice" non-verbally, following a protest tradition begun 101 years ago with the "Silent Protest Parade" in New York City, in which several thousand African Americans silently marched to raise their collective voice against lynching, racial violence, and white supremacy. When Kaepernick does engage in a verbal speech act—as with his recent seven-minute speech in Amsterdam after receiving Amnesty International's Ambassador of Conscience Award—his focused words punctuate his message: "I remind you that love is at the root of our resistance. […] A collective love that is constantly combating collective forms of racialized hate."
Whereas Kaepernick's acts of silence challenge institutional power (in the form of systemic racism), Robert Mueller employs a strategy of silence backed up by institutional power (the authority of the Justice Department). As reported in the New York Times, "Since his appointment 16 months ago as special counsel, Robert S. Mueller III has granted no interviews and held no news conferences." Instead, the results of his investigation (i.e., indictments and plea deals) do the speaking for Mueller—seeming to follow the maxim of "letting the facts speak for themselves." Of course, facts never do speak for themselves; rather, people speak about facts, filtering them through interpretive frames. Mueller's silence therefore allows Trump and his supporters an opportunity to assert control over the discourse, framing the investigation as a "witch hunt." Nevertheless, Mueller's silence exerts a powerful influence over the national discourse. Especially in an era marked by puerile tweets and ludicrous pronouncements by the president and his lawyers, Mueller's silence exudes a gravitas that has otherwise been missing from politics. Mueller's silence communicates this gravitas in large part due to the power of his office, which imbues his (silent) voice with the institutional authority of the Justice Department.
In our increasingly noisy political scene, these examples are worth remembering when contemplating how to express one's voice. Meaningful acts of silence can sometimes wield as much power as well-chosen words, effectively communicating a message that may otherwise be diluted if speakers relied upon words alone.
Adam Hodges is a linguistic anthropologist with interests in political discourse. His books include The 'War on Terror' Narrative: Discourse and Intertextuality in the Construction and Contestation of Sociopolitical Reality, and his articles have appeared in Discourse & Society, Journal of Linguistic Anthropology, Language & Communication, and Language in Society.
Cite as: Hodges, Adam, 2018. "Speaking With Silence." Anthropology News website, October 23, 2018. DOI: 10.1111/AN.1006