Search here for conference announcements, calls for papers, fellowships and more.
Do you have an event you'd like to announce? A call for papers for a conference? Email all details to [email protected].
May
31
Fri
Anthropogeny: The Perspective from Africa Symposium
May 31 @ 1:00 pm – 5:00 pm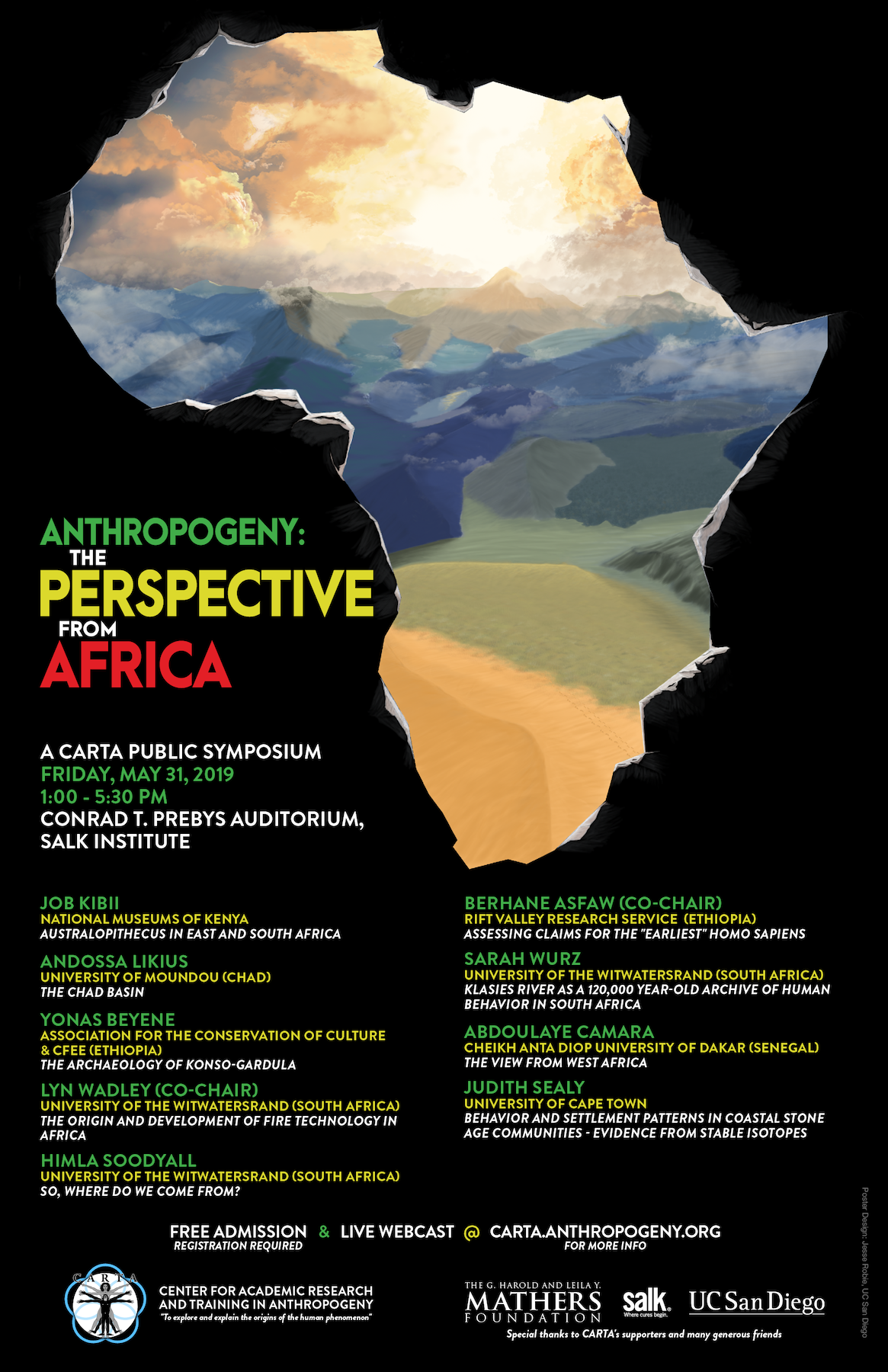 Join the live webcast! "Anthropogeny: The Perspective from Africa" is the topic of a free public symposium hosted by the UCSD/Salk Center for Academic Research & Training in Anthropogeny (CARTA) on Friday, May 31st (1:00-5:30 pm Pacific), co-chaired by Berhane Asfaw (Rift Valley Research Service, Ethiopia) and Lyn Wadley (University of the Witwatersrand, South Africa)
Darwin and Huxley first predicted that we humans shared a common ancestor with the African great apes and it is now abundantly clear that Africa was the "cradle of humanity," with multiple waves of hominins arising on that continent and spreading across the old world, eventually being effectively displaced by our own species, which also arose in Africa.  As Svante Pääbo put it, "we are all Africans, either living in Africa or in recent exile from Africa."  Given these facts, it is not surprising that the strong emphasis of anthropogeny is on the continent of Africa with studies ranging from genetic to paleontological to archaeological to primatological to climatological to sociocultural.  This CARTA symposium focuses on the contributions of scientists and scholars of anthropogeny who live and work in Africa.
Access the live webcast here on May 31:
https://carta.anthropogeny.org/events/anthropogeny-perspective-africa
Sep
1
Sun
2019 Praxis Award Competition
Recognizing Excellence in Practitioner Anthropology
THE 2019 PRAXIS AWARD COMPETITION
Since 1981, the Washington Association of Professional Anthropologists' (WAPA) biennial Praxis Award competition has recognized outstanding achievement in translating anthropological knowledge into action as reflected in a single project or specific endeavor. Ideal award candidates are anthropologists who can demonstrate the value of anthropological knowledge, theory and methods to solve problems addressed through public and/or private sector efforts (e.g., government, industry, or non-profit).
Award recipients will receive a $1000 prize and will be recognized at a Praxis Award ceremony and reception at the 2020 meeting of the Society for Applied Anthropology. For further information, requirements, and a list of past award recipients, please see https://wapadc.org/praxis. A brief pre-application (2 pages) is encouraged. Both the pre-application and full application templates are available on the Praxis Awards Guidelines page.
The competition is open to anyone holding an MA or PhD in any subfield of anthropology. WAPA strongly encourages submissions from individuals, mixed-discipline groups, or organizations where at least one anthropologist worked on and influenced the designated project. Entries are encouraged from anthropologists worldwide. All entries will be evaluated by an expert panel of anthropological practitioners.
Key Dates:
Optional pre-application deadline: July 1, 2019
Full application deadline: September 1, 2019
Awardees and other applicants notified: January 2020
Praxis award(s) presented: March 2020
Please direct questions to [email protected], noting Praxis in the subject line. Pre-applications and applications should be submitted to [email protected].