Article begins
Indigenous knowledge systems thrive primarily outside academia. They are vibrant, living, and hold extraordinary potential for social change.
Forward-facing education
In the summer of 2021, our family realized a much-anticipated traditional Apache Na'í'ees ceremony for our eldest daughter, Carmen Aniela. A Na'í'ees (Sunrise Dance or Changing Woman ceremony) requires extensive familial collaboration, guidance from spiritual leaders, plant/animal resources, and financial investment (food, lots of food). Acknowledging and nurturing communal inter-relationships and practicing humility are reminders to us as humans that we occupy a small place among many living and powerful beings on our Earth and in our atmosphere. These salient understandings guide practice in this laborious and rejuvenating event.
Any Apache knows well the planning, sacrifice, mental, physical, social, and spiritual demands of a Na'í'ees—an embodied love affair between people and place. Delayed by a year and recovering from the impacts of pandemic separation, illness, and extreme drought, among other stressors, we stood by our daughter with the support of extended family as she was molded by her new godparents into a strong woman under the guidance and protection of spiritual teachers. Rain poured from the sky during the entire three-day ceremony. In the Arizona high country, a region enduring a 28-year extreme drought, plants, animals, and the animate atmosphere burst with new life. Plants sprouted before our eyes. Water tanks across the vast flats filled. The landscape was vividly painted anew.
A Na'í'ees ceremony is both very personal and an embodiment of community stewardship, reciprocity, and forward-facing education. We save no expense to invest in the next generation. It is a communal ritual with the expressed goal of building the best possible Apache futures. A Na'í'ees ceremony is nation building. Indigenous knowledge systems, systems that thrive primarily outside of academia, are vibrant, living, and hold extraordinary potential for social change.
Months preceding her Na'í'ees, Carmen created an image of her future self in a moment of the ceremony where earthly elements and non-earthly powers converge. The profound beauty of the image is derived from simplicity: recycled cardboard, used wrapping paper, magazine pages, and white paint.
Credit:
Carmen A. Stevens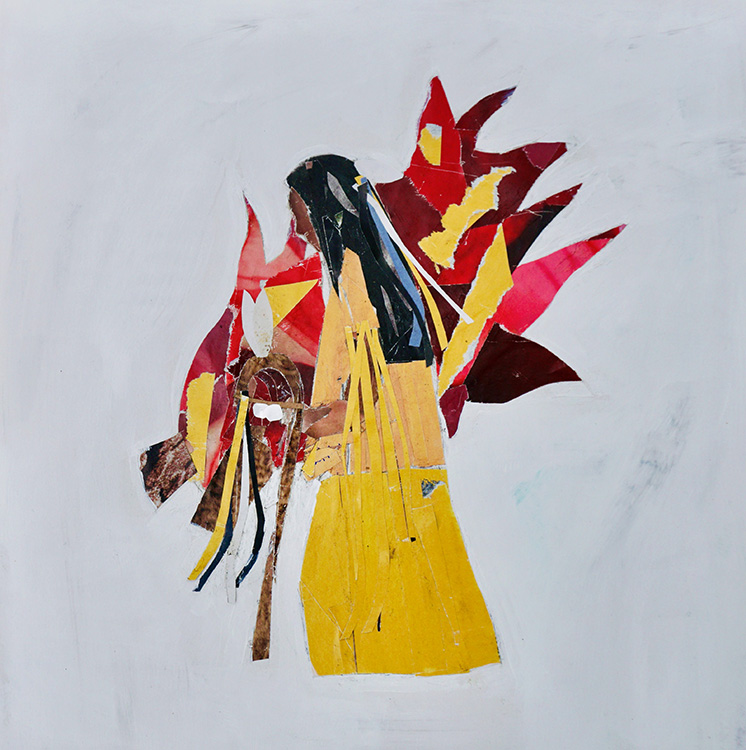 Changing Woman by Carmen A. Stevens, age 14, San Carlos Apache, May 2021. Materials: magazine, gift wrapping paper, polyvinyl acetate glue, side of cardboard box, and white paint.
As anthropologists of education, we work to understand and enact policies and processes that align higher education with Native Nations. Our individual and collective efforts to design and lead programs centered on Indigenous needs and desires, including the University of Idaho's American Indian Studies program (AIST) and the Indigenous Knowledge for Effective Education Program (IKEEP), that center Indigenous ontologies, epistemologies, axiologies, and cosmologies in historically hostile university contexts constantly challenge us. As parents, community members, and public scholar-educators, there are a multiplicity of ways to contribute to Indigenous well-being through education. As seen in both Carmen's artwork and our description of her Na'í'ees, the materials for tribal nation building are around us daily.
Tribal nation building is ubiquitous and ongoing
The experiences of many Indigenous families to support and prepare their youth to be strong adults and leaders are grounded in centuries of knowledge. Lumbee anthropologist of education Bryan McKinley Jones Brayboy reminds us that "Tribal nation building and activism happens across and through generations. It takes many forms. It is not new." Yet tribal epistemology has been usurped by Eurocentric pedagogy in institutions of schooling. Complex, nuanced, philosophical, and dynamic lessons embedded within such ceremonies as the Na'í'ees are often misidentified as static, superstitious, primitive, and even foolish. However, there has been an adjustment within Eurocentric educational facilities, spearheaded by Indigenous educators and scholars, that has begun to recognize tribal epistemologies and ways of knowing. It is these efforts, the ideological and material changes they put in motion, that interest us.
Tribal nation building as a framework for changing conditions in higher education
Our work at the University of Idaho conceives of higher education and tribal partnerships as being grounded in the concept of tribal nation building. According to scholars in our field, nation building in higher education involves a conscious and focused application of the collective resources, energies, and knowledge toward liberating and developing the physical and intellectual space of Indigenous communities. Conscious and focused nation building drives conversations of legal, political, cultural, economic, health and nutritional, spiritual, and educational well-being.
In the winter of 2020, with colleagues Dylan Hedden-Nicely and Chris Hamilton, we organized a convening that brought together roughly 60 Indigenous and non-Indigenous faculty, higher education administrators, tribal colleges, tribal directors of education, and Indigenous graduate students, all with expertise and interest in transforming university–tribal partnerships. Attendees represented 16 different public institutions spanning 10 states. Faculty brought an array of disciplinary perspectives: life sciences, law, anthropology, linguistics, education, public health, ethnomusicology, among others. The multiday, conversational-style convening was guided by keynote speakers and the following interrelated questions based in the fields of education, life sciences, law, and anthropology: In what ways can or do institutions of higher education address administrative barriers that limit equitable opportunities for success with Indigenous students, faculty, and collaborative research in higher education? What innovations in higher education partnerships, policies, and programs have contributed to tribal nation building, and how might they be strengthened?
We recorded the rich discussions of tribally engaged leaders in higher education during the convening. In the over 30 hours of group conversations, we hear Indigenous educational leaders consistently express the importance of nation building. Centering Indigenous voices and leadership in higher education decision-making "fulfills the promises articulated in policy, law, treaties and so, because of this, it keeps the US honest and accountable" (faculty quote, public health). Our colleagues articulated struggles and successes in building collaborations that further the purposeful commitment of higher education, healthy families and communities, and sustainable economies that render "justice" to Indigenous communities. Relational accountability in higher education and research is an imperative of nation building.
A first product from this convening was published in a special issue of the Journal of American Indian Education. The initial findings presented in that issue offer an educational framework for Indigenous self-determination to become part of the "DNA" of post-secondary education. Scholars from different fields, Native graduate students, and tribal leaders voice the need of humanizing approaches to education policies, faculty hiring practices, curriculum redesign, and outreach grounded in relational accountability with Native Nations.
Toward relational accountability at the University of Idaho
The origins of our University of Idaho, one of 52 land-grant institutions in the United States, are part of a colonial process of violence in the Western academic tradition of claiming and controlling Indigenous lands. Recent movements to acknowledge the Indigenous history of a place, such as land acknowledgement statements, are not enough to neutralize the coloniality guiding our institutions of higher education.
To listen to and learn from how tribal nation building is enacted for and by Indigenous peoples involves acknowledging the enduring, multistranded relationships between peoples and place. Traditional ethnographic methods are inadequately designed to account for Indigenous perspectives, desires, and needs. The guidance of Indigenous research methodologies, such as the work of Jo-ann Archibald, Bryan Brayboy and colleagues, Elizabeth Sumida Huaman and colleagues, and Linda Tuhiwai Smith, among others, ground tribal nation building as the core of inquiry, design, and analysis of what is determined to be relevant social and cultural phenomena. Indigenous methodologies are never without obligation and accountability and there is no place for mere abstraction in Indigenous-centered research. For us, this means research practices are deeply entwinned with the needs and experiences of our students, communities, and practitioners so that we collectively elevate the philosophical underpinnings of tribal epistemologies and consider how our relationships co-construct shared benefits in the research process and dissemination. Collaboration and praxis with diverse research teams (Indigenous, allied, practitioner, and interdisciplinary) enables us to be in relationship with complex and uncertain processes of reconstructing space for Indigenous needs and desires in higher education. This is the muscle and tendons of our work.
An old Indian joke is that they have no friends in the different world of the university, except for the anthropologists, but anthropologists prefer Indians dead. Through conversations with living tribal community members, it was determined that one of the best ways the American Indian Studies (AIST) program at the University of Idaho could serve the community was to revamp the curriculum to address issues currently facing Indigenous communities. AIST developed the Tribal Elders Series, where tribal elders or knowledge holders could share knowledge with the university community. This strengthening of relationships between institutions of higher education, tribal nations, and tribal citizens is a way we can engage in co-constructing new commitments to each other.
Our Cultivating Relationships project also underscores tribal nation building as an active process. This codesigned teacher professional certificate program funded by the National Science Foundation's Discovery Research K-12 program, partners faculty colleagues from different disciplines (anthropology, education, life sciences, and natural resources) and four tribal nations (Coeur d'Alene Tribe, Nez Perce Tribe, Shoshone-Bannock Tribes, and the San Carlos Apache Tribe) to ensure classrooms perpetuate a sensitive relationship between people, place, land, and waters. Questions that guide the design of this locally run teacher professional development certificate include, What should STEM education look like if it were built around sustaining tribal futures? and, How is STEM education transformed by Indigenous knowledge systems? The response to these questions consistently centers Indigenous knowledge as dynamic and useful for contemporary problems. The foundational premise we hear echoed across our work in partnership with Indigenous faculty and diverse tribal leaders in higher education continually emphasizes this truth: tribal nations are leading the intellectual and spiritual work that is needed to address the most complex issues of our time (e.g. climate change). We need to be listening and supporting this work.
Credit:
Vanessa E. Anthony-Stevens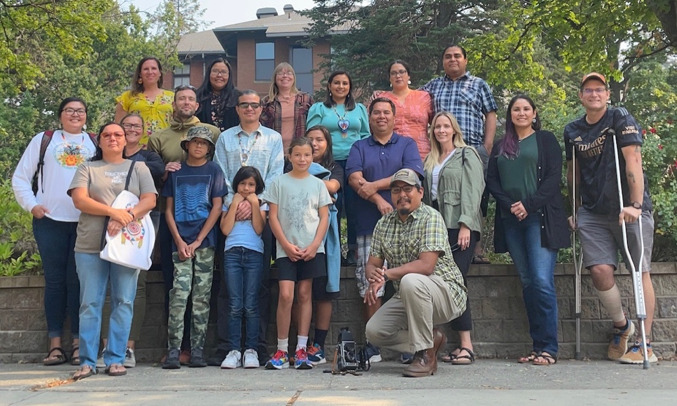 "The Dream Team." Cultivating Relationships partners from the Nez Perce Tribe (Josiah Pinkham, Dept. of Natural Resources, and Tiyana Casey, Coordinator of NPT Weetespemee Stewardship Program), the Coeur d'Alene Tribe (Caj Matheson and Gina Baughn, Dept. of Natural Resources), the San Carlos Apache Tribe (Lisa Eutsy and Nikki Lewis, San Carlos Apache College), and the Shoshone-Bannock Tribes (Sammy Matsaw and Latisha Herkshan, Dept. of Fisheries and Wildlife, and Jessica Matsaw, Co-Founder of River Newe), as well as University of Idaho partners (Philip Stevens, Brant Miller, Karla Eitel, Chris Hamilton, Shanny Spang Gion, Shawna Campbell-Daniels, and Vanessa Anthony-Stevens).
Stories shared in relationships of accountability oblige us to speak textured truth to power in universities. Honoring the Indigenous people, knowledge systems, and lands must involve support for Indigenous faculty and programs that center Indigenous needs and desires. We recognize our call to address inequities in university/tribal relationships is not new. Yet building sustained pathways for reciprocal relationships between tribal nations and institutions of higher education has too few examples. As anthropologists of education, we embrace our field's broad interdisciplinary base and expansive scholarly vision and, importantly, its commitment to social reform. The co-construction of local collectives that attend to cultural process and power, to learn from and with the efforts of tribal nations and other institutions, provides important openings toward changing the conditions of higher education. Just as the Na'í'ees ceremony is an embodiment of community stewardship, reciprocity, and forward-facing education, so should be our work as anthropologists in the university.