Article begins
An early-career anthropologist reflects on teaching and working through the COVID-19 pandemic.
Connectivity
I filed the final version of my dissertation in January 2020 from my new office in a small, Catholic private university in southern Chile, where a significant number of students are from rural backgrounds, including first-generation and Indigenous Mapuche students. On March 15, 2020, classes were suspended for 15 days; then the president of Chile declared a 90-day national catastrophe. I would be teaching my first semester online (as well as the following three, unbeknownst to us at the time).
In our department, we began discussing the move to online teaching and how to address la conectividad. The concept of connectivity encompassed a host of problems within the university's teaching and learning environment: professors and students without internet service at home; lack of cellphone coverage; sharing a family computer; or connecting with prepaid, limited internet "packets" via cellphone. Some faculty and students even had to take the bus to a nearby town to get online. The anthropology student organization carried out a survey to identify these issues among themselves, weeks before the university began working on stop-gap measures to connect students and professors, carrying out a similar survey. They began to provide internet packets directly to students' and professors' cellphones—which quickly ran out, unfortunately—and provided a limited number of computers. My university used Meet rather than Zoom, with the idea that the former used less bandwidth for students with low connectivity. The university then declared a period of emergency teaching as we went online, requiring each professor to teach additional course hours.
Many of my students connected to their classes through their cellphone and only used the family computer to write essays. Although almost no one turned on their cameras, they would write comments and ask questions in the group chat on Meet. During the second semester, in an attempt to improve connectivity, my coteacher María Pía Torres Zamora and I gave our students our cellphone numbers to communicate with us on WhatsApp. Throughout the semester, my first-year students in General Anthropology sent me audio and text messages whenever they were working on their assignments and had a question. My phone pinged all day, and often at night, into the early morning hours. We recorded audio messages in the course group chat, sent memes about Alfred Radcliffe-Brown and Bronislaw Malinowski disputing about functionalism, and reminded them of readings and deadlines. I recorded 10-minute podcasts—on topics linking the legacy of salvage anthropology with the story of the treatment of Ishi's remains, or questioning the anthropological canon through Zora Neale Hurston's Barracoon—sending them out on our group chat.

Waiting for students to connect in Meet
In feedback on the course, the students overwhelming noted that they felt accompanied and supported despite the issues of connectivity. But for me this was all too much connectivity. I visited the ophthalmologist because my eyes would stream with tears by the end of the day, and they developed grit from too much screen time. As Chile's early COVID-19 protocol only permitted people to go outside twice a week with a police-approved pass, I hurried around the city, navigating police- and military-run checkpoints, attempting to find the pricey ointment the ophthalmologist had prescribed before my two-hour window expired, still answering student WhatsApp messages.
The course also intended to provide students with their first experience of fieldwork, something almost impossible with twice-a-week permissions reserved for essential tasks. With both anthropology and archaeology students in my general intro course, I designed an exercise where students carried out a mini research project from the perspective of a life history. These histories took an event in someone's life or the life history of an object as the subject of the investigation. Students watched a documentary about The Story of Stuff and read archaeologist Vicente Lull's work on the object as subject and Malinowski's chapter on the Kula. They also learned about Bolivian sociologist Silvia Rivera Cusicanqui's work on oral history as a means to attend to the complex, often nonlinear narratives of lived experience in settler-colonial contexts such as southern Chile. With guidance, they developed a script that they then recorded as a podcast. One student narrated the life story of her grandmother's loom, as the object-subject of her artisanship and giver of a modicum of independence. The weavings provided supplementary cash on a remote island in the Chiloé archipelago, where women did not often have access to wage work. Another interviewed a Catholic nun about her experience teaching young girls in the mid-twentieth century, who professed to have taught Indigenous and non-Indigenous girls as equals (though the instructional language was Spanish).
With the return to in-person classes, I have noticed a change in the connectivity I have with my students at my current university. I am often standing, masked, and circulating to different parts of the classroom to exchange dialogue and questions with students. They no longer see my face and my house in the background on the screen at face level; not everyone asks questions during class. Yet many more students do respond orally to the open-ended questions that I ask in class, as the option to type out a reflection in the group chat is gone. Overall, as a relatively new professor, these different modalities have taught me that in-person teaching does not guarantee a sense of connection for the students; in light of this I have planned spaces at the beginning or end of classes to comment on local and national events, or their everyday lives, from an anthropological viewpoint. I sit with the students, attempting to briefly reconnect to the visual horizontality that online teaching unexpectedly provided, and to generate a sense of connectivity and belonging.
Interruptions, grief, and research demands
I planned on soon returning to northern Paraguay to visit long-term connections from my research on the impact of land titling in campesino and Indigenous communities; I had not returned since February 2019. Members of my campesino host family had been in a bad motorcycle accident. My host father almost lost his foot; my host mother was over eight months pregnant and the medical team induced labor. After several choppy cellphone calls with members of their community, I asked my family in the United States to help me pull together funds and wired money to support them. The money was spent on baby formula, as the aunt looked after the baby while the mother was still in the hospital. That baby is now a walking, talking toddler and, fortunately, in good health.   
My research has documented many forms of loss, as Guarani and campesino communities have lost land to privatization and speculation. The fragmentation and commercialization of the rural landscape was accompanied by massive deforestation, and thus the basis of their forest-based livelihoods was also lost. Older Guarani community members also remembered other epidemic diseases, such mba'asy po'i (tuberculosis) and mba'asy tata (perhaps Bullous pemphigoid). Thus, when news of COVID-19 arrived, some Guarani leaders urged their communities to close off contact. Others campaigned for the entire eligible community to get vaccinated once vaccines became available.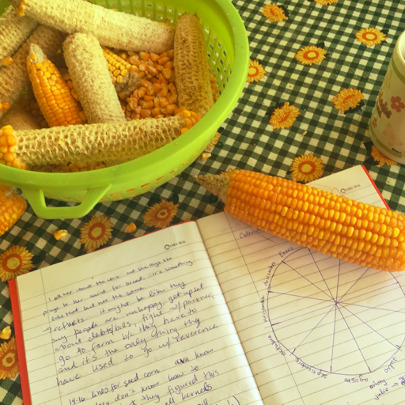 Fieldwork interrupted in Paraguay by COVID-19.
COVID-19 quickly fanned out into rural communities in northern Paraguay, despite early reports that the virus had been contained in the country. Paraguay established quarantines for travelers entering the country in overcrowded, unsanitary coronavirus shelters. I soon learned of several heartbreaking deaths in the communities where I worked. My host mother's comadre, an energetic campesina activist, died of COVID-19 during the first underreported wave. Later that year, two Indigenous leaders who were key to obtaining collective land titles in their respective communities, as well as active in their inter-community organization, also passed away from COVID-19.
I feel unable to account for these losses, and unable to take the amount of time needed to spend with their communities and families to begin to understand their grief. I had regular visits and a 20-month stay as a graduate student, but as an early-career scholar I am coming to understand the limitations to my ability to just be with the people and communities where I conducted most of my last research project. My current position in Chile requires me to focus on applying for national grants that fund research in Chile, grants that are important to the country's university accreditation council. Much of the access to and continued relationships with our research communities are conditioned by the availability of research grants to support them. While I plan to return to northern Paraguay and follow strict COVID-19 safety protocols, the long-term research relationship I planned in the years leading up to my project has been unexpectedly reconfigured by the pandemic.
While many Chilean universities were flexible about pausing research in the first year of the pandemic, we are now expected to carry out research with appropriate protocols, approved by the university's equivalent of the Institutional Review Board (IRB). Thinking locally, where I could test myself for COVID-19, arrive by car, and spend most of the time outside, I began to design a project to document Lafkenche Mapuche foodways and basketry in southern Chile. Together with don Hermo Antilef (a Lafkenche Mapuche community member from Teodoro Schmidt) and Astrid Mandel (a Chilean anthropologist who has worked for the Lafkenche organization Identidad Territorial Lafkenche), we contacted different community members to request recording their oral histories of gathering and preparing local foods associated with different bodies of water, and with artisans about their basket making, including the harvesting and preparing of materials.
This does not mean that my connectivity with my Paraguayan collaborators is on hold; I am in touch with many close connections through social media. Yet the long-term collaboration I had planned is interrupted, and I must seek out other ways to ensure la conectividad. I must also plan a new path within the structural demands of the university in order to physically return and continue research; to begin to accompany and understand the lives that went on and the lives that were lost during COVID-19.