Last spring, New Yorkers participated in the 7:00 p.m. clap to show solidarity with "essential workers" and assuage feelings of isolation. They used noisy cacerolazos to mobilize collective anger and demand housing and labor security.
I felt disoriented walking down Wyckoff Street for the first time since lockdown a month prior. Stores had mostly shuttered, save for a few bodegas and laundromats. The streets were eerily quiet. As I neared the DeKalb Avenue station, I noticed a few people leaving their apartment buildings and congregating outside their stoops. I paused to check the time: 6:57 p.m. Across the street was Wyckoff Heights Medical Center, the midsize hospital in the northern section of working-class Bushwick, Brooklyn. When the clock hit seven, the surrounding area erupted in cheers and claps. Latinx families outside four-story apartment buildings to my left used pots and pans to make noise. Applause echoed down from young white residents on the roof of a high-rise condominium to my right. A few people jogging paused to listen and observe the spectacle. Each participant faced the hospital, though no medical workers were outside.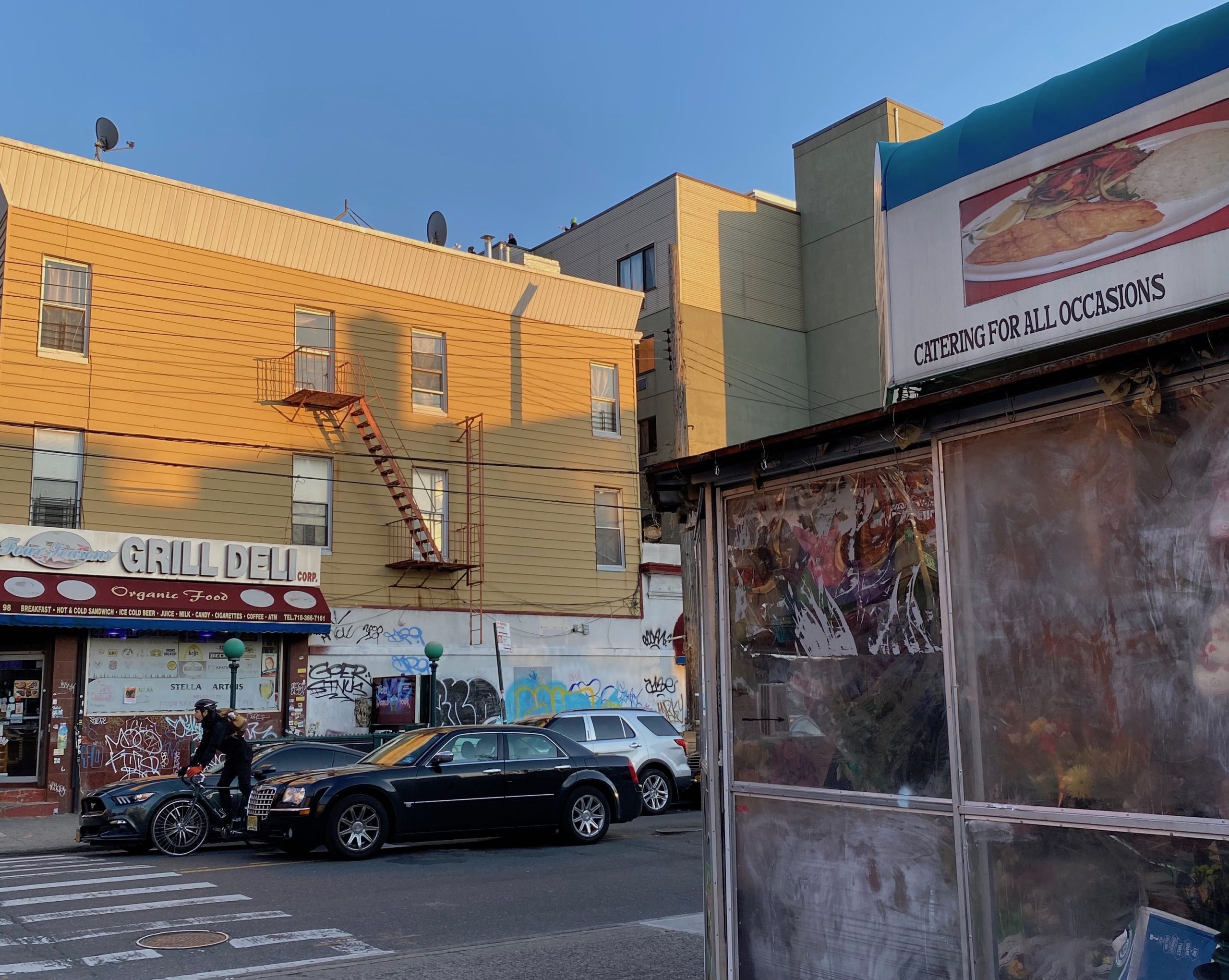 The "7:00 p.m. clap", or #ClapBecauseWeCare, was a ritual practiced by people across the world every evening during lockdown this past spring and summer. Participants, usually in cities, would applaud from their windows, stoops, and balconies to thank essential workers, particularly those working in health care. However, this was not the only collective sound practice to emerge in response to the pandemic. Housing activists in Brooklyn, where I have been conducting fieldwork on gentrification over the past year, organized a series of virtual and in-person cacerolazos to call for the cancellation of rent and build solidarity with striking workers. Cacerolazos, which feature prominently in recent anti-government movements across Latin America, involve banging pots and pans to express political dissent. Participation in each of these sound practices reflect different experiences of and responses to social and material conditions in the city under lockdown. Sound ethnography can help us make sense of these on-the-ground affective and political orientations to systems of power and inequalities exacerbated by COVID-19. 
#ClapBecauseWeCare
The New York incarnation of the 7:00 p.m. clap was promoted by Karla Otto, a public relations agency that, through a press release, asked New Yorkers to come together to clap and celebrate doctors, grocery store workers, and other "essential" workers. Mayor Bill de Blasio sanctioned the cheers, celebrities took part, and participants experimented with sound-based forms for social media-ready posts. Corporations such as Google and Macy's quickly took notice, featuring footage of the 7:00 p.m. clap in television ads to sell products. The ads followed a similar template featuring somber music, images of diverse families in their homes, and language of "togetherness" despite stay-at-home orders. Through this commodification and state promotion, and as quarantine continued, the ritual became as much about expressing gratitude for essential workers as it was about feelings of comfort—a respite from the anxiety of silence or constant ambulances. Like most viral cultural events, the 7:00 p.m. clap was rife for debate on Twitter: it was a sincere expression of gratitude! It was sentimentalism devoid of politics! The cacerolazo gives perspective to these tensions.
Pots and pans to #CancelRent
May Day felt even more urgent this year, if complicated by the fact that most people were unable to leave their homes. At 1:00 p.m., I sat down at my desk and clicked the Zoom link I had received in an email. The virtual room filled with the faces of dozens of participants, displayed in the grid which had become so familiar. A coalition of housing groups organized the rally, with a program that included live testimonials by tenants who ranged in age, race, gender, spoken language, and neighborhood of residence. They detailed poor living conditions and landlord harassment, expressing fear regarding their inability to pay rent due to unemployment. "If [Governor Cuomo] is a New Yorker like he says he is then he knows… we're suffering," one said. After the last tenant spoke, the host, a young Latinx organizer, displayed a slide presentation with calls to action and links to rent strike toolkits in English and Spanish. "Let's do this together," she said, asking everyone to join in a cacerolazo. Bangs and clacks of pots and pans filled the virtual soundscape. A few shouted, "cancel rent!" Smiles filled the screen as audio clipped in and out from various sources over the four-minute demonstration, coming to a close as people gradually exited.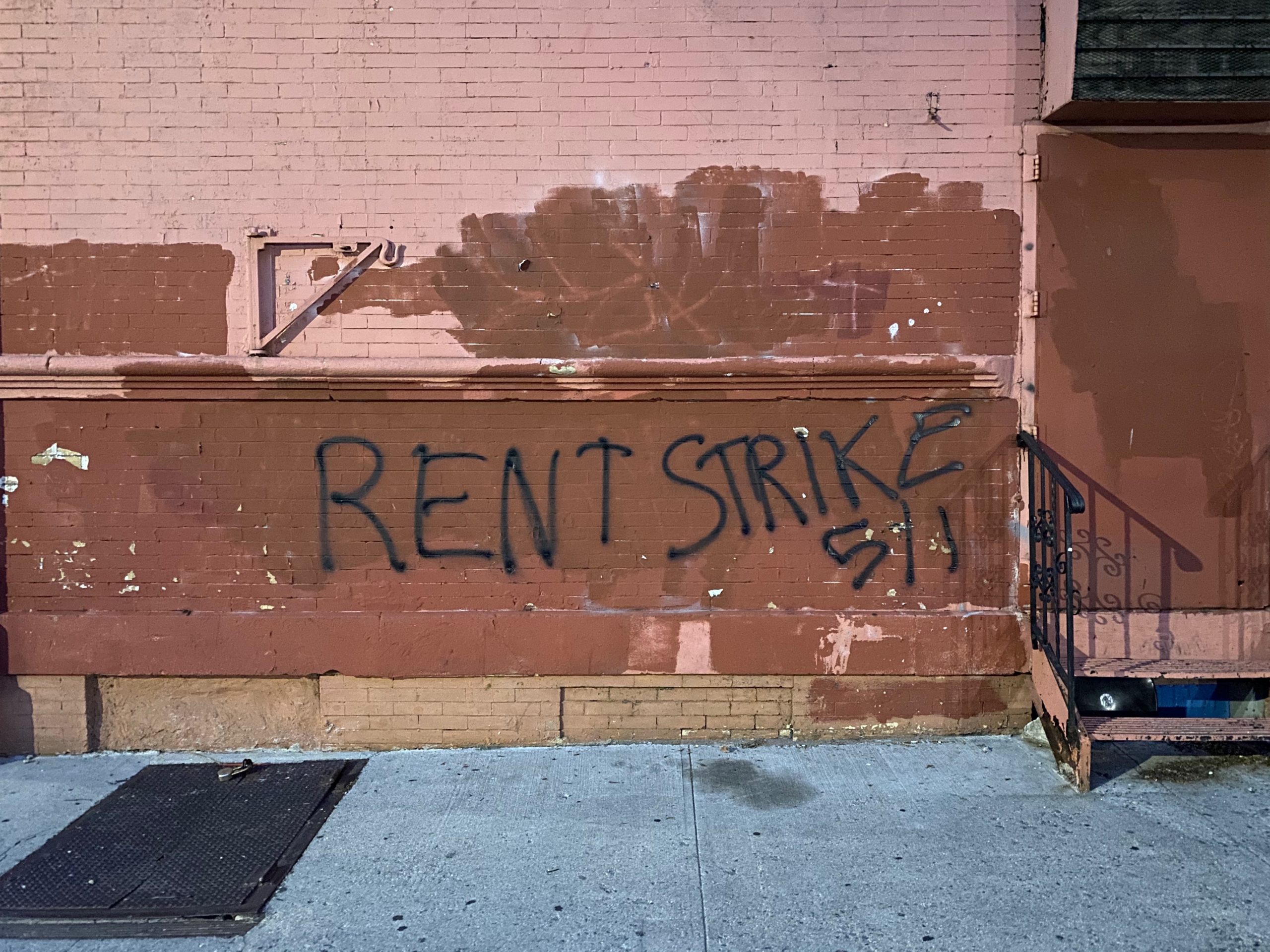 Activists' citation of the cacerolazo is intentional, reflecting its lineage as a form of leftist dissent in Latin America, most recently during the 2019 Chilean protests. Virtual cacerolazos organized across New York complemented in-person car caravan protests that made noise outside Governor Andrew Cuomo's Manhattan and Albany offices. During his May 1 coronavirus update, Cuomo expressed understanding of the cancel rent "argument" but then detailed at length the plight of landlords and their loss of income under such action. "This is not a political decision, let's make a decision based on the facts." A seemingly pragmatic and nonideological position, but one that is in practice deeply entrenched in the interests of capital—reflecting the Bloomberg-style approach to urban governance (see Brash 2011). Cuomo's solution was a temporary anti-eviction moratorium, one that only delayed rent payments and eviction orders, elided the continued harassment of tenants by landlords, and provided no relief to undocumented immigrants unable to access unemployment benefits. In response to these limited measures, cacerolazos to #CancelRent continued to disrupt physical and virtual space, activating mass tenant organizing and the formation of tenant unions, and leading to some of the largest rent strikes in decades.

Noise, affect, politics

Cacerolazos mobilized collective anger to demand state action–an affective atmosphere and politics opposed to the momentary catharsis provided by the 7:00 p.m. clapping.

The 7:00pm clap and cacerolazos relied upon particular qualities of sound to accomplish different ends. Under lockdown, people became attuned to a shared, mass feeling—an affective atmosphere (see for example, Anderson 2009; Low 2017) of loneliness that enveloped the city. Clapping was a response to the atmosphere of loneliness: a collective action coopted and promoted by elected officials and media channels. The relative quiet of the city amplified this dynamic, figuratively and literally. Sound ecologists lamented the loss of quotidian sound: the city was "aching." Routinized applause filled these perceived voids, providing comfort against isolation and the interiority of apartment life. Sound resisted quarantine, such that one could hear or feel city life from the comfort of one's own home. The 7:00 p.m. clapping ritual's location in the home space marked relative class privilege, distant from a predominantly Black, Latinx, and Asian working class, whose "essential" labor continued outside under heightened risk. Home for these workers was not secure: their daily potential exposure to the virus meant the possibility of spreading it to family members. And with relatively low wages and only temporary anti-eviction measures amid continued rent collection, essential workers' labor did not assure housing security.

Appeals to sentimentality complemented an emergent discourse of heroism; essential workers in general and medical workers in particular were "heroes" for doing their jobs, despite their own protestations to this subject position. Such myth-making contributed to a broader validation of the malpractice of state and city leadership and became part of a permission structure for elected officials to downplay reports of unsafe workplace conditions and insufficient supplies.

#CancelRent cacerolazos were enacted specifically as disruptions to these obfuscations of responsibility, to build solidarity with striking workers, including those employed in hospitals, Amazon warehouses, grocery stores, and the gig economy. Cacerolazos mobilized collective anger to demand state action; an affective atmosphere and politics opposed to the momentary catharsis provided by the 7:00 p.m. clapping. Noise was a tactic to address the precarious circumstances facing immigrants and working-class tenants, making visible, or audible, the invisible infrastructure that maintained daily life in the city, against the romanticization of sacrifice under virus capitalism (see for example, Bonilla, Rana, and Bajoghli 2020). These problems predated the pandemic; the lockdown just accentuated the fragility of existing housing and health care systems, particularly for long-time Black and brown families who live in gentrifying neighborhoods like Bushwick. 

New Yorkers' participation in the 7:00 p.m. clap and cacerolazos reflects extreme affective and material difficulties under the pandemic. Sound in each case served distinct purposes; in the former, as mitigation against feelings of isolation, and in the latter as noise tactic, to demand housing and labor justice. The practices also operated differently in relation to structures of power: clapping congealed with narratives of heroism and sacrifice promoted by media and state apparatuses, whereas cacerolazos amplified a broader critique of those systems and discursive frameworks. Together, they clarify the necessity of experimenting with ethnographic approaches that illuminate the roots of this crisis. Activists' use of sound-as-politics builds on ongoing projects of care and solidarity work in working class communities of color. Their noise challenges us to use this moment to critically reflect on and to change contemporary conceptions of housing and labor. How will we listen to them?

Stephen F. Sullivan is a PhD candidate in the Department of Anthropology at Northwestern University and a Mellon Fellow at the School for Advanced Research (2020–2021). His research examines gentrification, sound, and politics in Brooklyn, New York.

Cite as: Sullivan, Stephen F. 2020. "Sound Politics in COVID-19 Brooklyn." Anthropology News website, October 19, 2020. DOI: 10.14506/AN.1516