Article begins
The Association for Africanist Anthropology is proud to announce the 2019 Student Paper Prize Winners. Each winner will be formally recognized at the AfAA Business Meeting at the AAA/CASCA Annual Meeting in Vancouver on Thursday, November 21 at 8:00 p.m.
2019 Nancy "Penny" Schwartz Undergraduate Essay Award winner: Jamie O'Leary, "Mangi Deeti Doorati: Marian Performativity in a Senegalese Daara"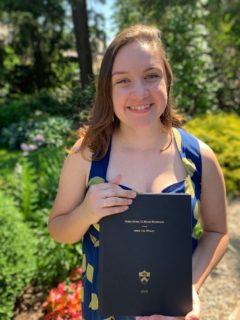 In June 2019, Jamie O'Leary graduated summa cum laude from Princeton University's Department of Anthropology, with certificates in gender and sexuality studies and African studies. Her research interests include queer ethnography, embodiment, migration, and the intersections of faith and gender. She currently work at the One Love Foundation doing healthy relationship education as the Engagement Coordinator for Maryland and DC, and hopes to pursue a PhD in anthropology. Jamie's undergraduate thesis, "Duma Doyal Ci Maam Maryaama: Ins and Outs of Gendered Embodiment in a Senegalese Daara" is an ethnography that explores the gendered and multidirectional relationships between interiors and bodies in Daara Yacine, a Sufi daara (Quranic school) in Senegal. Beliefs and daily practices in the daara center around Maryaama (the Quranic Mary), who serves as proof that women are superior to men and whose example is performatively embodied by all Daara Yacine students. This thesis discusses the nuances and complexities of gendered interior/exterior dichotomies through its analyses of the community's gendered division of labor, the ongoing story of Maryaama, the sometimes-contradictory relationships between gendered interiors and sexed exteriors, and the embodied and affective practices of song and dance. In Daara Yacine, boundaries between interior, body, and social world are drawn and complicated, their interstices becoming sites of both incongruity and harmony.
2019 Nancy "Penny" Schwartz Undergraduate Essay Award honorable mention: Hanna Sheikh, "Liminalities of Somalinimo: CVE in the Diaspora Spaces of Boston"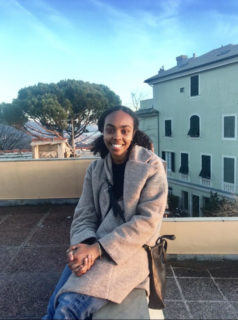 Hanna Sheikh was born and raised in Portland, Oregon. She pursued her undergraduate study in anthropology at Dartmouth College and recently graduated with a BA. Broadly, her interests have revolved around the intersections between Blackness and Muslimness both in Africa and in diaspora spaces abroad. Her ethnographic research on both Somali and Muslim community organizations in Boston sets out to understand the implementation and implications of the federally funded surveillance initiative of the Counter Violent Extremism (CVE) program. In the present day, the Somali diaspora in America inhabits a liminal space; hegemonic powers deem Somali-ness a new, dangerous and foreign Islamist-extremist threat, but simultaneously formulate Somali-ness as linked to a familiar Black American threat. Tracing the impacts of CVE in Boston sheds light onto the terms and dynamics of this liminality and how Somalinimo can be produced and problematized by the state. The findings show that CVE is both insidious in its impact on the trajectories of Somali sense of self and belonging as well as in its creation of divisions and antagonisms between Muslim and Black diasporas in Boston neighborhoods. As a whole, this study hopes to give representation to a large and growing Somali population in the city and to situate its story within the history of segregation and racial politics of Boston to expand the discourses of both Somali and Black diaspora studies to reveal otherwise and overlooked communities and geographies.
2019 Bennetta Jules-Rosette Graduate Essay Award winner: Brittany Birberick, "Dreaming Numbers"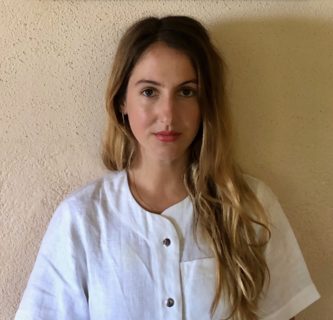 Brittany Birberick is a doctoral candidate in the Department of Anthropology at the University of California, Berkeley. Her dissertation project focuses on urban transformation in Johannesburg, South Africa. More broadly, she writes and thinks about economies, migration, temporality, and aesthetics within an urban context. Her dissertation, "Paved with Gold: Urban Transformation in Johannesburg," situates the city of Johannesburg historically, considering the extractive economy of gold that initiated its development to understand the city's contemporary tensions: a dilapidated post-apartheid city aiming to be a world-class global city. Her research takes place in Jeppestown, a neighborhood in Johannesburg, and focuses on the inhabitants and built environment of a single street . Today, Jeppestown is portrayed as either on its way to becoming a site of redevelopment by the Johannesburg Development Agency, artists, and private developers, or, if left unattended, a crime ridden area and hotbed of xenophobic violence. The dissertation posits that rather than transformation and development projects leading to an inherently new city or inherently new object, Jeppestown, like many urban areas around the world, is caught in a back and forth between being a successful or failed urban space—a "good" or "bad" city. The essay "Dreaming Numbers" is an analysis of fafi, a street-based lottery game played by residents in Jeppestown. The piece investigates the ways in which dreams, gambling, and interpreting patterns become meaningful strategies for choosing the next winning number and reducing uncertainty in the city.
2019 Bennetta Jules-Rosette Graduate Essay Award honorable mention: Kathryn Mara, "Jenoside, Génocide, Genocide: Socialization into Naming the 1994 Genocide Against the Tutsi"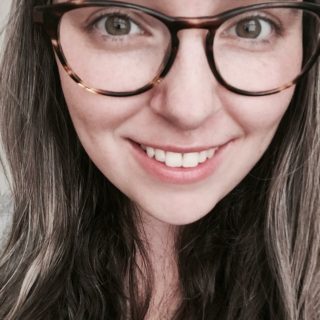 Kathryn Mara is a PhD candidate in the Department of African Cultural Studies at the University of Wisconsin-Madison, where she studies language, cultural practices, and representations of violence in an east-/central-African context. Kathryn's current focus is on the narrative and discursive practices surrounding the 1994 genocide in Rwanda. "Jenoside, Génocide, Genocide: Socialization into Naming the 1994 Genocide Against the Tutsi" examines how the terms used to represent the genocide are established and reinforced. Through participant observation of events commemorating the genocide, ethnographic interviews with Rwandans and their descendants living in Toronto, and critical discourse analysis of her interlocutors' commentary alongside that of presentations given at the events themselves, the essay argues that the names used to describe genocide matter, not only to Rwandans as they attempt to represent the full magnitude of what happened, but also as they socialize others into appropriate ways of terming it. Through this ethnographic work, we learn not only about what words representing the genocide mean to Rwandans, but also about the processes by which such terms are created, used, and/or contested both in local, situated contexts and across time and space.
For information regarding the Nancy "Penny" Schwartz Undergraduate Essay Award and the Bennetta Jules-Rosette Graduate Essay Award please contact J.R. Osborn ([email protected]) and Bennetta Jules-Rosette ([email protected]).
Please send column ideas, photos, research updates, and other relevant information for AfAA section news to AfAA contributing editor, Christian Vannier ([email protected]).
Cite as: Vannier, Christian. 2019. "2019 AfAA Student Paper Prize Winners." Anthropology News website, November 8, 2019. DOI: 10.1111/AN.1306