Article begins
Dear Anthropology News Editor,
As current Guatemalan President of the Mirador Caucus and current congressmen, and as former Ministers of Culture for Guatemala, we were surprised that Anthropology News would publish an article by Francisco Estrada-Belli which we regard as biased and inaccurate. The assertion that "Archaeologists…have played a role in promoting colonialist structures that oppress people" is irresponsible and without merit.
The article, which states that "racism and injustice led to a 36-year long genocide" is an oversimplification of complex global reality of the time and outside international influences combined with atrocities on all sides. The article falsely claims that "forested wilderness of northern Peten was…a contested battleground between the military and guerrilla groups." The 1990 creation of the Maya Biosphere Reserve (MBR) by Guatemala's CONAP, USAID, and US environmental groups to protect forests of northern Peten was extremely flawed with no consideration given to the quantity of major archaeological sites and no botanical, biological, hydrological, or geological studies of the area. This information is now available. The article falsely states that the "communities have preserved 100 percent of the forest under their concessions." Four community concessions have failed to conserve forest and have been removed from concession extractions.
The claim that "the Reserve is…under threat as part of an initiative by…Hansen" is patently false. Based on recent LandSat images, it is estimated that only 50–60 percent of the MBR still exists, including only 13 percent of the Laguna de Tigre National Park. Moreover, the existing community forestry concessions have largely failed in reducing poverty in their communities, and corruption of the management and operation of the area is problematic. Investigations are underway in Guatemala to evaluate the sustainability of logging in the northern Peten, and the fragmentation of tropical forests under logging models is well known.
The MBR is indeed under severe threat. The major threats are organized crime laundering money with cattle requiring massive clearcutting of forest, as well as looting, poaching, petroleum exploration, and logging. The claim that President Portillo's initiative (and not Hansen's as falsely stated) was "revoked by the (Guatemalan) Supreme Court in 2004" is false. The statement that "the redrafting of existing conservation laws to create a tourism development program with the potential to negatively impact the livelihood of indigenous populations" is false. Stating that "Proposing a law…to allocate US funds to change the law in Guatemala is the epitome of neocolonialism" is a false premise, as is "The initiative by Hansen to create the Mirador Basin Park is a…violation of AAA principles." In fact, in our collective judgment, the suggestions proposed by Hansen, the Maya Conservation Partnership, and their Guatemalan colleagues are the opposite. The proposed donation (S3131) would have allowed improved security and conservation of an extremely threatened area. The US funds were designed to help enforce existing laws.
We strongly reject the claim that there is "racist," "unsubstantiated archaeological data" "exaggerating" the uniqueness of the area. Therefore, we suggest that such charges should be debated in scientific venues, not in social media.
Sincerely,
Credit:
Jose Luis Chea Urruela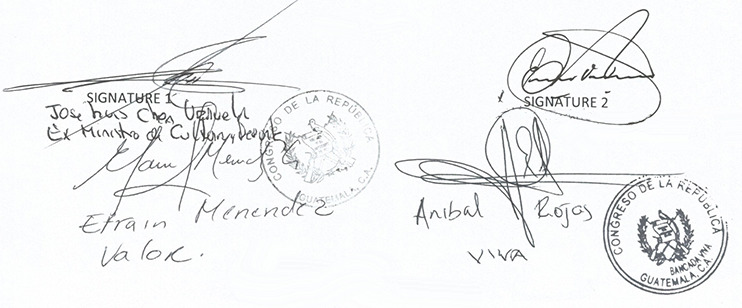 Jose Luis Chea Urruela, Ex Minister of Culture, Guatemala
Congressman Efraín Menendez, VALOR Presidency, Mirador Caucus Congress of the Republic of Guatemala
Lic. Elder Súchite Vargas, Ex Minister of Culture, Guatemala
Congressman Aníbal Rojas, VIVA President, Mirador Caucus Congress of the Republic of Guatemala
Dear Anthropology News Editor,
The authors of the above letter include two members of a caucus formed by Richard Hansen to push his proposals through the Guatemalan legislature. Like him, they deny any arguments against the S3131 initiative without presenting any supporting evidence on its environmental and economic impacts. The caucus itself, formed a month after the introduction of S3131 in the US Senate, seems an afterthought.
They deny that the discipline of archaeology has had a cozy relationship with colonialism since its inception. They question that racism and injustice caused the 36-year long Guatemalan civil war. It is undeniable that those causes pitted the majority of indigenous Guatemalans against their own government and that they suffered 90 percent of that conflict's 200,000 deaths.
During the war, parts of what today is the Maya Biosphere Reserve (MBR) were strongholds of armed guerrilla groups. A notorious one was at the archaeological site of Piedras Negras. In villages, civilians were picked up by the army on suspicion of being insurrectionists, tortured, and disappeared. Some survivors of those horrors are now members of environmentally sustainable logging cooperatives whose livelihood are now threatened by Hansen's initiative.
Hansen has repeated the objectives of the S3131 initiative in numerous interviews and videos: to curtail logging rights and make room for tourist infrastructure run by private companies in the center of the MBR. After those same interviews raised international outrage, he publicly denied it all. Jose Luis Chea Urruela and other supporters have done the same, personally attacking critics in their newspaper columns.
Hansen's plan threatens the community-based logging concessions within the MBR who are largely responsible for its conservation. According to official reports by the Food and Agriculture Organization and Rainforest Alliance, in their first 14 years (2000–2013), concession areas have had 0.5 percent deforestation. Instead, the MBR's national parks were mostly affected, except for the El Mirador-Rio Azul Park shielded by neighboring logging concessions. Undeniably, this model has been successful. A 2017 report showed a net gain in forest cover within logging concessions coupled with better work opportunities and governability within those communities. The trend has increased since then.
In March 2021, Guatemalan President Alejandro Giammattei ordered the renewal of all concessions for the next 25 years and offered to sign legislation to extend their term to 50 years. Already, two concessions have been renewed, two have been created anew and the rest are in the process of being renewed. Moving forward, it seems private interest will have a harder time subverting the Maya Biosphere Reserve's community-based conservation model.
Sincerely,
Francisco Estrada-Belli
Cite as: Chea Urruela, Jose Luis, Efraín Menendez, Súchite Vargas, Aníbal Rojas, and Francisco Estrada-Belli. 2021. "A Conversation on Rainforest Conservation and Archaeology in Guatemala." Anthropology News website, June 30, 2021.