Article begins
Chileans will vote on a new constitution on September 4. Will it succeed in addressing economic inequality through a truly participatory process?
Chilean democracy is having a moment. On October 25, 2020, Chilean voters overwhelmingly approved drafting a new, more equitable constitution. The vote was seen as the culmination of widespread protests over economic inequality that began a year earlier. In October 2019, what began as a student protest over a fare increase for public transportation in Santiago quickly grew into nationwide protests over economic inequality. Protestors rallied using the Twitter hashtag #Chiledesperto (Chile woke up) and after heavy-handed police repression, curfews, and a state of emergency failed to end the unrest―and more than a million citizens marched down Santiago's famous alameda―President Sebastian Piñera agreed to a plebiscite on whether to rewrite the constitution.
If adopted, the new constitution will replace the Constitution of 1980, implemented during the brutal Pinochet dictatorship to protect the military regime's neoliberal economic policies and ensure right-wing overrepresentation in Chile's Senate and Chamber of Deputies. This constitution was amended but never replaced following Chile's return to democracy in 1990, largely leaving political power in the hands of urban elites and allowing them to concentrate their wealth. In addition to addressing this widespread inequality―a toxic side effect of Chile's so-called economic miracle―members of the constitutional convention also promised to address gender inequality and enshrine environmental protections in the new governing document.
---
Credit:
Hugo Morales (CC BY-SA 4.0)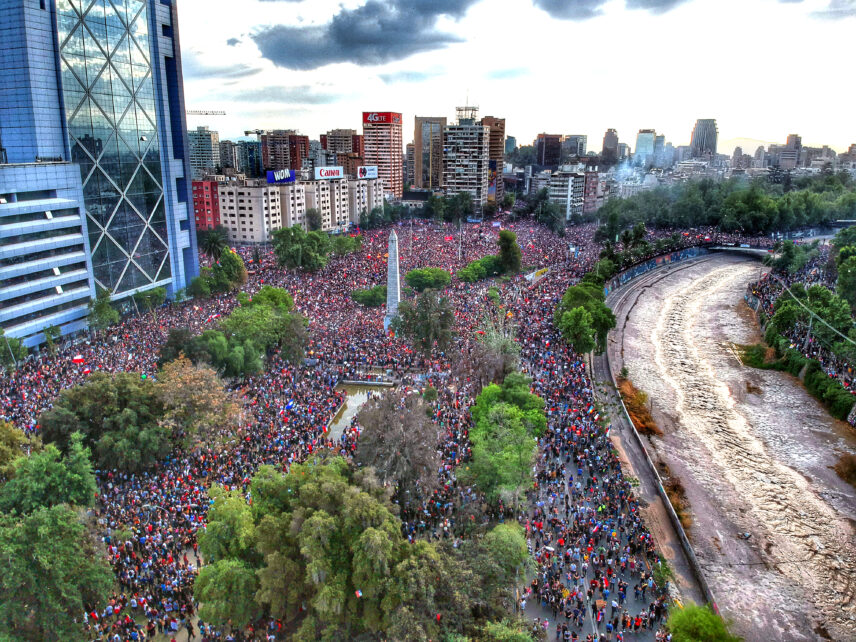 Millions of Chileans march through Plaza Baquedano, Santiago on October 25, 2019.
Watching these events in Santiago from the United States, I found myself reconsidering conversations I had while conducting my dissertation fieldwork in the Aysén Region of Chilean Patagonia eighteen months earlier. I had interviewed Miguel Rojas (a pseudonym), the head of the largest fishing syndicate in Puerto Aysén, a coastal town of roughly 15,000 inhabitants, in the makeshift conference room of the syndicate's small, damp office. Reviewing our conversation in light of the unrest in Santiago, I came to understand that #Chiledesperto was the culmination of a longer and more geographically diffuse set of concerns.
For one thing, Puerto Aysén had already been the epicenter of protests and police repression during what became known as the movimiento social (social movement) in February 2012. There, during a general strike that lasted 44 days, a coalition of small-scale fishers, students, local leaders, and environmental activists clashed with police on the iconic suspension bridge, protesting the rising cost of living in the region for rural residents, reforms to Chile's fishing law, and a proposed hydroelectric project that would transform the landscape of Patagonia to generate power for those living in faraway Santiago. In Coyhaique, Aysén's regional capital, the supermarkets ran out of food due to roadblocks erected by members of the social movement. Eventually, President Piñera―then in his first term―agreed to introduce a raft of social programs and new infrastructure projects to appease the protestors.
"With the things that followed," Miguel told me, describing how his organization had participated in the uprising, "Aysén became known to the world. Now we have the new hospital, we have the new houses that are being constructed here, we have new, improved transportation…"
He paused before continuing, "And this was all because of the social movement―conversations that happened around work tables like this one." He put his index finger on the conference table as he spoke, "And later the politicians say they are great problem solvers. The senators, the deputies, they say 'We resolved this.' But no, we did it!"
---
What happened in the Aysén Region in 2012 echoes loudly through what is happening across Chile today. When Chileans voted to draft a new constitution, they also voted on the manner in which it would be drafted. Instead of a "mixed" convention, which would have included sitting members of Chile's Senate and Chamber of Deputies, they voted 79–21 percent in favor of a constitutional convention of elected citizens representing Chile's sixteen regions. The efforts of these citizens have been championed by newly elected President Gabriel Boric, a former student activist turned pragmatic leftist. Boric's election has been framed by those familiar with Latin American politics as a hopeful reprieve from news of global democratic backsliding.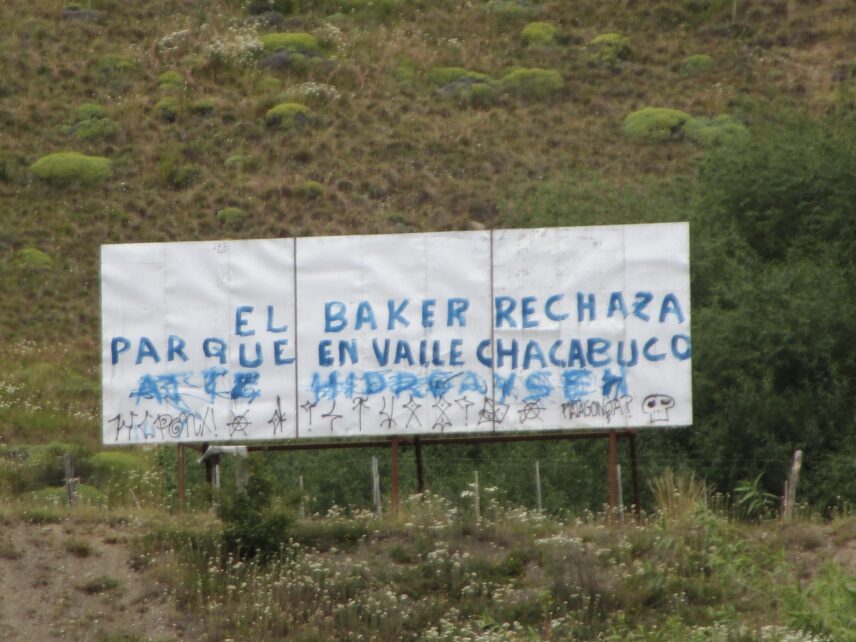 Graffiti opposing the creation of national parks in the Chacabuco Valley.
But while much has been made of Boric's activist roots as a student in Santiago, his familial roots have garnered less attention; the new president hails from Chilean Patagonia. While Chilean politics seldom makes the front pages of newspapers in the English-speaking world―Miguel was exaggerating when he asserted that Aysén "became known to the world" after the events of 2012―the same cannot be said for Patagonia, a geographic rather than political region that comprises the Aysén and Magallanes Regions along with parts of Argentina. Chilean Patagonia's network of parks has been profiled in the New York Timesand is presented to the US public by former US President Barack Obama in the new Netflix documentary series Our Great National Parks. Patagonia, which has drawn ever increasing numbers of foreign tourists and would-be eco-barons since the 1990s is depicted as a last redoubt of "pure" nature―a destination for nature lovers and backpackers seeking glaciers and guanacos.
Traveling between parks in Patagonia, however, and talking to its citizens―who constitute less than two percent of the Chilean population―and the story becomes more complicated. The region's coastline, while still ruggedly beautiful, is now home to the world's second largest salmon farming industry, which has grown exponentially despite a series of environmental disasters largely of its own making. Traditional fishing grounds from the Gulf of Corcovado―a breeding ground for endangered blue whales―to the Strait of Magellan have been transformed into bounded aquaculture concessions leased to Chilean, Japanese, Canadian, and Norwegian multinational corporations. Local activists have responded to the rapid expansion of aquaculture, an industry that relies mostly on skilled workers from northern Chile rather than Patagonians considered unskilled, with calls to "defend our rivers and our sea." In the Patagonian interior, where several of the first national parks were created through private purchases by the American eco-baron, Douglas Tompkins, signs calling for no más parques en áreas productivas (no more parks in productive areas) are commonplace.
New arrivals to the region could be forgiven for thinking these popular calls to action are contradictory. After all, one opposes the continued "productive" use of the coastline while the other opposes taking "productive" land out of circulation in the name of environmental protection. But for those of us who have spent years studying local responses to state-backed development projects these calls to action are connected and not contradictory at all. They recall Aysén's social movement of 2012 and foreshadow the #Chiledesperto movement of 2019, and they are about self-determination and the need to address inequality.
Perhaps unsurprisingly for a young leftist, President Boric has called for the removal of aquaculture concessions from newly created marine protected areas in Aysén and Magallanes, increased oversight of the industry and its environmental impacts, and a reduction in the density of concessions, among other reforms. Equally unsurprisingly, he has called for increased spending to support ecotourism as a sustainable industry that will encourage environmental protection while providing income for local people working in the sector. After all, Torres del Paine National Park, the crown jewel of the region where Boric grew up, has underwritten the existence of nearby towns, whose residents have thrived in the shadow of the park for more than a generation thanks to international tourism.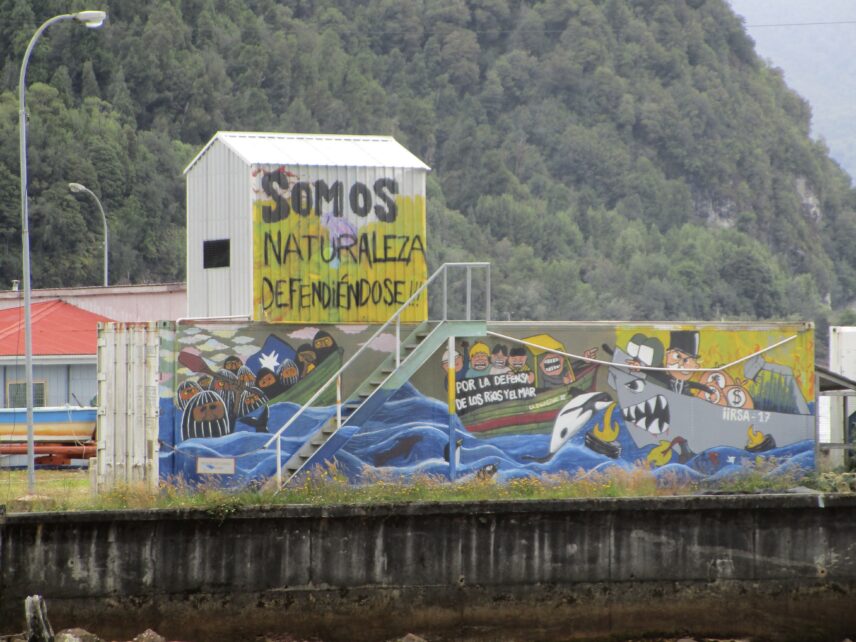 A mural in Puerto Cisnes demanding the defense of nature and depicting aquaculture operators as greedy outsiders with government backing.
But in other parts of Patagonia, ecotourism presents many of the same problems as aquaculture: while aquaculture concessions supplant traditional fishing grounds, displacing semi-subsistence fishers and contaminating the landscape on which they depend, park boundaries proscribe pastoralist practices, displacing gauchos who have tended flocks in the Andean foothills for generations. Both ecotourism operators and aquaculture firms have benefited financially from the region's unique resources, in other words, while residents find themselves without the means to continue their pursuit of traditional livelihoods.
---
The question in this contested landscape therefore remains to whom Chilean resources belong and how rural people can receive the benefits of development―a question with global ramifications. For decades, rural people have been marginalized by policies more focused on foreign markets than local livelihoods. Without significant investments in local people and restrictions on foreign investment, Patagonia will remain a playground for international tourists and proving ground for multinational companies, its development anything but sustainable.
But if the new constitution can address economic inequality by incorporating the priorities of rural people nationwide through a truly participatory process, perhaps all Chileans will benefit from the country's economic development and shape its trajectory. Perhaps this will be possible without marches and violent clashes with police. If so―and for the moment it appears more possible than any time in recent memory―those who participated in Aysén's social movement in 2012 will once more be able to say, "We did that."