Article begins
Japan's standing bars offer respite from the daily grind with drinks, lively company, and a feast of small dishes.
In Japan, food is prominent in documentaries, cooking shows, travel shows, variety shows, dramas, manga, anime, books, magazines, blogs, Facebook, and Instagram. This is food as entertainment, pleasure, and knowledge. Many of these presentations are set in izakaya (Japanese-style pub) and tachinomiya (Japanese standing bar) located in shitamachi ("lower city" associated with common people) neighborhoods and shotengai (traditional shopping arcades) that serve B-kyu gurume (B-rank food)—comfort food or local food. These are fascinating sites to explore the production and consumption of food, and in the case of the tachinomiya, all while standing on one's feet.
Tenbun is a 40-year-old tachinomiya in Osaka. I have been patronizing Tenbun for almost 20 years and spent over 2 years researching and photographing the standing bar with its many kinds of food and drink, lively and relaxed atmosphere, and numerous colorful characters, including the owner, employees, and regular customers. It is a family business run by the owner, his daughter, son-in-law, and grandson.
Credit:
Steven C. Fedorowicz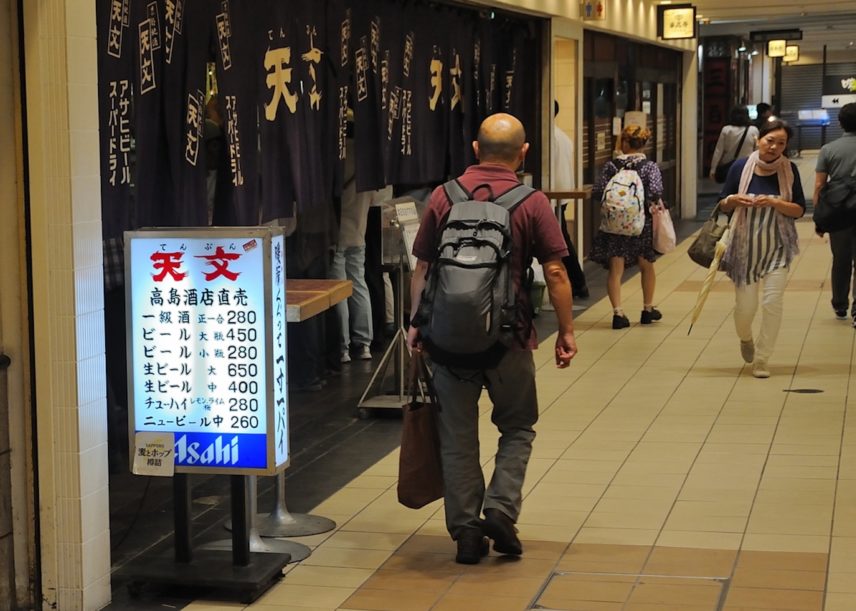 Tenbun, a tachinomiya in Osaka, stands out with its long counter and blue noren curtains.
Credit:
Steven C. Fedorowicz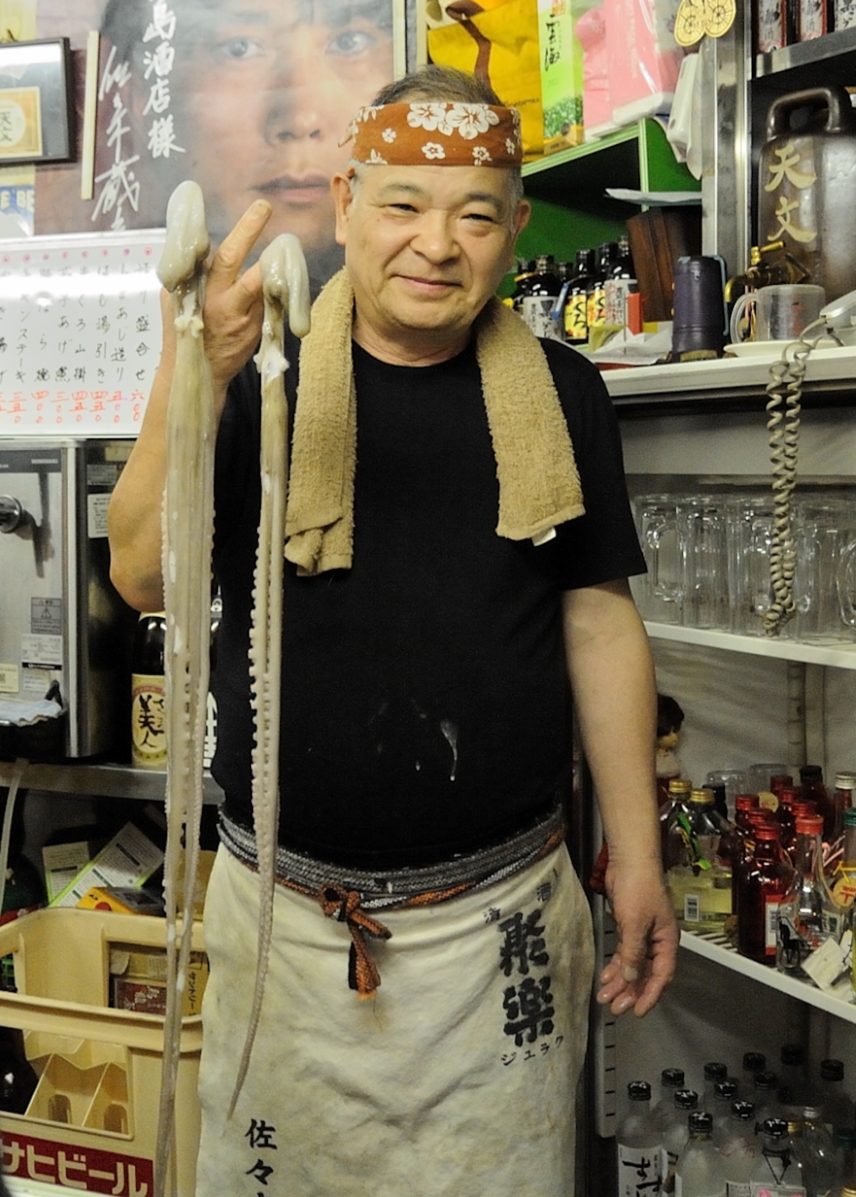 Tenbun's owner shows off a key ingredient in what will become one of the daily specials.
Credit:
Steven C. Fedorowicz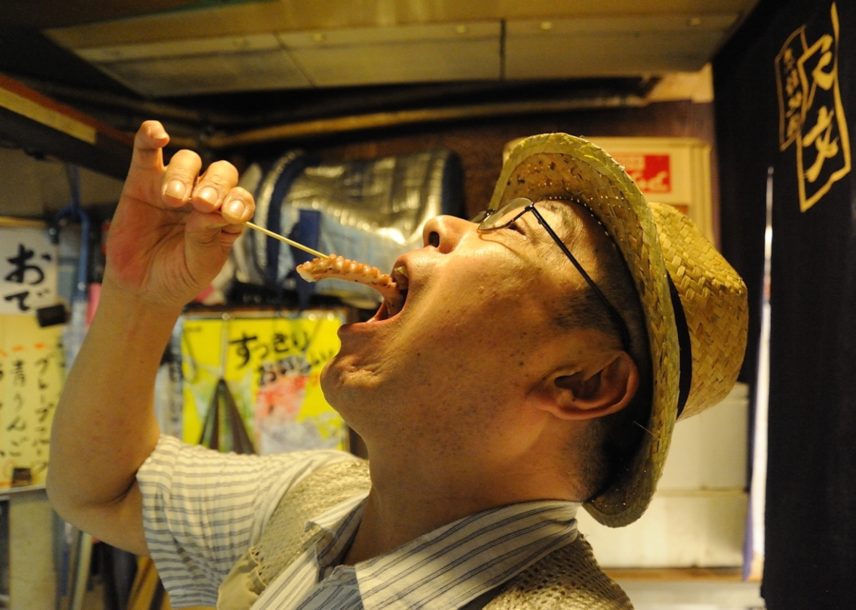 Tani-san, a regular Tenbun customer, enjoys the daily special.
Tachinomiya and other kinds of shops in Japan often display a type of fabric curtain called a noren with the name of their shop and other designs. When the noren appears in front of the shop's entrance it means that the shop is open for business. It also provides some privacy for customers.
Tenbun is located in the Norengai (Noren Street) near a busy train station. The passageway is home to a pachinko parlor (mechanical game and gambling parlor) and nine eating and drinking establishments. It is a busy corridor for commuters of all sorts and is close to a golf course and a horse racetrack. For some, the Norengai is a route to the train station or a place to stop for a drink and snack before boarding; for others the Norengai itself is the destination, the site of their favorite tachinomiya. While six of the nine drinking establishments display a noren, Tenbun's dark blue noren is the longest and most striking with its 32 partitions (each 32 centimeters wide), functioning as a fluid wall offering partial glimpses inside and the only barrier before entering.
Credit:
Steven C. Fedorowicz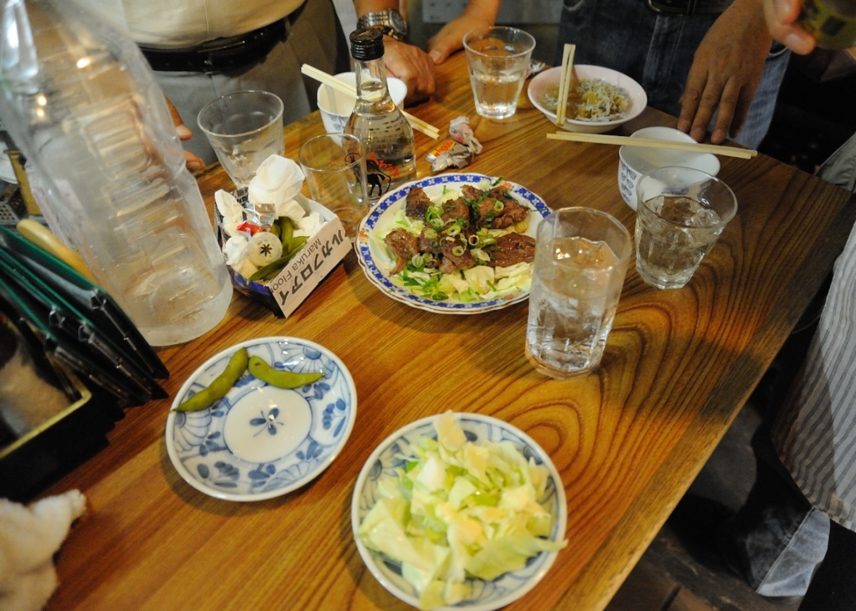 Customers share communal B-kyu snacks along with their beverages.
Credit:
Steven C. Fedorowicz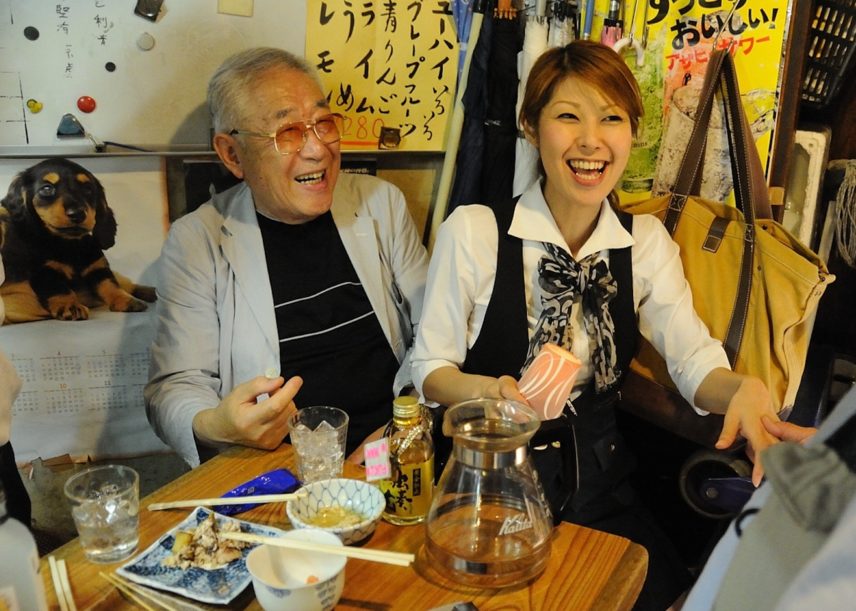 A nearby pachinko parlor employee takes a break from work to enjoy a snack and talk with regular customers, many of whom also play pachinko.
Tenbun serves many kinds of alcohol, including beer, chūhai cocktails, sake, shōchū, whiskey, and wine. Its menu, displayed as vertical paper strips above the bar, includes over 50 food items from sashimi to yaki tori to grilled eggplant. There are also daily specials prepared in abundance. The small dishes are assorted tasty morsels to complement the drink—cheap, delicious, and diverse.
One charm of the tachinomiya is that customers can easily socialize with other people at the bar, whether they know them or not. This interaction might be simple greetings, conversations about sports and other subjects, sharing drinks and food, or even arguing at times. The customers are frequently older men but, because of the convenience, men and women of all ages enter the tachinomiya for a quick drink and snack. Recently, tachinomiya have become more popular with a wider clientele not only due to the inexpensive prices but because tachinomiya have been attractively described in various media.
Still, many people, both Japanese and foreign, find tachinomiya intimidating due to unfortunate images and stereotypes of being unsanitary, unsavory, and full of customers exhibiting uncouth behavior. Tachinomiya are exciting, and remind me of the cowboy bars featured in classic Westerns. You push your way through the entrance, stand at the bar drinking a questionable beverage, and never know what might happen.
Credit:
Steven C. Fedorowicz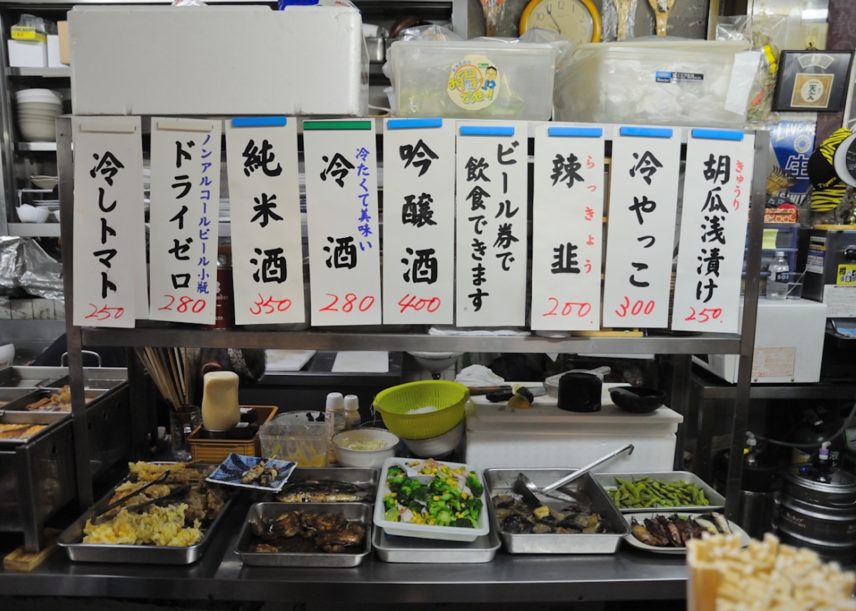 A menu of featured beverages hangs above some of the daily food specials.
Credit:
Steven C. Fedorowicz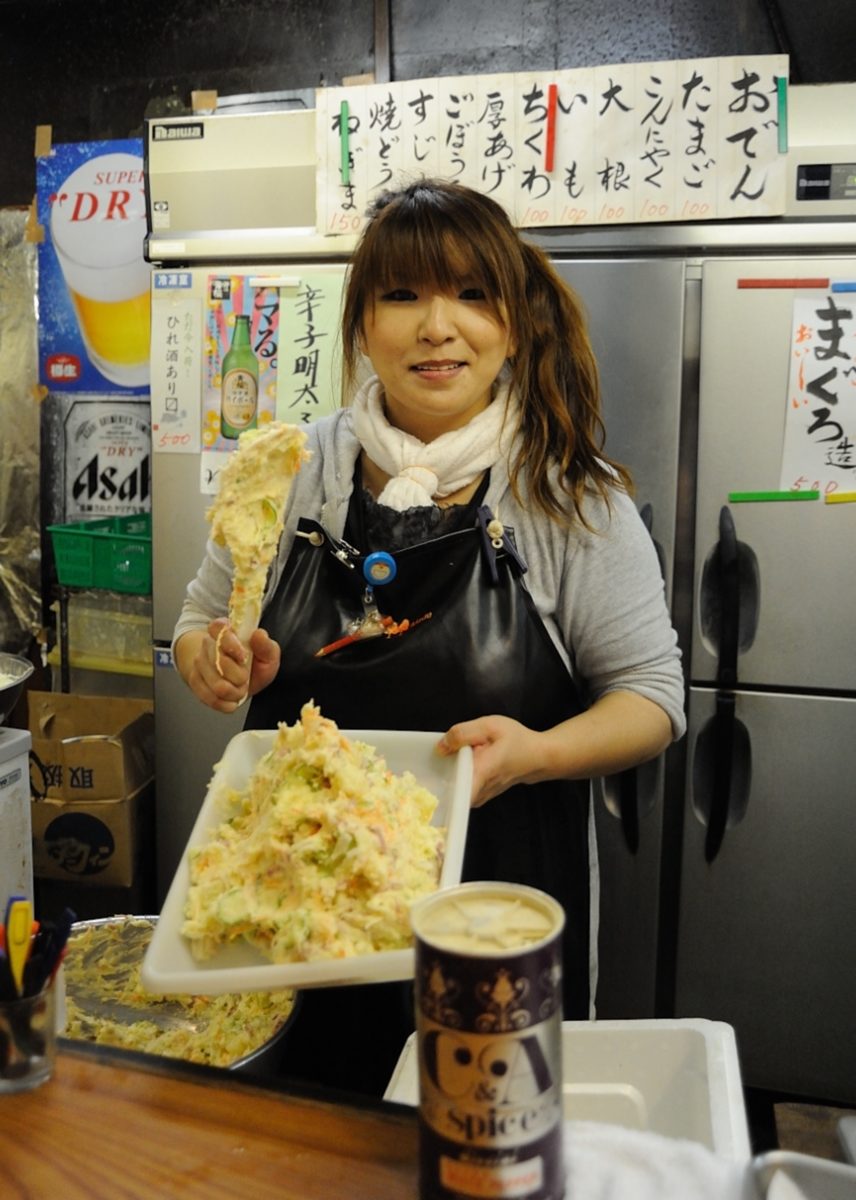 The owner's daughter, who works the afternoon shift, prepares her famous and popular potato salad.
Credit:
Steven C. Fedorowicz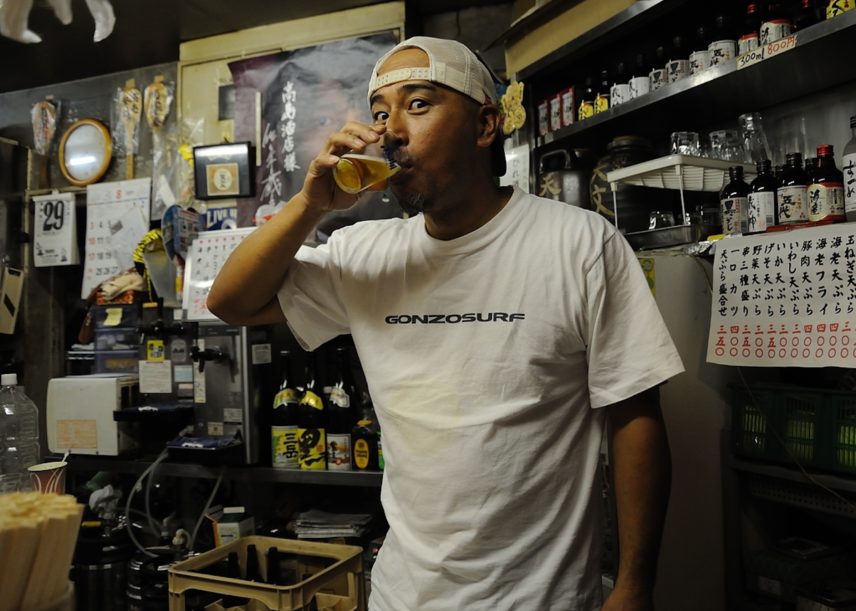 The owner's son-in-law sometimes helps out after his day job and enjoys drinking beer with the customers.
COVID-19 has brought changes for eating and drinking establishments in terms of safety precautions and consumption behavior. This photo essay is salvage ethnography and records a tachinomiya as it functioned in pre-COVID-19 Japan. It is also a reminder of what the tachinomiya experience was like only a few months ago—and, I hope, the way it will be again.