Article begins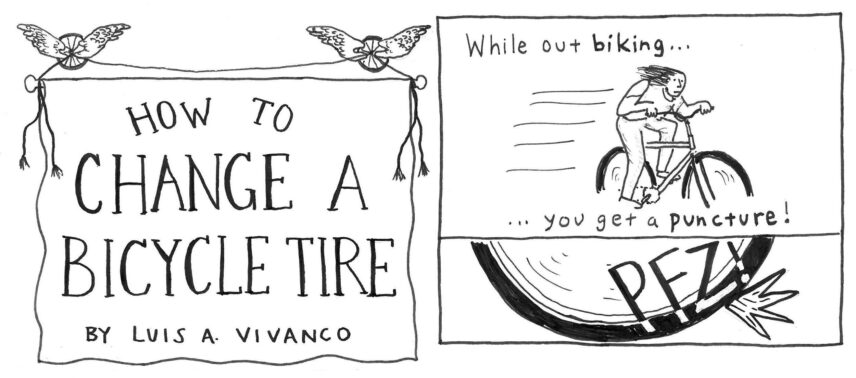 Image description: A title box stylized like a scroll being held up by winged tires reads "How to Change a Bicycle Tire by Luis A Vivanco." The next box includes a drawing of someone riding their bike, followed by an image of a tire losing air, with a sound effect "PFZ!." The accompanying text reads "While out biking… you get a puncture!"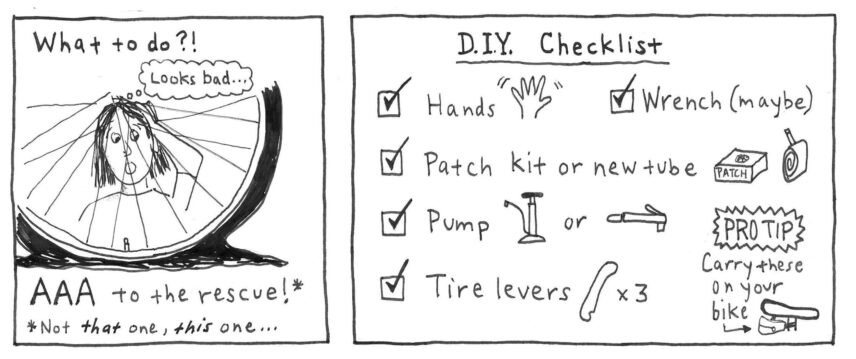 Image description: Two side-by-side boxes illustrate a person looking at their flat tire and a DIY checklist. The first box shows a flat tire, its owner looking at it with great concern while thinking "Looks bad…." The text reads "What to do?! AAA to the rescue! (Not that one, this one…)" The DIY checklist includes drawings of the items listed (hands, patch kit or new tube, pump, tire levers times three) as well as a tip ("Carry these on your bike") illustrated by a bicycle seat with a pouch attached below it.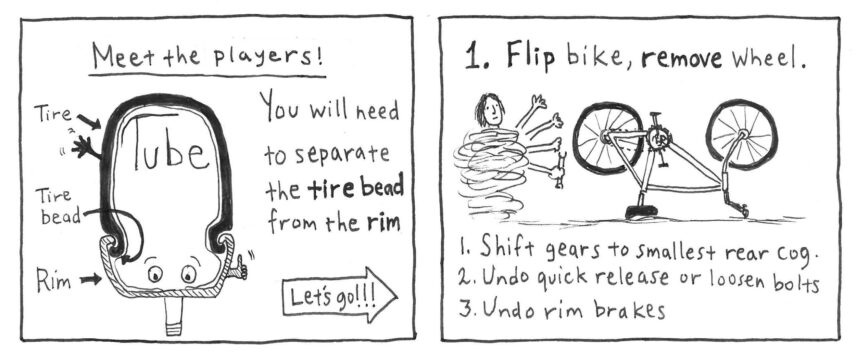 Image description: This panel includes two boxes, one introducing the parts of a bicycle wheel and the other beginning the step-by-step instructions. The first box invites readers to "Meet the players!" and diagrams the tire, tube, tire bead, and rim. It also says "You will need to separate the tire bead from the rim" and then ushers users to the next box with an arrow that says "Let's go!!!" The next box begins with step one: "Flip bike, remove wheel." It's followed by a person in a flurry of movement reaching out to a bike that is standing on its seat and handlebars. Further instructions follow within step one: "1. Shift gears to smallest rear cog. 2. Undo quick release or loosen bolts. 3. Undo rim brakes."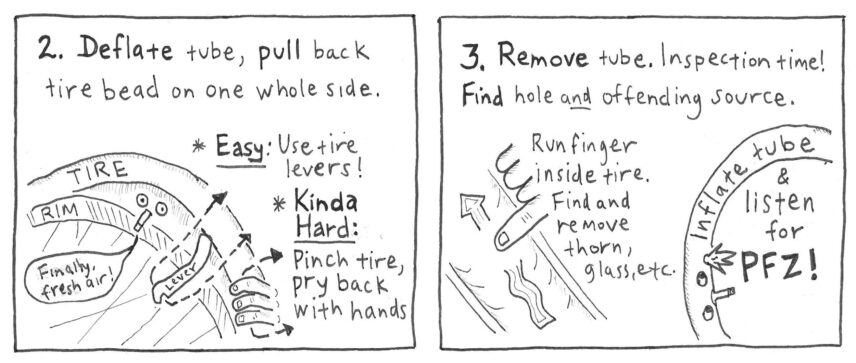 Image description: This panel features two boxes outlining steps two and three of tire repair. The first box reads, "2. Deflate tube, pull back tire bead on one whole side. Easy: user tire levers! Kinda hard: pinch tire, pry back with hands." The artwork demonstrates both methods, with the tire pulling away from the rim and saying "Finally, fresh air!" The next box continues the instructions with step 3: "Remove tube. Inspection time! Find hold and offending source. Run finger inside tire. Find and remove thorn, glass, etc. Inflate tube and listen for 'PFZ!'" The illustration features a finger running along the inside of a tire as well as the tire, complete with a face drawn to include the valve that is looking over at the leak of air.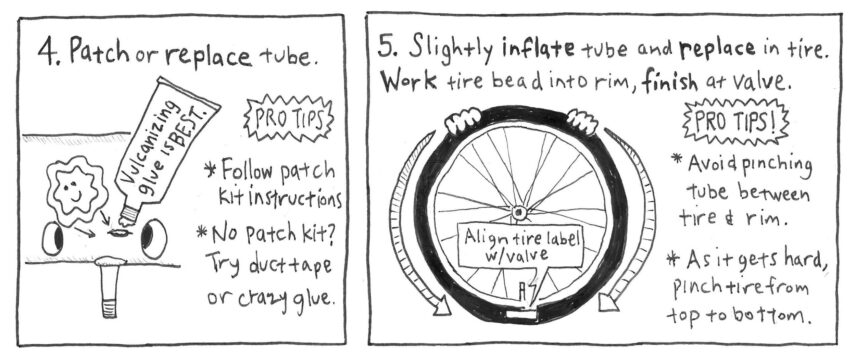 Image description: This panel contains two boxes outlining steps four and five. The first box instructs "4. Patch or replace tube. Pro tips: follow patch kit instructions. No patch kit? Try duct tape or crazy glue." and contains an illustration of a section of tire with a patch and glue declaring "Vulcanizing glue is best." The next box continues with the instructions: "5. Slightly inflate tube and replace in tire. Work tire bead into rim, finish at valve. Pro tips! Avoid pinching tube between tire and rim. As it gets hard, pinch tire from top to bottom." The illustration shows hands holding the tire with arrows pointing from top to bottom, including a note that tells readers to align the tire label with the valve.
Image description: The final box of the comic strip, beginning with Step 6 "Completely inflate tire, replace wheel, and pedal on!" A person riding their bike is visible from behind and thinking "Did I reattach my brakes? I guess I'll find out…" At the bottom of the box, it reads "THE END." In the next box is the author and artist's bio: "An avid cyclist and comics creator, cultural anthropologist Luis A. Vivanco is professor and chair of the Anthropology Department at the University of Vermont. You can learn about his ethnographic and historical research on bicycle mobilities, cultures, and politics at: www.illustratedwheel.com"