Article begins
1938–2022
James M. Acheson passed away suddenly on June 28, 2022, in Portland, Maine, where he had lived since 2017. If pressed, Jim might say he was an economic anthropologist. But he was much more. A highly regarded applied anthropologist, he was also a pioneer in maritime anthropology. He was an eminent, interdisciplinary scholar with an international reputation.
Jim received his bachelor's degree from Colby College, with a joint major in biology and sociology, and his PhD in anthropology, with a minor in economics, from the University of Rochester. His early fieldwork and research beginning in the mid-1960s was in the Purepecha-speaking area of Michoacan, Mexico, where he focused on social and cultural aspects of economic development and modernization. He continued his research and publishing on this region through the mid-1990s. In the early 1970s, he began working in Maine fishing communities and is probably best known for his work on the Maine lobster industry, especially its territorial and self-governance systems. Applying insights from his research, Jim was integral in establishing a comanagement system in the Maine lobster industry, which has become a national model.
Jim was especially interested in applying rational choice theory to the development of local level institutions to manage resources. This led him into the more theoretical realm of trying to understand the circumstances under which people develop rules in general. He was especially influenced by the work of political scientist Eleanor Ostrom, winner of the Nobel Prize in Economics, and spent a year as visiting research professor at the Ostroms' "Workshop in Political Theory and Policy Analysis" at Indiana University.
A prolific researcher and writer, Jim published over 90 scholarly articles and was author or editor of five books, including: The Question of the Commons, coeditor Bonnie J. McKay (1987); The Lobster Gangs of Maine (1988); Anthropology and Institutional Economics, editor (1994); and Capturing the Commons: Devising Institutions to Manage the Maine Lobster Industry (2003).
Jim was on the faculty at the University of Maine from 1968 to 2013, initially in anthropology and later jointly appointed in the School of Marine Sciences where he and colleagues established a master's degree program in marine policy. He received the Presidential Research and Creative Achievement Award (2005) and was named Distinguished Maine Professor (2009), the highest honor given to faculty at the university. In 1974–75 he was the first anthropologist at the National Marine Fisheries Service in Washington, DC. Colleagues described Jim as the consummate professor for his rigorous teaching. While expecting much of his students, he treated them with care and consideration.
Jim's lifelong service to the profession and public life was wide-ranging and consequential. In 2004, he received the Solon T. Kimball Award for Public and Applied Anthropology from the American Anthropological Association. Jim served on numerous state and national boards and advisory groups, and was a prolific reviewer for professional journals and grant applications. He was associate editor of Human Organization (1983–1989) and served on the executive board of the Society for Economic Anthropology for several terms and on the editorial board for Human Ecology (2016–20).
Jim remained modest and did not seem fully to grasp the esteem others had for him. We were once at the meetings of the Society for Economic Anthropology where grad students and younger anthropologists vied for the chance to talk with him. Jim was pleased, but rather puzzled and amused that people were treating him as some kind of rock star.
Jim enjoyed being at the family's summer home at Pemaquid Harbor, Maine, where a favorite pastime was wielding his chainsaw to keep the woods at bay and then enlisting his (sometimes unwilling) brood to drag brush into a pile for a huge bonfire. He loved big gatherings there and extra guests were always made welcome. In his last years, Jim faced Parkinson's disease with strength and resilience. A lifelong learner, he played chess on the computer and read voraciously, especially history. He continued with daily exercise, did reviews, advised students, and collaborated with colleagues right up until his death.
Jim will be deeply missed by family, friends, colleagues, former students, and all whose lives he touched. He is survived by his wife of 50 years, Ann, a fellow anthropologist; seven children; seventeen grandchildren; two great-grandchildren; and two brothers.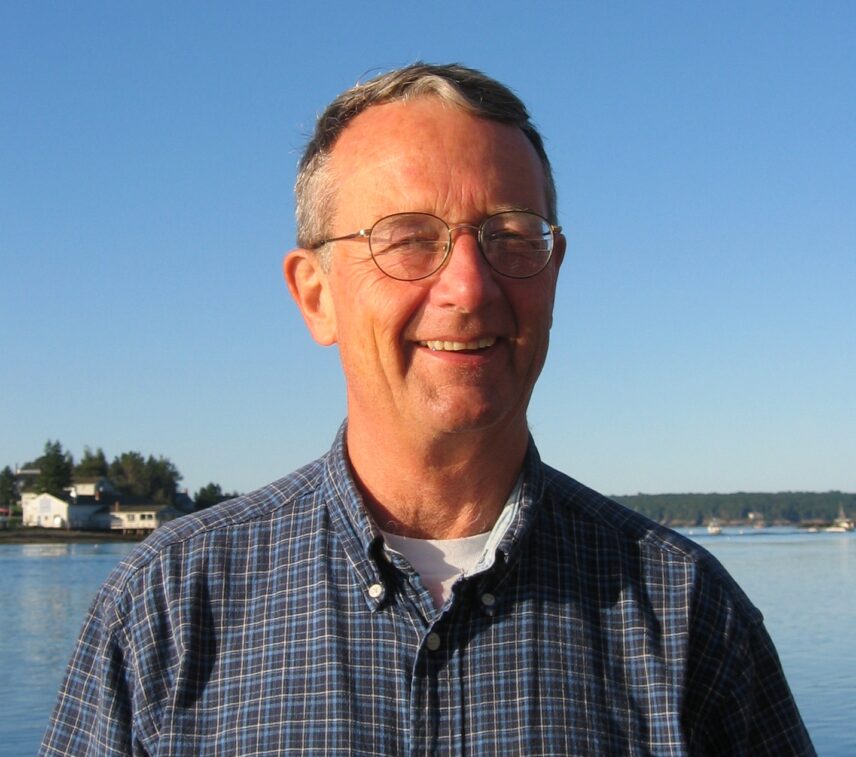 James M. Acheson
(Ann Acheson)
Cite as: Acheson, Ann. 2022. "James M. Acheson." Anthropology News website, October 14, 2022.