Article begins
1943–2023
Jill Susanna Dubisch was an exemplary anthropologist, teacher, scholar, mentor, and friend. She loved sailing and riding motorcycles. I first met her at my job interview at the University of North Carolina at Charlotte (UNCC) in April 1980, and she became my neighbor, my guru at caring for cats, my mentor for becoming a professional, and my friend.
Jill died at home in Rimrock, Arizona, on January 30, 2023. She is survived by her partner and husband, Raymond Michalowski Jr., her stepson, Raymond (Sam) Michalowski III, and her brother Ralph Dubisch.
Jill was born on March 7, 1943, in Missoula, Montana, and raised in Fresno, California. She earned a BA at Reed College in Portland, Oregon, and an MA and PhD (1972) in anthropology at the University of Chicago. She conducted doctoral research on the Aegean island of Tinos, and became a scholar of religion, gender, and healing, topics which were deeply intertwined in her thought and writing. While she started her professional life in the traditional way of studying a culture very different from her own, she extended her theoretical insights to the history and culture of the southern United States and popular American culture.  
Jill taught for 20 years at UNC Charlotte, reaching full professor, and almost 20 years at Northern Arizona University (NAU), serving a term as department chair at NAU and being promoted to Regents Professor in 1998. At UNCC, where I knew her best, we were a small unit striving to provide a traditional undergraduate four-field program. Jill was the second anthropologist hired and taught "Anthropology of Religion," "Medical Anthropology," "Peoples of Europe," "Food and Nutrition," "Peasant Society," "Anthropological Theory," and—as we all did at that time—a four-field "Introduction to Anthropology." She continued to teach the more specialized topics at NAU with great success. There, she also had the opportunity to teach and mentor graduate students.
Jill's scholarship was marked by a deep human sympathy for those she met and interacted with during fieldwork. Over her career, she published four books and thirty articles and chapters. Her early writing focused on a major shrine on Tinos which received pilgrimages to an ancient icon of the Virgin Mary with healing powers. While Jill continued to think about and write about the Greek world, its pilgrimages, and its gender culture, she also applied her theoretical interests to American cultural phenomena. Jill and her partner, Ray, participated several times in the "Run to the Wall," a cross-country motorcycle pilgrimage to the Vietnam Veterans Memorial in Washington, DC, and this experience was the basis for a coauthored book and several of Jill's articles. She also wrote about the religious aspects of healing, including in the modern health food movement. This article, first published in 1981, became Jill's most widely reprinted text, used in many introductory anthropology courses.
During their North Carolina years, Jill and Ray kept a wooden sailboat at a marina in South Carolina and sailed up and down the east coast. When they moved to Arizona, Jill came to love the harsher but magnificent landscape, and hiked across it as long as her health allowed. This is when dogs entered her life, coming to be as beloved as the cats I remember in Charlotte.
In addition to teaching and scholarship, Jill contributed to anthropology through commitment to its institutional structure. She served as president of the Society for the Anthropology of Europe from 1992 to 1994, and in leadership positions in the Society for the Anthropology of Religion, Council of European Studies, Modern Greek Studies Association, and the Fulbright Discipline Advisory Committee for Anthropology. Her calm demeanor and creative intellect strengthened all the organizations and departments she joined.
Jill Dubisch was a thoughtful scholar, an engaging and kind teacher, a supportive friend, and an adventuresome spirit whose life truly engaged the natural and cultural worlds. She is missed terribly by her family and friends.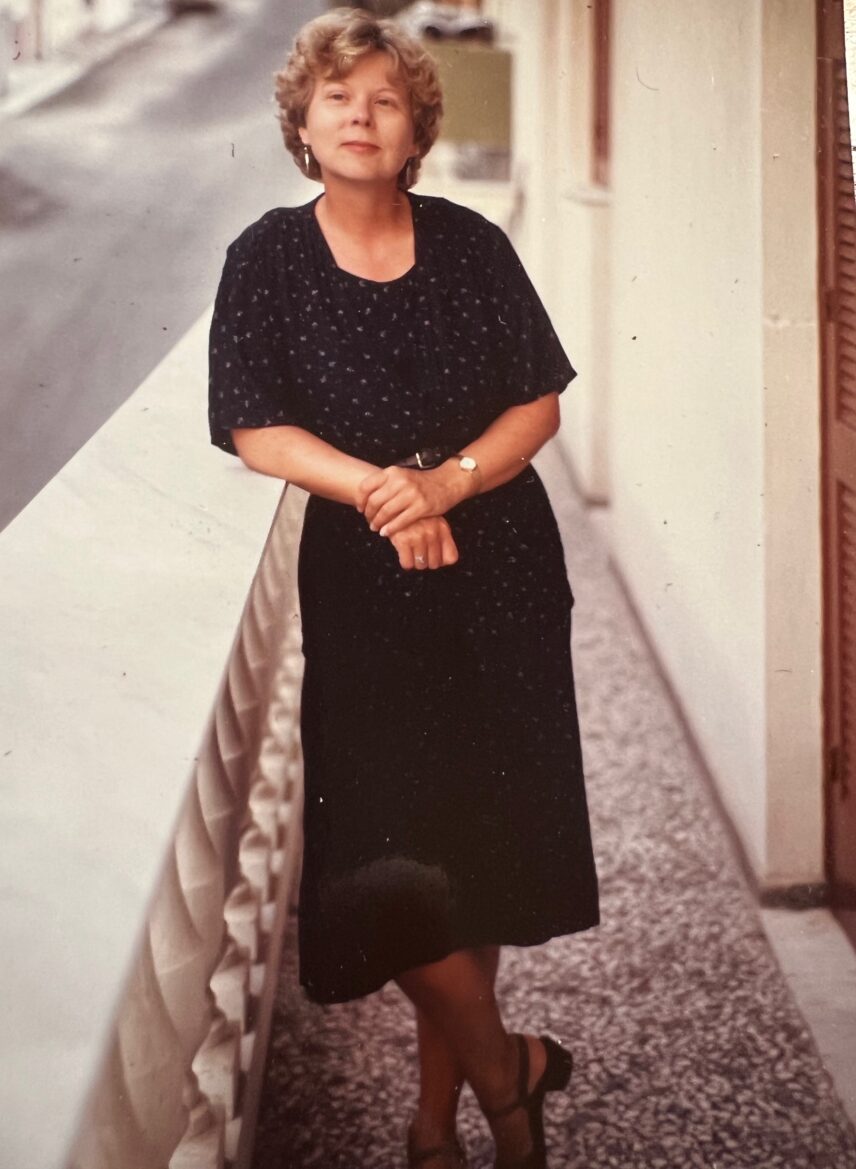 Jill in Greece, circa 1980
(Janet E. Levy) 
Cite as: Levy, Janet E. 2023. "Jill Susanna Dubisch." Anthropology News website, July 12, 2023.