Article begins
1948–2021
Margaret Jane Trawick (Peggy) died in Concord, California, on the last day of 2021, after a prolonged and gallant struggle with multiple sclerosis. In her anthropological practice and writing, as in her life, Peggy was fearless and forceful: an ethnographer attuned to the myriad subtleties of human interactions; a writer of entrancing descriptive prose; a linguist and translator of Tamil literatures—from classical religious teachings to oral traditions. She was never one to quail at society's rules, or to hold her tongue when it came to injustices. Among the tributes that accumulated on various Facebook pages and memorial sites as the sad news of her death reached former students, colleagues, and friends were testimonies to her insight and courage, her tenderness in writing, her pathbreaking work, her zest for life, her startling frankness, her generous soul.
Each of Peggy's three monographs is revelatory and inspiring. The first, Notes on Love in a Tamil Family (1990) was awarded the first annual Ananda Kentish Coomaraswamy Book Prize for the best book in South Asian Studies across all disciplines. Colleagues describe this book as transformative and have continued to teach it for over 30 years.
Enemy Lines: Warfare, Childhood, and Play in Batticaloa (2007) was based on intense and perilous fieldwork in war-torn Sri Lanka. Her focus is on youths who might be "playful" even in tragic and fearsome contexts, showing the ways war permeates everyday lives, both constricting and expanding horizons. A challenging and disturbing book to read, Enemy Lines generated significant debates and some critical concern.
Death, Beauty, Struggle: Untouchable Women Create the World (2017) presents Peggy's original vision of gendered lives, poetry, devotion, and social hierarchy in Tamil Nadu. This work, completed on an iPad when only one hand could type, displays the full range of Peggy's ethnographic artistry: her acute attentiveness to feelings, to linguistic nuances, to fragile bonds, to fierce commitments, to the ways lyrical composition and storytelling articulate otherwise suppressed struggles.
Raised in Kentucky, educated at Radcliffe and the University of Chicago (PhD Cultural Anthropology, 1978), Peggy taught between 1983 and 1992 at Hobart and William Smith Colleges where she was tenured. She left for a professorship at Massey University in New Zealand, where she remained until 2009 when illness precipitated early retirement, and she moved to California. There Peggy fell in love and married Ron Johnsen, assisted in walking down the aisle by her two grown sons from her first marriage. Within Ron's extended family Peggy spent her final years, delighting in the company of daughters, grandchildren, and pets.
In the final paragraph of Notes on Love are words startlingly relevant to our times, reminding us of the ways skillful anthropology may transport from the limited realm of a single household to the vast experience of planetary life. Peggy writes there, "It may help if we can learn to accept the reality and the power of chaos—the unpredictable, the uncontrollable, the contradictory, the illogical, the unexplainable. It may be that chaos works best if our goal is truly ahimsa—to let all the living live, to let each one speak and see in its own way. . . . If our own particular vision of truth can take its place among the multitude, then really we will not have done so badly."
Credit:
Ann Grodzins Gold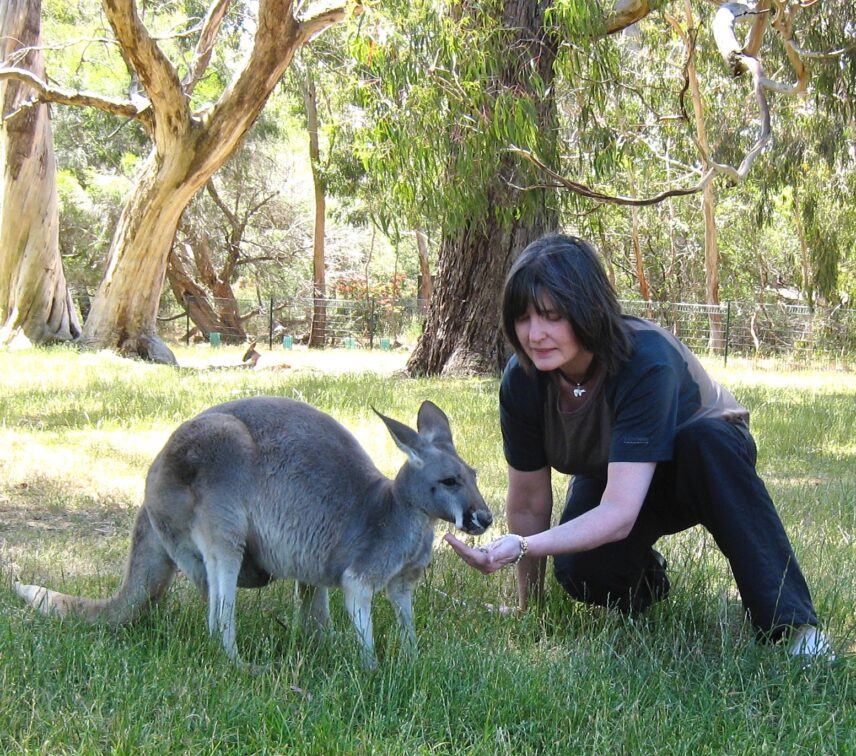 Margaret Jane Trawick
(Ann Grodzins Gold)
Cite as: Gold, Ann Grodzins. 2022. "Margaret Jane Trawick." Anthropology News website, April, 29, 2022.