Article begins
How we tell the story of Stonewall matters.
This June marks the fiftieth anniversary of the riots at The Stonewall Inn in New York City. The days-long series of marches and protests that immediately followed are widely celebrated as the beginning of the gay rights movement in the United States and many countries around the world. In the decades since, "Stonewall" has been transformed from a cluster of activist events into the mythological origins of a host of social and political movements. Origin stories are powerful things, and Stonewall offers the kinds resistance narratives that literally end in a parade of rainbows. There is a lot of pride to be taken in fighting back against police violence and state repression, and many groups have claimed their roles in catalyzing the movement. Each time the myth is told, it is told a little differently.
Who was there? Whose community was most aggressively policed? Who threw the first brick? (Were there bricks?) Who suffered the most violence? Who perpetrated the violence? What have the effects of these acts been over time?
Credit:
Jason Pier in DC/ Flickr (CC-BY-NC 2.0).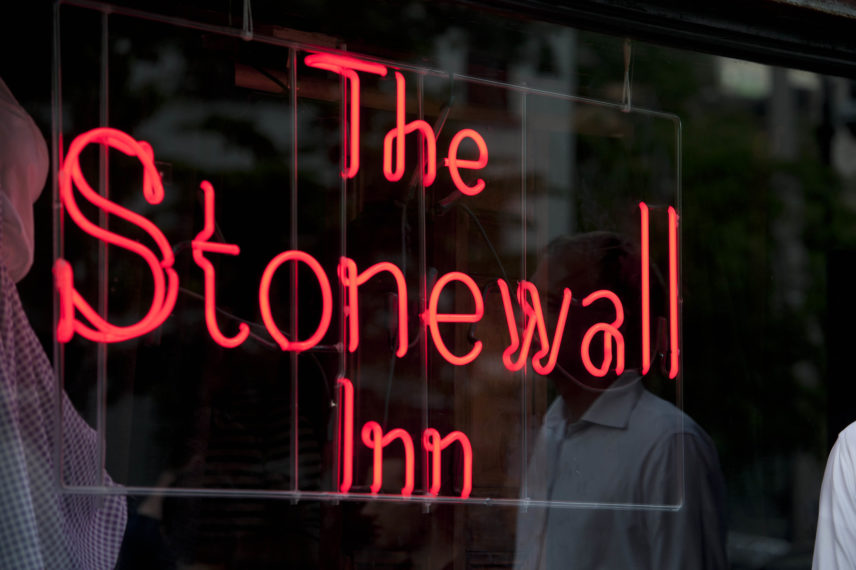 Front window of the Stonewall Inn.
History is a story we tell in the present to make meaning of the past. So even though we can't definitively answer all the questions of exactly what happened at Stonewall, the answers that are offered matter. In recent years, as transgender people in the United States have become more visible in popular discourse, there have been increased efforts to lay claim to their roles at Stonewall. Righting a historical record is a good thing. But more importantly, recognizing the pivotal place of trans women—and especially trans women of color—at Stonewall, would help to temper the self-congratulatory nostalgia that has surrounded this anniversary.
If we imagine Stonewall as a protest fomented by white gay men against police violence and in defense of their civil rights, we can look at the last 50 years and marvel at the significant strides that this protest ushered in. Same-sex marriage is legal in all 50 states! Gay, lesbian, and bisexual people serve openly in the US military! Adoption laws facilitate gay and lesbian families! Employment protections and more!
If, on the other hand, it was trans women of color—specifically Marsha Johnson and Sylvia Rivera—who fomented the movement against state violence and in defense of their civil rights, the retrospective look 50 years later is not nearly so rosy.
The Human Rights Campaign reports that 26 trans people were murdered in the United States in 2018, only slightly fewer than the all-time of high of 29 people in 2017. In both years, the majority of victims were, like Johnson and Rivera, trans women of color. So far in 2019, eight transgender women have been murdered; all of them were Black.
Fifty years after the riots at the Stonewall, anti-transgender laws and policies are proliferating in the United States. Trans people have been barred from serving in the US military and, therefore, expressly excluded from the pay, medical benefits, and educational support provided by the nation's largest employer. Private companies, and federal and state governments work to specifically exclude trans people from healthcare provisions. A meta-analysis published earlier this year found that 14 percent of trans women in the United States are HIV positive (compared to .003 percent of the general population), and that number soars to 44 percent among trans women who are Black.
How we tell the story of Stonewall matters, not because of what happened there and then, but because of what is happening here and now.
In 1992, the City of New York unveiled statues in Christopher Park meant to serve as memorials to the riots. The statues depicting two standing men and two seated women were painted all in white, but have since been reimagined by activists laying claim to a more colorful history. In 2015, the statues' skin was painted brown and they were adorned with bras, scarves, and wigs along with a sign reading, "Black and Latina trans women led the riots. Stop the whitewashing." Now, New York will add a monument to Johnson and Rivera, just down the street.
Anthropologists know that the stories we tell and the monuments we build help to create a collective social memory of important events. They become the ways we narrate the past into meaning. I hope the inclusion of Johnson and Rivera into the popular mythology of Stonewall will enable some critical reflection about how and for whom things have changed since those riots 50 years ago.