Article begins
The Society for Visual Anthropology is pleased to announce that this year's recipient of the John Collier Jr. Award for Excellence in the Use of Still Photography 2018 was awarded to Monrovia Modern:Urban Form and Political Imagination in Liberia by Danny Hoffman during the American Anthropology Association Annual Meeting at the SVA Business Meeting on Thursday, November 15. Published in 2017, by Duke University Press, Monrovia Modern is an exploration of the contemporary landscape of modernist architecture in Monrovia. The book inventively weaves together photo essays and textual exegesis to explore the way in which Monrovians live among the ruins of a promised Modernist state.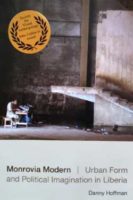 The Collier Committee unanimously agreed on the choice of Monrovia Modern. Building on the anthropology of architecture and on a history of research in Monrovia, the capital of Libera, Hoffman builds a moving story about how people build life worlds in post-war torn worlds. The buildings are primary characters in a series of evocative photo essays which explore the promise, and decline of Modernist state building, and highlights the complicity of modernism with the failure of the state. An architectural focus provides insight into Monrovia's unique history, which was never a European colony yet is still littered with "Imperial debris" or cultural residue. He questions how to gain identity in a mobile environment where people are free to invent new identities.
In an innovative new approach Hoffman begins his chapters with his field sketches; then a page with larger font, which beautifully introduces evocative photo essays; followed by his research, findings, and analysis conducted over long periods returning to Monrovia. He visually entices the reader and takes the reader on a journey into the lively identities created by these characters rebuilding themselves and their culture. As stated in the letter of nomination by Jason De Leon, "Hoffman has followed up his seminal book War Machines with a ground breaking examination of the relationship between the built environment and the political imagination in Liberia. Told through an innovative combination of nuanced ethnographic writing, 100 color photographs, and architectural analysis…unlike many recent photo-ethnographic works, he does not use images simply to illustrate his text…his thoughtful placement of still images, which gives special attention to the relationship between aesthetics and theoretical analysis, offers us a groundbreaking new way of imaging what the relationship between text and image can do to push the boundaries of what ethnography can look and feel like."
Andrea Heckman, Liz Cartwright, Haidy Geismar, and Terence Wright are the members the 2018 Collier Committee.

Cite as: Heckman, Andrea, Liz Cartwright, Haidy Geismar, and Terence Wright. 2018. "The 2018 John Collier Jr. Award for Excellence in the Use of Still Photography." Anthropology News website, November 30, 2018. DOI: 10.1111/AN.1047