In addition to the image descriptions guide on the AAA website, here are some examples from Anthropology News.
To give a clear idea of how these textual components compare, let's take a hypothetical image of me (Chelsea!) working away, typing up this web page.
Alt text: Brief summary of the image. 

A photograph of me at work, it might include alt text like "Photograph of a person at a desk.")

Image description: This describes in detail the specific visuals of the image.

A more detailed explanation of an image description can be found on the AAA site: "Image descriptions provide a textual description of images presented in digital documents. These descriptions support the inclusion of blind, low vision, and low-tech users of all AAA products. This ensures that information presented in a purely visual format, especially a digital graphic, is accessible to anyone who may not be able to physically see the visual for any reason."
For example, the image description for the hypothetical photo of me at work might be "A white person sits at a desk and types on an illuminated keyboard while looking at a computer monitor. They have curly brown hair and wear a green button-down shirt and black-rimmed glasses."

Caption: This gives any additional details and context you might want to provide readers.

A caption for this hypothetical photo of me at work could be "Chelsea Horton, publishing assistant at the American Anthropological Association, is responsible for updating the Anthropology News website."
Image examples
Here are some other images from recently published articles on the Anthropology News website with their alt text, image descriptions, captions, and credit.
Credit:
Steven C. Fedorowicz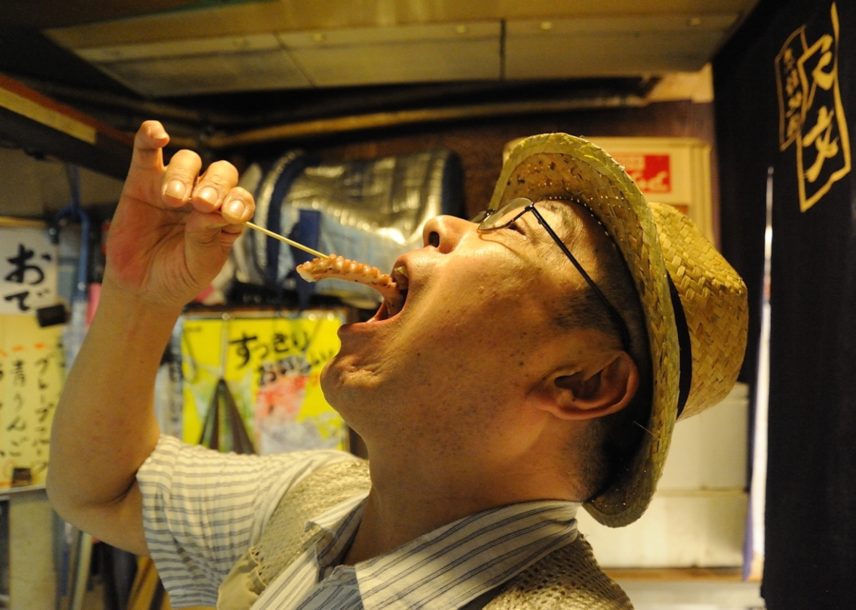 Tani-san, a regular Tenbun customer, enjoys the daily special.
Alt Text: Photograph of a man eating grilled octopus
Image description: A Japanese man wearing a straw hat tips his head back and puts a skewer with a piece of grilled octopus into his mouth.
Caption: Tani-san, a regular Tenbun customer, enjoys the daily special.
Credit: Steven C. Fedorowicz
Image published in "Eat, Drink, and Stand in Japan."
Credit:
The Undocumented Migration Project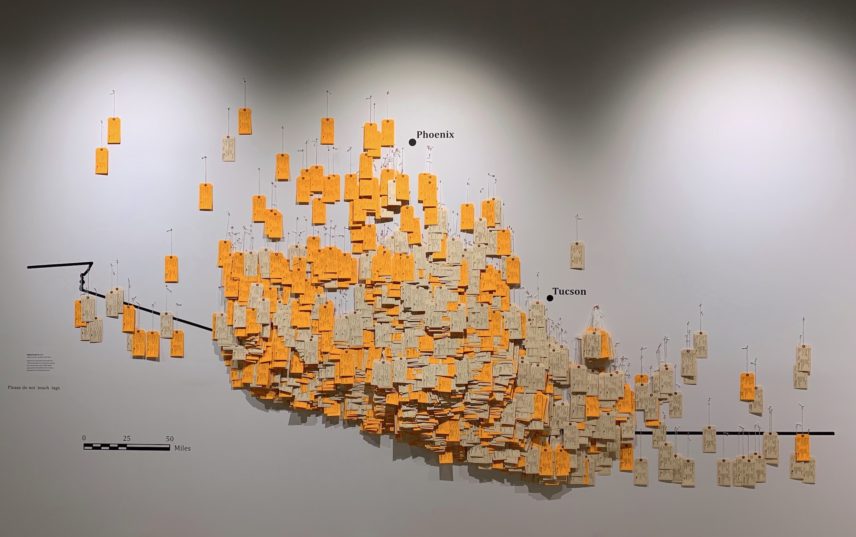 First prototype of Hostile Terrain at the Phillips Museum of Art at Franklin & Marshall College.
Alt text: Photograph of installation art mounted on a wall
Image description: Orange and manila toe tags mounted onto a white wall with small red map pins. Toe tags represent individuals who have died in the Sonoran Desert of Arizona. Black cut out vinyl is adhered to the wall to outline the border between Arizona and Mexico.
Caption: First prototype of Hostile Terrain at the Phillips Museum of Art at Franklin & Marshall College.
Credit: The Undocumented Migration Project
Image published in "The Human Cost of Border Enforcement Policies."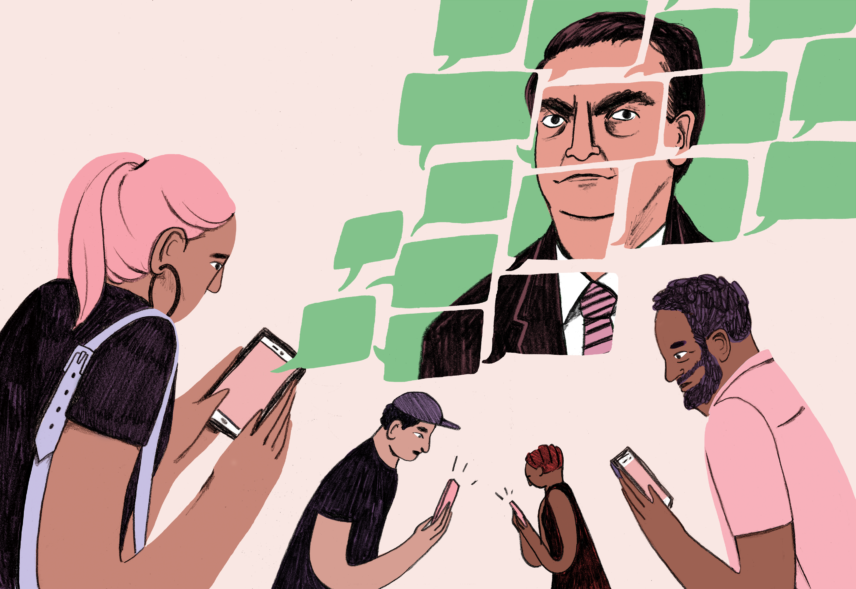 Alt text: Illustration of people looking at their phones.
Image description: Four people stand looking at their phones. A collection of chat bubbles emanate from one screen to form a portrait of a dark-haired man wearing a striped tie and standing in front of a green background.
Caption: None.
Credit: Emily Thiessen
Image published in "When Brazil's Voters Became Followers"