Article begins
As racial unrest framed many events occurring in the United States in the summer of 2020, American Indians and Alaska Natives dealt with the disproportional impacts of COVID-19 on their communities.
Getting into the car to embark upon my journey south, an uneasy feeling overcame me. I thought to myself, "What if I need to stop somewhere?" A year ago such a thought would not have even crossed my mind. That was before a pandemic forever changed the reality and landscape of our collective worlds. I had not even gripped the steering wheel yet, but my hands were covered in sweat. It all hit me at once. An overwhelming surge of conflicting feelings was manifesting into an anxiety attack, as I would be leaving my room for longer than I had in over year.
I struggled for a moment with the oddness of sitting behind the wheel. The farther down the road I went, as I entered Chickasaw Nation's territory in Oklahoma, the feeling of peculiarity drifted away as the familiar images along I-35 welcomed me back. Exiting to head east, I settled in for the drive. The possibilities of tomorrow motivated me onward despite my fear of needles.
It had been about a year since I left my room, let alone making the drive to Ada, Oklahoma and my office at East Central University. This past year had been a real life lesson in Jacques Derrida's dialogue on a spectral existence that is not life or death in the concept "La Survivance"—a concept not new to discussions on American Indian and Indigenous identities in the Postindian conversations of author Gerald Vizenor.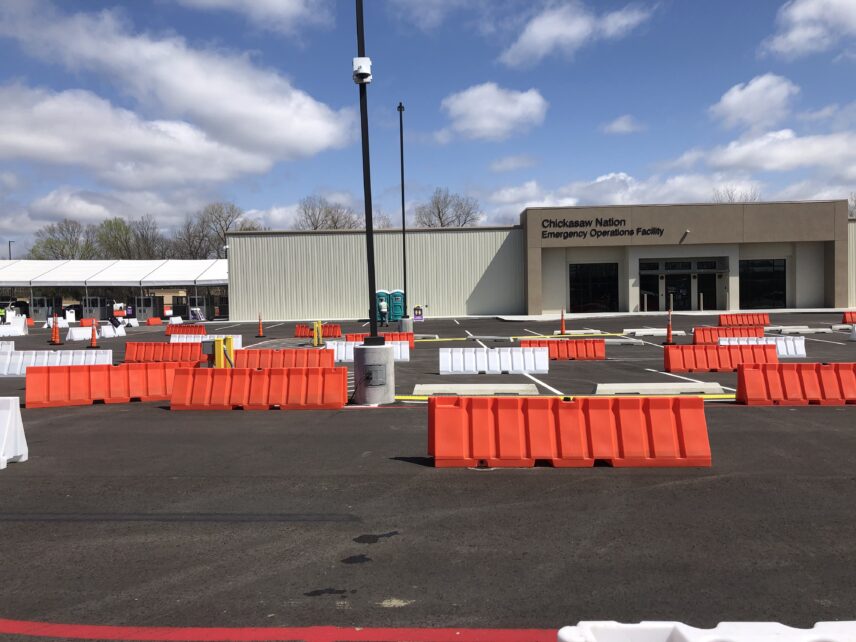 Chickasaw Nation's COVID-19 vaccine distribution effort
Driving to Chickasaw Nation's hospital in Ada for my first dose of the COVID-19 vaccine, the radio blared a Tom Petty song as the lyrics seemingly summed up the overwhelming sentiment of the past year: "People come, people go.
Some grow young, and some grow cold. I woke up in between a memory and a dream."
The road has always been my way of dealing with grief. There is something soothing and familiar about being on the road. Family was another. The pandemic shook all those things up and made them feel like distant lost memories.
The fear of getting sick due to a compromised immune system made teleworking for the last year essential. I also had a nasty bout with a virus I contracted during Spring Break in 2020 that never really seemed to go away, but reached a more manageable state by July. It was around that time that I reached out to contact family members that had been leaving messages for some time to check on my progress.
I was fortunate to have my life, but I learned that COVID-19 had already started to have a devastating impact on relatives and my family. My Aunt Pat's statement on her fear of answering the phone on Tuesdays because "it's always bad news" best summarizes the devastation and loss that my Choctaw relatives and community have continued to face during the pandemic.
The ruinous impact on life from a virus or disease is not a new narrative in Indian Country. One needs only to look at the data from past virus outbreaks, like the 1918 influenza pandemic, to the recent COVID-19 outbreak to get an idea of the devastation Indigenous communities have experienced from health and healthcare disparities. What is new to this narrative is the tremendous effort and leadership displayed by tribal-nations like Chickasaw Nation and Choctaw Nation in distributing the vaccine to tribal members and the local population. Using an online registration system to schedule vaccine appointments at drive-up clinics, Chickasaw Nation was able to start offering the vaccine to non-tribal members by early March.
It has been amazing to see the resilience of tribal communities in Oklahoma as they have responded to the challenges brought on by the pandemic. This is one of the many stories that need to be shared and celebrated, but I am reminded of how far we still have to go. There are numerous conversations that need to be had about a past that still informs our present day when it comes to the treatment of Indigenous people in the United States. I do not say this as scholar looking to share some theoretical methodology to improve the study of the past, but as some one that has experienced being placed between two worlds.
Growing up, my Grandma Ketchum meant everything to me. As I recently turned 47, I had the realization that she passed away at the same age from a heart attack—likely brought on by stress—that might have been prevented by better access to health care. The one part of this equation that I do not know how to prevent is the stress. As recent as last July, one of my family members was murdered in a plot to take his land near Ada. My Choctaw great grandfather Cammack Brokeshoulder Sr. was murdered in 1920 for his allotted land that held a large deposit of oil. The story of the Osage murders is well known, but there were, and still are, attacks and murders on numerous Native American landowners that had oil leases in Oklahoma. Cammack's father was murdered in Mississippi in the 1890s for his family's allotted land that had lots of timber. The resulting stress from the fear of violence is real and has a lasting impact on the families experiencing it.
It is time to move beyond asking Indigenous faculty members to write land acknowledgement statements for universities and to start acknowledging the continuing violence and resulting trauma that Indigenous people endure. Indigenous faculty members are not the place where an apology for the continued acts of settler colonialism should be coming. Instead, it is time to raise larger questions, like why does the discipline of anthropology continue to use the names of landowners to describe cultures and materiality in North America? It seems this might be a good place to start having those hard conversations.