Article begins
Lessons from Discos Rolas
An accordion establishes the rhythm, a conga pops along, a guiro's rough scraping contrasts with a keyboard's synthy sparkle. The beat ambles along, like a swinging walk, like a heartbeat at rest. I am listening to a rehearsal by one of Mexico City's most highly regarded cumbia bands in their warehouse-garage in the outskirts of the city. Ángel Pedraza, sporting black sunglasses and a tattoo of the logo from his band Grupo Kual? on his forearm, conducts, sings, plays his custom accordion, and demonstrates passages on keyboards while sipping occasionally from a Modelo beer. Seven other men play keyboards, bass, and percussion while a four-year-old boy and seven-year-old girl drum along on a conga with their father. Ángel's uncle—who with his brothers formed the first cumbia sonidera band Super Grupo Colombia in 1977—plays the guiro (scraper). Ángel extols his family legacy by shouting "la dinastía Pedraza!" in many of his songs. Four hours later, Grupo Kual? finishes practicing, and we head to Ángel's house to conduct an interview about his family's legacy in cumbia. I ask questions, write notes, record audio, and film along with my friends and fellow DJs, Ganas, Turbo Sonidero, and Mextape. I connected with Ángel because I featured two songs by Grupo Kual? on ¡Un Saludo! Mexican Soundsystem Cumbia in LA, a compilation that I curated and produced. I'm here to learn but also as a producer. I'm hoping to release another record exclusively focused on the group on my new record label, Discos Rolas.
In 2018, I cofounded Discos Rolas, with multidisciplinary artist and DJ Gary "Ganas" Garay, as an independent record label exploring Latin American sound through art and anthropology. Through my work, I join others who are, in the words of Steven Feld, "doing anthropology in sound" (2004). Marina Peterson recorded wind noise—"the always unwanted sound"—as "an experiment in glitching" for her book Atmospheric Noise (2021). For "Listening to Kamagasaki," David Novak produced a collective field recording project on noise regulation and the political soundscape of Osaka (2010). Stefan Helmreich created a soundtrack to his book Sounding the Limits of Life and drew on his research on ocean science to coproduce, along with ethnomusicologist Wayne Marshall, "Wave Count," a montage of 70 pieces that "evoke waves via various compositional strategies and styles." I found my groove as an anthropologist running a music label. This is research as listening, improvising, building relationships, collaborating.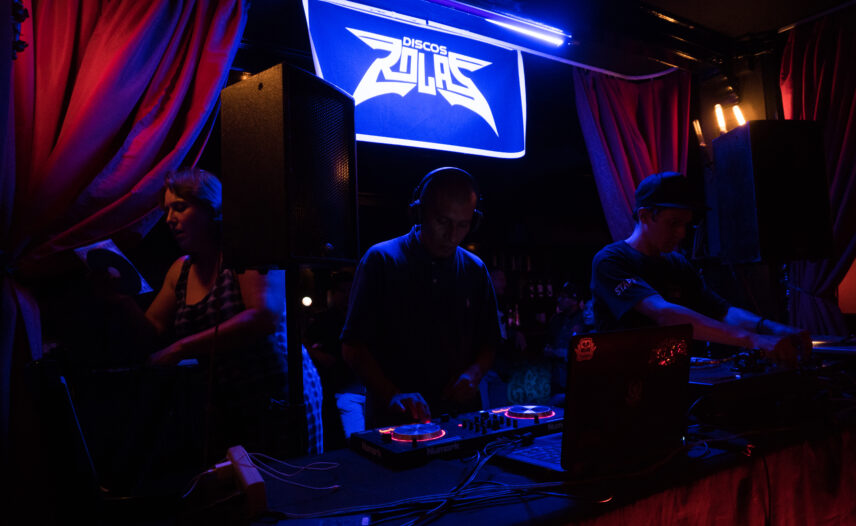 Xandão and Cifickzer DJing in Mexico City for the Grupo Jejeje release party.  
Listen: Attune yourself to aesthetic and affective transmissions. Resonate. Tune into distortion and noise. Reflect on the technological and material conditions of production, recording, and transmission. To curate my first cumbia compilation, I listened to hundreds of songs gifted to me from Vicente Pedraza, the founder of one of Los Angeles's largest cumbia CD labels, Discos Barba Azul. Many songs featured reverb-drenched, distorted, low-pitched voices reciting dozens of names and dedications recorded over the songs. At live shows, sonideros (DJs) recite fans' saludos (greetings) to absent family and friends—living and dead—throughout the Mexican diaspora. While saludos produce an archive of feeling, channeling the voices of families fractured by harsh immigration policies, songs reflect the travels of record dealers. Old-school sonideros favor songs from Colombia, Peru, and Cuba rather than from Mexico. To acquire records, working-class dealers like Sonido Facinación and Morelos traveled throughout Latin America during the 1970s and 1980s. They risked kidnapping, extortion, and violence in search of vinyl. Morelos recalled digging for records in Colombia, the birthplace of cumbia, "I wouldn't have travelled to Medellín then otherwise. It was horrible in '87. The bombs, the lockdowns."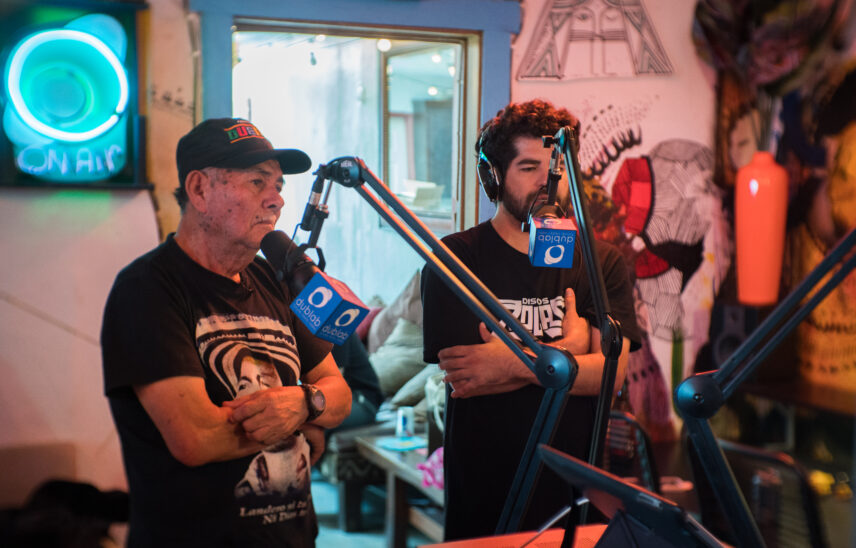 Gary "Ganas" Garay interviewing Sonido Dueñez on his radio show on Dublab.
Be open to improvisation: Embrace opportunities. Learn from others. Follow the vinyl. After I spent a day at a former sonidero's home in Mexico City, chatting and digging through thousands of records crammed wall to ceiling in his entryway and bedroom, he told me that I needed to meet Morelos. Two days later, Morelos and I met on a subway platform and then zipped around the city by subway, bus, informal van, and on foot to meet with some of the oldest active sonideros who had shaped the genre.
I learned that Mexican cumbia sonidera is simply slowed down Colombian cumbia. Sonido Cubaney—a record collector and sonidero in his sixties—showed me how records were dramatically pitched down "for the taste of Mexico City" and asserted that no one invented the "pitch" since "it's already there in the technology of the turntable." Playing records at the wrong speed produces a sparse sound—voices distort, highs drag into bass, and time stretches out. Sonideros further appropriated the music by scratching off record labels and renaming songs to create secrecy and exclusivity.
Build relationships and reciprocity: Return. Spend time with artists and collaborators. Dance together. Dig for records. After releasing ¡Un Saludo! I received a Facebook message from Turbo Sonidero, a cumbia producer based in San Jose, California, sending links to his music. Later he connected me to his record dealers in Mexico City and Puebla—an honor and invitation to work together since DJs are notoriously secretive about where they dig for records. Turbo Sonidero's music as Grupo Jejeje inspired Ganas and me to start a record label together because we wanted to hear this music on vinyl. Our relationships with the artists on the label are intense, iterative, and inspiring.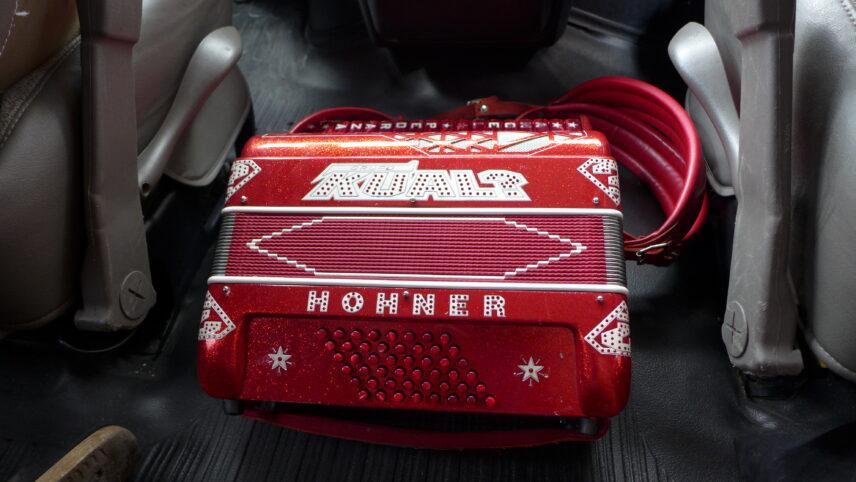 Accordion of Ángel Pedraza.
Collaborate: Organize events together. DJ back-to-back. Think of a label as a creative platform. For our first event as Discos Rolas we invited Mirjam Wirz, a Swiss photographer, to come to Los Angeles to present on her new book, Ojos Suaves, which follows Morelos who serves as a guide to cumbia sonideros. I invited Ángel Pedraza, Tony Fantasma a Los Angeles-based sonidero, and Mirjam's collaborator, musician Carlos "Tropicaza" Icaza to participate in a conversation, and I served as a discussant. For the book launch after-party, Tropicaza, Turbo Sonidero, Ganas, and I DJed cumbia records back-to-back, alternating after each song and inviting each other into the mix. The next day we all recorded a radio show together on Dublab, an online radio station based in Los Angeles.
Discos Rolas allows me to draw from my training in cultural anthropology as well as my background as a DJ while pursuing projects beyond text: vinyl records, cassettes, artist salons, dance parties. Now, I not only write about music and sound but also perform, produce, and circulate material culture. We have invited musicians like Sonido Dueñez, the accidental inventor of super-slowed down cumbia rebajada from Monterrey, and San Luis de Potosí's Sonido Royal, who is famous for unearthing obscure cumbias, to play our album release parties, and collaborated with Jaime Ruelas whose flyers created the visual culture of Mexico City's sound systems in the 1980s to create our logo and album art. By engaging with cumbia's pioneers, we push the sound into the future. Running a music label demands energetic participation that leads to deep on-the-ground observation, friendship, and knowledge.