Article begins
In 1966, Argentinian dictator Juan Carlos Ongania overthrew the democratically elected president in a coup and ordered a violent attack on the University of Buenos Aires. The federal police beat and arrested more than 400 professors and students, intentionally destroying much of the university, in what came to be called La Noche de los Bastones Largos (Night of the Long Batons). The authoritarian regime was especially threatened by the social sciences and the humanities. In the United States today, seven states have banned or restricted the teaching of critical race theory, and 19 more currently have bans in the works at both the K-12 and the university levels. While these legal attempts to restrict scholarship and teaching are nothing compared to the violence and repression that Argentinian scholars and students have endured, these movements to silence academics are related.
María Rosa Neufeld, Graciela Battalan, and Elena Achilli are renowned Argentinian scholars who completed their doctoral work in anthropology during the Argentinian Revolution, which spanned 1966–1976. Midway through their academic work, the authoritarian regime shuttered humanities and anthropology programs throughout the country. Between 1974 and 1983, professors, students, activists, trade unionists, writers, journalists, artists, and anyone suspected of not supporting the neoliberal policies of the military junta lived with the imminent threat of death. During that time, some 30,000 people were murdered or disappeared. These three scholars survived, and their subsequent work has profoundly impacted the field of educational anthropology.
For the first time in the 33-year history of the George and Louise Spindler Award, the Council on Anthropology and Education (CAE) has bestowed this lifetime honor on educational anthropologists from outside the United States. Eminent Argentinian scholars María Rosa Neufeld and Graciela Battalan at the Universidad de Buenos Aires and Elena Achilli at the Universidad Nacional de Rosario collectively won the 2022 Spindler prize.
Established in 1989, the George and Louise Spindler award honors scholar-practitioners whose achievements in educational anthropology have been distinguished, exemplary, and inspirational. Recipients' contributions must be widely recognized for having significantly advanced our knowledge of the study of educational processes and for having significantly improved the quality of education. These powerful Argentinian scholars have done that beautifully. As the most horrific years of the guerra sucia (dirty war) receded into the frightening memory of trauma, these three courageous scholars took up the mantle of democratization. They understood democratization as the only way to rebuild a wounded society, and they focused their work on the institutions of public schooling and the family, in particular. Neufeld, Battalan, and Achilli's scholarship is brilliant and brave, and has made a lasting impact on the field of educational anthropology, as well as on their society and the world.
Credit:
María Rosa Neufeld and Elena Achilli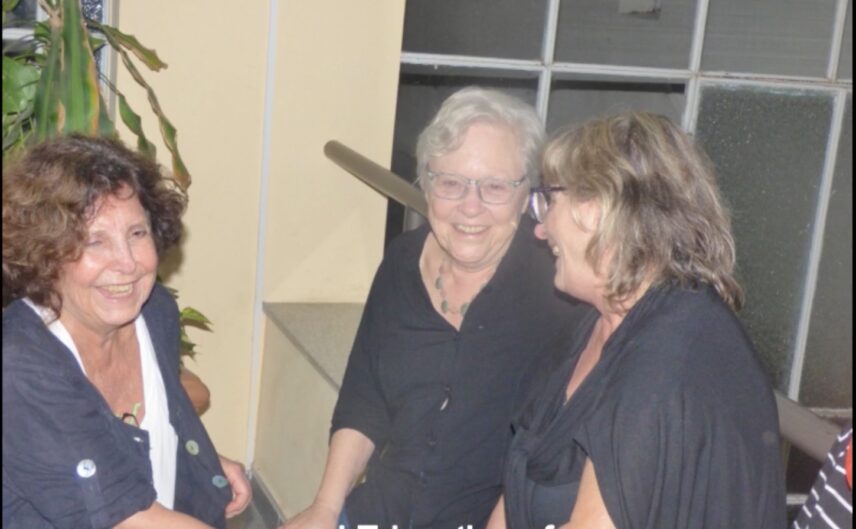 From left: Graciela Battalan, María Rosa Neufeld, and Elena Achilli. 
Neufeld, Battalan, and Achilli founded the Red de Investigación en Antropología de la Educación (RIAE) (Argentina Research Network in Anthropology and Education), which has effectively institutionalized educational anthropology as a subfield in major universities throughout Argentina. RIAE, the organization they created, like CAE, has served as a critical space for sharing scholarly work and has produced several generations of new educational anthropologists.
Credit:
María Rosa Neufeld and Elena Achilli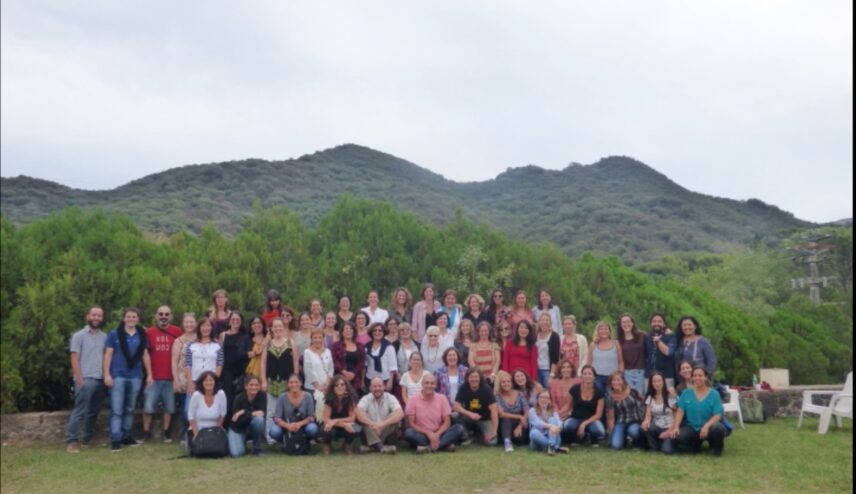 Educational anthropologists involved in Red de Investigación en Antropología de la Educación (RIAE) (Argentina Research Network in Anthropology and Education). 
Bringing more than 200 scholars from throughout the country together annually, RIAE has also helped to strengthen and, in some cases, establish new programs in Chile, Uruguay, and Brazil, as well as in numerous regional universities throughout Argentina. Though barely funded, they have found ways to conduct ethnographic work in education with Indigenous groups in Misiones and Chaco, the northern provinces of Jujuy, in the Andean mountains, and in the Patagonia region. RIAE researchers have explored policy in practice and the profound impact of neoliberalism on the Argentinian education system. Their work has transformed educational practice through the braiding together of three strands: Indigenous knowledges, skills learned in the context of agricultural labor, and formal schooling. Their intellectual production has influenced scholars in Mexico, Peru, Chile, Brazil, Uruguay, Spain, and the United States. 
Credit:
María Rosa Neufeld and Elena Achilli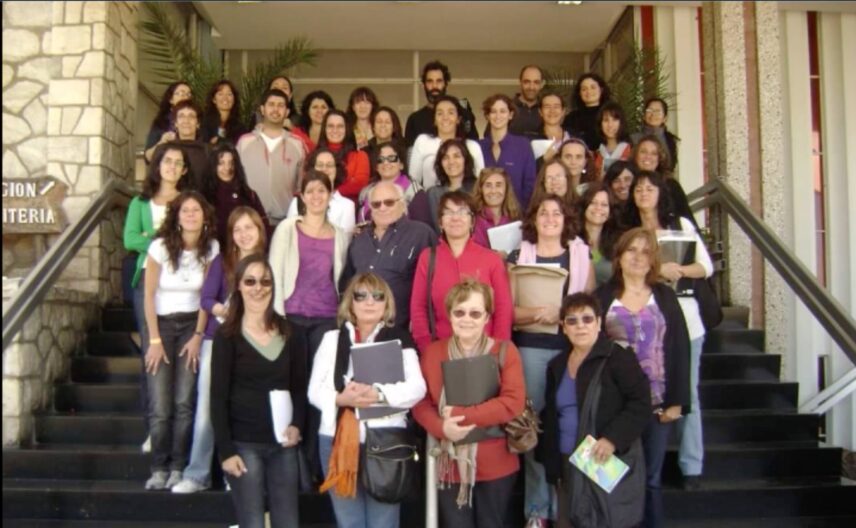 Participants in the RAIE annual seminar 
Although the right-wing military dictatorship was still torturing and executing left-wing intellectuals and activists with impunity, in the late 1970s, Neufeld, Battalan, and Achilli began developing their own innovative methodology for conducting research in educational anthropology. They called it talleres democráticos de educadores (democratic encounters or workshops with educators). Their talleres employ a dialogic process influenced by Paulo Freire's then new approach to popular education for consciousness raising. They combined this Freirian approach with the work of radical group psychologist, Enrique Pichon-Riviere, whose work contends that affective and cognitive processes are inextricably interconnected.  
Neufeld, Battalan, and Achilli's talleres constitute a new approach to professional development among teachers. Beginning with a focus on interculturality, their talleres are also a form of participatory ethnographic data gathering. A kind of collaborative action research as well, their talleres are aimed at identifying generative themes in communities, with the goal of social action. Battalan and colleagues describe the talleres this way:
The workshops challenged authoritarianism in the society and the schools. Their aim was to work with teachers to help them rethink their interaction with students; encouraging a transformation of their pedagogy from a strict, disciplinarian and transmission approach to one of coordinators engaged in a collaborative and creative pedagogical processes. The talleres were organized to promote solidarity and cooperation among all participants through the development of horizontal group relations.
Their democratizing talleres are both methodologically and theoretically innovative. Neufeld, Battalan, and Achilli were reading Clifford Geertz, Erving Goffman, Aaron Cicourel, Eric Wolf, Peter Worsley, John Gledhill, and Michel-Rolph Trouillot as soon as Spanish translations were available. They are also well-versed in the works of Hans-Georg Gadamer, Alfred Schutz, Anthony Giddens, Maurice Godelier, J. Eric S. Thompson, Raymond Williams, Michel de Certeau, and Carlo Ginzburg, along with Antonio Gramsci, Michel Foucault, and Pierre Bourdieu. They have taken these theoretical works, along with specific Latin American dissident currents of Marxist theory, and have woven them into much of their scholarship, as well. Significantly, Neufeld, Battalan, and Achilli are scholars who have developed alternative visions of the colonial and postcolonial history of Argentina, focusing on the spread of capitalism and decolonization throughout the country. These are trends that were only recently incorporated into educational research in the United States.
From among the 34 nomination letters that the Spindler Award Committee received in support of Neufeld, Battalan, and Achilli from across the globe, Elsie Rockwell notes that, sadly, the significance of these scholars' work has been limited by the hegemony of scholarly publication in English-language journals. Rockwell urges educational anthropologists to look south to discover the wealth of ethnographic studies and cutting-edge theory that these three scholars bring to the field.
Along with these important Argentinian innovations in methodology and theory, Neufeld, Battalan, and Achilli are profoundly powerful mentors. They have presided over countless senior and master's theses, as well as numerous doctoral dissertations. Their former students are publishing books, organizing conferences, and producing policy papers. Battalan, Neufeld, and Achilli, along with their colleagues and students, have also participated ardently in the Interamerican Symposia in Ethnographic Educational Research, an event that is attended by many CAE members, along with educational anthropologists from around the world.
These three indomitable scholars embody the practice of publicly engaged educational anthropology. They have spoken, taught, and organized politically in the communities where they conduct their work. Their former students hold positions in the Argentinian National Ministry of Education. Their scholarship has contributed powerfully to innovations in research methodology and theory, as well as to the improvement of educational practice throughout Argentina and Latin America. Both their scholarship and their work as professors are an inspiration to educational anthropologists across the globe, and they are heroes in the fight against authoritarianism in all its forms.
Tricia Niesz is section contributing editor for the Council on Anthropology and Education.