Article begins
1940–2021
Edward C. Hansen, professor emeritus of anthropology at Queen's College and the Graduate Center of the City University of New York, died at his home in Amherst, Massachusetts, on August 14, 2021. A noted cultural anthropologist, he received his PhD in 1969 from the University of Michigan, where as an undergraduate he had been a pitcher on the baseball team. In his younger days he was known for throwing a "knuckleball" that sent players diving.
Hansen was born on February 27, 1940, in Ann Arbor, Michigan, to Gilda C. and Robert S. Hansen, a highly regarded chemist at Iowa State University. He spent most of his early years in Ames, Iowa, where he excelled in sports and getting into trouble by doing things like rolling the school safe down the stairs. Upon attending university, he pursued his love of literature, a passion that took him to Spain, where he studied the country's prose and poetry. After returning to the United States, he turned to the social sciences and spent the rest of his life studying and working in the field in which his mother had received her own degree, anthropology.
Hansen's research focused on political economy and problems of development and underdevelopment in Latin America and Spain. With Eric R. Wolf, he co-authored the well-known article "Caudillo Politics" and the 1972 book The Human Condition in Latin America, which was widely read at colleges and universities and contributed to the development of Latin American studies. Hansen went on to pen Rural Catalonia under the Franco Regime. He authored many other articles on topics ranging from the nature of anthropology to class conflicts in upstate New York to the denigration of poor whites. He was a critic of postmodernism.
As chair of the Anthropology Department at Queen's College during the late 1970s, he played an important role in ensuring that the department made it through the city's financial crisis as unscathed as possible. He was known across the college as a dogged advocate for his discipline and fellow faculty.
Hansen lived in Spain and Brazil and spoke Spanish, Portuguese, and Catalan. His students found him to be fascinating, entertaining, and extremely challenging. His colleagues describe him as devoted to knowledge and science and a loyal man. He is remembered for his ferocious wit, bawdy sense of humor, and limitless store of inappropriate limericks. He never accepted the physical limitations imposed on him by a stroke at the age of 60 and spent the last twenty years of his life traveling the world with his family and friends.
A father and grandfather of a blended family, Hansen was a big-hearted man. He is survived by his loving wife Geraldine, eight children, and more than a dozen grandchildren. His wife asks that those wishing to make a contribution in his memory give to any charity that aids the victims of Spanish fascism or Latin America's bloodthirsty juntas or, for the less politically minded, the Nature Conservancy.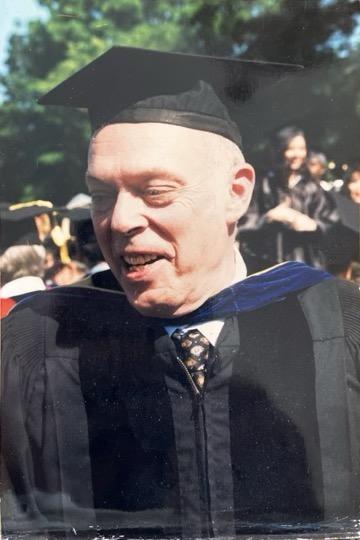 Edward C. Hansen
(Andrea Grant-Friedman)
Cite as: Grant-Friedman, Andrea. 2021. "Edward C. Hansen." Anthropology News website, October 7, 2021.