Article begins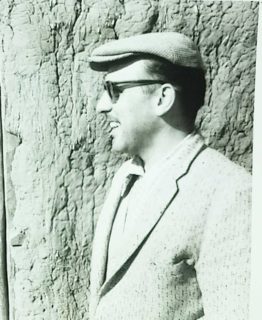 1931–2019
"I knew what it meant to be a 'true believer' just as I knew what it meant to truly disbelieve." (1996, 197)
Elmer Miller, an extraordinary anthropologist, teacher, mentor, and the former professor and chair of the Anthropology Department at Temple University (1966–1996), died on December 6, 2019, at Cathedral Village in Philadelphia.
He was known for his ethnographic research and engaged community work with the Toba of the Gran Chaco, with whom he lived as a Mennonite missionary and later an academic anthropologist. Miller's publications comprise many books and articles, including Los Tobas Argentinos: Armonía y disonancia en una sociedad (1979), Harmony and Dissonance in Argentine Toba Society (1980), Introduction to Cultural Anthropology (1979), and A Critically Annotated Bibliography of the Gran Chaco Toba (1980). In 1996, as he was concluding his academic career, Miller wrote a powerful intellectual and personal account of his life from growing up in rural Pennsylvania through his fieldwork in Argentina and his academic career at Temple University, focusing on the persistent questions and scepticism about ideological and methodological orthodoxies that accompanied him on his life journey (Nurturing Doubt. From Mennonite Missionary to Anthropologist in the Argentine Chaco).
Born in 1931, Miller grew up in a traditional and deeply religious family of 11 children in a Mennonite farming community in Lancaster County, Pennsylvania . After nine years attending a one-room schoolhouse, Miller left to work on a farm and send money home. Having felt called to go to college and become a missionary to honor the memory of his mother who died when he was three years old, he earned a Bachelor in Religion and Philosophy at Eastern Mennonite College in 1955, followed in 1956 by Master of Divinity at Eastern Mennonite Seminary. Together with Lois—his wife, and childhood sweetheart and with whom he shared an extraordinary life-long partnership—Miller spent 1958 to1963 as a missionary among the Toba in Argentina.
The transformative experience in the Gran Chaco where they established deep friendships with the Toba led the Millers to leave the Mennonite Church and prompted Elmer to take up graduate studies in Anthropology once they returned to the United States. In 1964, Elmer received his MA in Anthropology and Linguistics at the Hartford Seminary followed by a PhD in Anthropology from the University of Pittsburgh in 1968. His dissertation focused on Pentecostalism among the Toba was supervised by John Gillin and written in what Miller refers to as the mode of standard ethnographic realism or ethnographic naturalism. This informed his work in the first part of his career up until mid-1980s, when he became attracted to French structuralism. However, he credits his deep relationship with the Toba interconnected as it was with his personal transformation for his continued inhibition to commit "to any one discourse in anthropology that would tie [him] dogmatically to its tenets" (1996, 197). Beyond everything, he valued doubt as a philosophical category par excellence, which should inform our way of thinking and living in a multicultural world. Miller's practice of doubt permeated not only his research and writing in which he was intensely self-reflexive and self-critical, but also his teaching. During his career at Temple University, Elmer Miller supervised 33 PhD dissertations and he opened the door to anthropology to thousands of students from around the world, nurturing our sense of doubt as an intellectually and civically constructive stance. As I move through my professional life as an anthropologist, I have a growing sense of gratitude that I was so fortunate as to have Elmer Miller—the practitioner of uncertainty and the most generous of pedagogues—as my undergraduate mentor.
(Hana Cervinkova)
Cite as: Cervinkova, Hana. 2020. "Elmer S. Miller." Anthropology News website, February 14, 2020. DOI: 10.1111/AN.1348