Article begins
Two million Chileans marched for gender equality and democratic reform on International Women's Day 2020. With the writing of a new constitution now on the horizon, feminist activists across the country are organized and ready.
As I filled up my water bottle and applied sunscreen to my face, I could already hear the beginnings of the women's march outside: drumming and loud music, whistles and horns, and the coordinated cries of protest chants echoed through my friend's apartment in the heart of Chile's capital city, Santiago. From the moment we stepped onto the streets, we could see small groups of women moving toward the plaza where the midday march would soon begin. Almost everyone wore a brightly colored pañuelo (bandana) around their neck or tied to their wrist, either purple for women's rights, or in the bright green that has come to represent the fight for abortion rights across Latin America. We passed friends painting each other's bodies with glitter and protest slogans, decorating signs and flags to proudly wave, and building up their energy by practicing call and response chants. As we reached the plaza, we were surrounded by thousands of women of all ages, the air buzzing with excitement and anticipation despite the hot sun. Eventually the crowd squeezed itself onto Santiago's central avenue and we joined the throng, packed shoulder to shoulder and moving forward inch by inch.
More than two million people throughout Chile participated in International Women's Day protests on March 8 and 9, 2020. This incredibly high turnout (in a country of about 18 million people) reflected the momentum of mass civil unrest and mobilization that had been ongoing since the middle of October 2019. What began as high schoolers protesting a subway fare hike had quickly escalated into widespread critiques of economic inequality, government corruption, and state repression, all of which were seen as legacies of Augusto Pinochet's military dictatorship (1973–1990). Protests were promptly met with severe police repression and violence, and President Sebastián Piñera instituted a military curfew across most major cities, drawing even more comparisons to the period of the dictatorship and further outraging many Chileans. Characterized by the slogan "Chile despertó" (Chile woke up), this estallido social (social explosion) would continue for months, as Chileans relentlessly critiqued the ways the state had failed to meet the most basic needs of citizens.
Protestors walk and dance together at the 2020 International Women's Day March in Santiago.
Within this political context, the Chilean feminist collective, Coordinadora Feminista 8M (CF8M), organized the International Women's Day events in a manner that combined feminist calls for gender equality with sustained public demands for major structural reforms across all sectors of society. Marchers held signs critiquing President Piñera next to signs advocating for bodily autonomy, abortion rights, and an end to femicide and sexual violence. Of course, as the Chilean scholar and activist Julieta Kirkwood once noted, doing feminist work means interrogating all systems of power and seeing feminism as a fundamental tool for reimagining and rebuilding a more equitable society for everyone. First spoken during the dictatorship, her powerful claim that "no hay democracia sin feminismo" (there is no democracy without feminism), still rings true for activists today. The General Synthesis put together by the organizers included a list of 14 demands with clear action items that covered everything from sexual and reproductive rights to antiracism work to LGBTQ+ rights to housing security and environmental justice. At a time when Chilean civil society was engaged in vibrant political debates that, at their best, imagined creative solutions to the country's current social ails, the women's march presented an opportunity to consider what an intersectional feminist blueprint for the future might look like.
The demands put together by CF8M developed out of the work of several feminist social and political organizations across Chile, but also out of intentional engagement with women in their local communities at the start of the estallido social. At one cabildo (town hall) in the coastal city of Valparaiso in early November 2019, CF8M led a gathering of about 75 mostly young adult women in a discussion of their personal experiences with inequality in Chile, their emotions in the midst of prolonged social upheaval, and how feminism could be a crucial tool for imagining a more just future. Sharing in small groups, several women expressed frustration over the ways that the intersection of neoliberalism, individualism, and patriarchy complicated their daily lives and now hindered their ability to participate in the protests. Citing worries over safety and work and family obligations, such as childcare demands, as prohibiting them from taking to the streets, they expressed concerns that their perspectives might be lost from the public discourse.
Of course, their experiences and proposed solutions were various, and the heterogeneity of feminisms in Chile presented a challenge for CF8M in coordinating the march. Should they, as some demanded, organize the procession according to gender, with a "separatist" (women's only) bloc leading the way and men following at the back of the line? Even on the day of the march, this was a highly contested decision. Another source of tension was the fact that the municipality had assigned mostly female police officers to line the route. We watched them trying to keep a straight face as crowds of marchers screamed curses in their direction (for example, "Better to be a whore than a cop"), venting their rage for the dozens of protestors who had been killed and the hundreds wounded by police since October. CF8M had the difficult task of both harnessing this outrage, which had sustained the protests for months, and turning it into a constructive force for long-term transformation.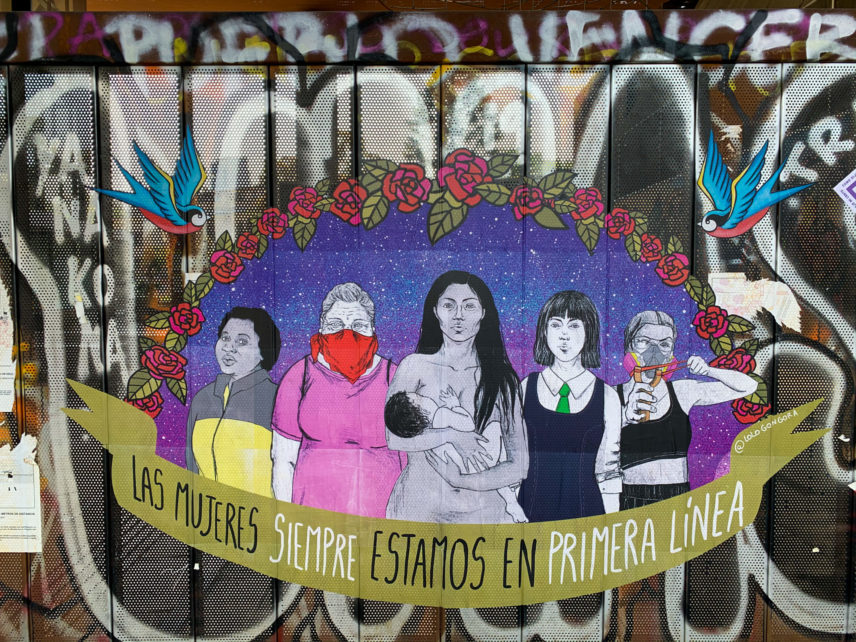 Protest art in the streets of Santiago reading "Las mujeres siempre estamos en primera línea" (Women are always on the front line), a reference to the front line of Chileans who would most directly face police violence during the protests.
In the months between the cabildo and International Women's Day, women found both symbolic and practical ways to guarantee that their perspectives would be heard. On November 25, 2019, a Chilean feminist collective, Las Tesis, premiered their performance art piece Un violador en tu camino (A rapist in your path), whose haunting refrain, "The oppressive state is a rapist. The rapist is you," called attention to the patriarchal state institutions that have allowed violence in the form of rape, femicide, disappearances, and impunity to permeate the lives of Chilean women. Recreations of their Santiago performance—both specific to the Chilean experience and yet relatable to women generally—were performed throughout Chile and across the world as an anthem against violence to women.
Perhaps most consequential was the work of feminist activists to guarantee women's equal participation in the writing of Chile's future. One major political remnant of the dictatorship is Chile's current constitution, which was written and instituted under the military regime in 1980. For years now, it has been seen by the majority of the public as a serious barrier to Chile's ability to function as a true democracy, so it came as no surprise that the writing of a new constitution quickly became one of the most prominent demands of the protests. In November 2019, the Chilean government scheduled a plebiscite for April 26, 2020 (which due to COVID-19 was delayed until October 25), in which citizens would vote on whether to approve or reject a constitutional convention, and, if approved, on a process for writing the new constitution. Then, on March 4, 2020, the Senate decided that if Chileans voted in the plebiscite to draft a new constitution, there would be gender parity among the citizens who were elected to be part of the writing process. This was a major win for feminist activists, women politicians, and feminist NGOs who have worked together to advocate for women and men to have equal representation in the creation of the new document. Just a few days later, at the International Women's Day march, this decision was a source of celebration and immense hope for the ways Chile might continue to make systemic changes. "Nunca más sin nosotras" (never again without us) became an unofficial slogan of the march, and has since continued to accompany discussions about women's participation in Chile's political processes.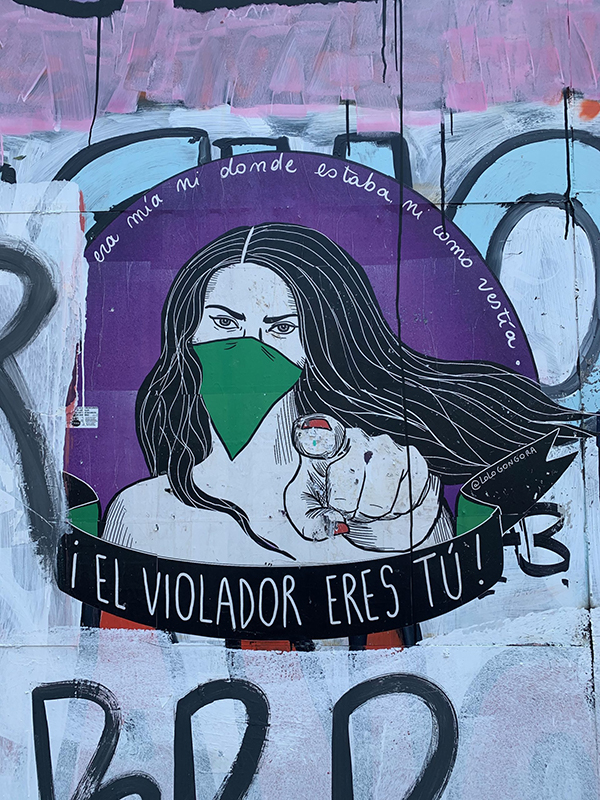 Protest art in Santiago depicting the performance art piece "Un violador en tu camino" (A rapist in your path) by feminist collective Las Tesis. The banner across the bottom reads, "The rapist is you!"
On October 25, 2020, there was record voter turnout for the plebiscite, and a landslide 78 percent of Chileans voted for a new constitution to be written by a newly elected body of citizens. A long process lies ahead, with the next step being another vote in April 2021 to choose the members of the constitutional convention. The new constitution will make history as the first in the world to be written with equal gender representation. Many women and feminist organizations harbor a strong hope that with this representation, gender equality and women's rights will be built into Chile's constitutional framework. In December of 2020, nine feminist organizations across the country launched the Plataforma Feminista Constituyente y Plurinacional (Constituent and Plurinational Feminist Platform), which has formed a coalition of pre-candidates to increase the participation of grassroots organizers in the convention, and to represent the diverse feminisms existing from northern to southern Chile. Additionally, activists and NGOs have been hosting virtual conversations with scholars, lawyers, and other experts to talk about feminist hopes for the new constitution, and to give people opportunities to ask questions about how these vital political and legal processes will be carried out over the next year.
At the time of this writing, it is unclear what International Women's Day 2021 will look like in Chile, considering the quarantine measures still in place due to the pandemic. In the past year, activists have found creative ways to use social media to host virtual "marches" for causes like sexual and reproductive rights, encouraging people to flood Instagram and Twitter with selfies in their green bandanas, and hosting events via Facebook Live. Regardless of format, it is almost certain that the same energy that animated the 2020 march will continue to sustain feminist action as Chileans establish a new path forward for their democracy.