Article begins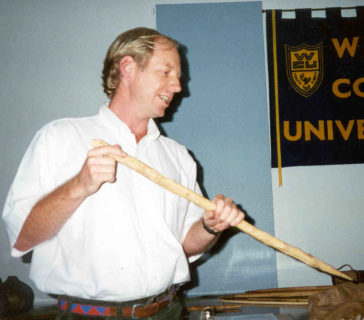 1954–2019
Frank Marlowe died September 25, 2019, in Athens, Georgia, having succumbed to the effects of Alzheimer's disease.
Marlowe will be remembered by his colleagues and friends for his keen wit, clever mind, and exciting field stories, delivered with a hint of Texas twang, remnant of his youth in Forney, Texas, where he was born in 1954. In his anthropological life, Marlowe was a human behavioral ecologist and an ethnographer of the Hadza of Tanzania. He held professorships at Harvard University, Florida State University, Durham University, and Cambridge University, and served as president of the Evolutionary Anthropology Society, a section of the American Anthropological Association. Marlowe was a filmmaker before studying anthropology at graduate school. He was awarded the Jack Nicholson prize for screenwriting, the Samuel Goldwyn award for screenwriting, and the David L. Wolper Award for Documentary Film at the University of California, Los Angeles (UCLA).
During the 1980s, while pursuing an MA in anthropology and an MFA in film at UCLA, Marlowe was consumed by filmmaking: he worked tirelessly as a script writer, videographer, editor, director, and actor. For the 1988 film Manatic, Marlowe followed a mentally challenged man named Ted for several months with a shoulder-mounted 35 mm camera. He documented Ted's home life in an overcrowded tenement, his work life at a laundromat, and a visit back to the California mental institute where Ted was once confined. The viewer experiences how, through force of enormous goodwill, Ted found respect and loyalty, and provided an aura of safety to the community of castaways that gravitated to him. Manatic was widely praised in independent film circles, and won prizes at the Chicago, San Francisco, and New York film festivals.
Marlowe completed his PhD in anthropology in 1997, under the direction of Nicholas Blurton-Jones at UCLA. Blurton-Jones introduced Marlowe to Hadza hunter-gatherers in Tanzania, with whom Marlowe studied foraging, mating, and parenting behaviors, and cooperation and fairness. This work culminated in his book, The Hadza Hunter-Gatherers of Tanzania (2010).
Beyond the quantitative rigor of his analytical attempts to advance theory, Marlowe was full of empathetic stories about Hadza individuals, whom he cared for immensely. Brian Wood recently discussed Marlowe's passing with some Hadza men who knew him well. Kaunda and Mahia Shandalua both remembered Marlowe as their "very good friend." Mahia and Dofu Shandalua were grateful that Marlowe had helped them considerably.
Marlowe was a dedicated fieldworker and a prolific writer. He was not afraid to do things differently or to consider theories that contradicted accepted truths. Marlowe loved talking with people, particularly about anthropology, and enjoyed polite debate. Perhaps for this reason, he was consistently welcoming to others, including junior scholars, peers, and potential collaborators. He mentored a cadre of productive students, inspired and supported his peers, and facilitated a variety of interesting research projects with Hadza.
For more about Frank Marlowe, visit this website about his work. Individuals can also contribute to the endowed lecture series in Marlowe's name at UCLA's Center for Behavior, Evolution, and Culture here.
(Bram Tucker, Brian Wood, Michael Gurven, and Julia Marlowe)
Cite as: Tucker, Bram, Brian Wood, Michael Gurven, and Julia Marlowe. 2019. "Frank Marlowe." Anthropology News website, December 6, 2019. DOI: 10.1111/AN.1321