Article begins
Sex toys offer a way to reanimate the story of sexual pleasure and well-being towards a more positive—and radical—sexual politics.
I saw the bedroom toys
Now I'm stalling
I can't believe my eyes
I saw the bedroom toys
Now I'm crawling
I learn to improvise
―Duran Duran, "Bedroom Toys"
A sex toy show organized in Dublin by a popular somatic sex educator is cancelled by the proposed venue weeks before it is due to take place in December 2022. This event aspired to celebrate, educate, and enhance sex positivity awareness, but conservatism and misunderstanding stood in its way, clucking disapprovingly. Surprise and outrage followed this cancellation in an Ireland that very much considers itself as having moved beyond the inchoate anxieties of Catholic conservatism and the moral policing of sex.
As an interpretive polarization surrounded this cancellation, the tensions in public discussions of sexual pleasure exposed a broad spectrum of views. This sex toy show was viewed with disdain, concern, conservatism. It was also trivialized―treated as a joke. Yet it also opened up a conversation emphasizing sexual pleasure as a site of personal and political empowerment free of policing.
We, both anthropologists from Ireland and Romania, are writing from a cisgender, heteronormative, and white female perspective. We understand acutely that our different life experiences and perspectives limits and excludes. It is thus not our aim to collapse categories of sexual pleasure but to be attentive to the convergences and collisions so readily apparent in public discussions of sexual pleasure in many different geographies. We do so in the hope of moving into what Gayle Rubin calls a space of "benign sexual variation" where a radical politics of sexuality can be foregrounded within the many shades of grey.
In their sensuous, playful hum, sex toys as objects of exploration sit in this messy space of critique. The mantra of sexual liberation through positivity, empowerment, pleasure, and desire can be naïve―of the need to understand ourselves as sexual subjects in threshold spaces outside of the simplistic dyad of wrongdoing/liberation; of understanding that fully embracing the idea of beauty and freedom in desire behooves us to continue to reckon with the ugly and repugnant. The sometimes hushed buzz of sex toys provides an insightful entry point into the ongoing ways sexual pleasure is stigmatized, policed, invisibilized, and made light of.
How, then, can we reanimate sex toys as objects of sexual desire, pleasure, and well-being free of judgment? How can we give them a better place in public life, off the back shelves and into the central aisles?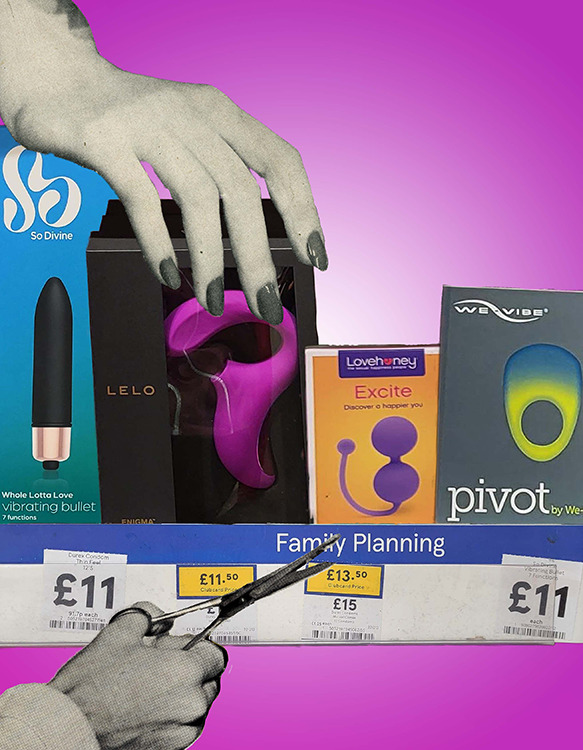 A sex toy show moves online
For her waterproof wand, silver bullets, and toys
Glittery, gliding, silicone joys
All her wants, wills, filled, and thrilled
And no man's tongue will ever hit that spot again
―Imelda May, "Grievous Battery Harm"
A sex educator sits in front of a Christmas tree. Participants roll in, many complaining of the sound quality; the technical team deal with it quickly. A festive spirit abounds, and the sex educator is cheerful and warm. A celebratory sense of the pedagogical, therapeutic, and transformative nature of this show prevails even in its online format.
A workbook accompanies the show. It is a guide, a how to, offering discount codes and links to educational blogs: "What Sex Toy Is Right for Me?," "How to Clean Your Sex Toys," "All about Lube," "Body Safe Sex Toys." The audience is taken through a variety of different toys. Toys for couples, for individual use, toys for the bath, toys that double over as jewelry, toys that look like ice-cream cones, toys that enable long-distance pleasure through Bluetooth, apps, and technology.
Participants are taught how to give a lap dance, told that desire can be fashioned regardless of attire, that its force exists in many different scripts. Two women wearing Xmas pjs demonstrate sexual positions; fun, connection, desire, and humor inhabit the online frame in an instructional but playful manner. Vulnerabilities and anxieties are addressed, peppered with careful guidance. Consensuality foregrounded. The fault lines of private and public sensitively dismantled.
The show ends with an announcement of an in-person event in April 2023: a cornucopia of adventure, of pleasure and well-being, of transformative education. It is also a subtle act of resistance, a making of a space that works against moral panic and conservatism in a healthy, joyful manner and, to use Caroline Schneemann's words, "the firm expectation of great times to be won together."
What's in the toybox?
A necklace, available in silver, rose gold, or gold. Sleek and unpretentious, elegant and slender. A beautiful, wearable sex toy. A piece of jewellery for any occasion. A gentle, discreet hum. What is private and public here? When told, "I love your necklace," a smile: I love it too.
In following what is in essence what Allison Hulme might term an intimate "unfollowable thing," a commodity whose path is changeable and fractured, sex toys reveal to us their joy and playfulness. They show us their own forms of intelligence, as Jennifer Doyle writes of sexuality and art.
Sex toys, of course, are not a new phenomenon (for a thrilling history of the sex toy see Hallie Lieberman's Buzz: A Stimulating History of the Sex Toy). Their use, while age-old, is always innovating, with constant technological advances (sex robots and teledildonics). Phallic batons resembling modern-day dildos are some of the earliest assumed Ice Age sex toys, Lieberman reports. Sex-aid kits and artificial velvet vaginas date from seventeenth-century Japan. Victorian-era vibrators are storied by half-truths and myths; purportedly used to treat "hysteria."
This story of hysteria, vibrators, and orgasms has become firmly intertwined in the popular imagination and has fuelled a broad range of cultural and scholarly productions. Tanya Wexler's film Hysteria, The Technology of Orgasm by Rachel Maines, and The Curious History of Sex by Kate Lister all situate, debate, and contest this long-standing narrative of hysteria with creative flare. It has even inspired the branding and advertising of some lines of sex toys. In an example of clever and playful advertising, the brand JimmyJane produced special edition sex toy gift sets riffing off the need to be cured from hysteria: Prescription 1 for Mild Symptoms and Prescription 2 for Severe Diagnosis. The whole spectrum of so-called hysteria remedied with the click of a button.
The company's playful advertising taps into how sexual well-being is not only medicalized but has grown into an expansive industry in its own right (see for example Netflix's Sex, Love and Goop). The COVID-19 pandemic precipitated a massive increase in sex toy sales, with the brand Lovehoney claiming that they saw "the biggest surge in sex toy demand since Fifty Shades of Grey was published." Yet sexual pleasure is still not widely discussed when it comes to sexual health or personal well-being. The World Health Organization, for instance, refers to sexual well-being in relation to sexual health, a definition that undeniably underlines sexual well-being as freedom from coercion. Sexual well-being, in this case, implies the absence of coercion rather than its positive connotations of achieving sexual pleasure.
Of course, this distinction between sexual pleasure and sexual well-being lies at the core of shaping and distinguishing what counts as acceptable or unacceptable, and this firmly applies to the use, display, and public discussion of sex toys. If one looks at the promotion of sex toys as aids for people with physical disabilities (such as the dildos invented by Gosnell Duncan in the 1960s), the potentially inclusionary space of sex toys is abundantly clear. Yet despite (or because of) their longevity, sex toys have occupied a liminal space in discussions about sexual pleasure as sexual well-being. The recent increase in celebrity advocates (see Gillian Anderson's call for women to send her letters about their sexual fantasies and the highly lauded OMG Yes course prized by Emma Watson as two examples) for women's pleasure and the sex-tech industry's emphasis on pleasure, well-being, and health is changing this in important, incremental ways.
The risk is that sexual pleasure and well-being becomes yet another pawn in larger industries that profit from it, some levelled with accusations of poor labor and environmental politics. A number of controversies have made this relationship between liberation and marketization highly visible, one of which, the story of Orgasm Inc, was explored in a 2022 Netflix documentary. OneTaste, a business venture which aimed to teach its followers the practices of orgasmic meditation (or OM) and slow sex through a method of "stroking" (the use of fingers to reach clitoral orgasm), fell into disrepute after allegations of sexual abuse, manipulation, and assault were made against its founder and the FBI began an investigation of the company's practices.
The commercialization of sexual wellness thus brings about its own inherent contradictions, from the focus on individual pleasure to the ways in which this pleasure is marketized to the abuse of pleasure for the purpose of violence. Yet the existence of such a company shows a clear need or desire for spaces of sexual liberation which emphasize pleasure as therapeutic practice. The blurred lines between sexual consumerism and sexuality, even in its focus on individual or collective pleasure and liberation, can become subsumed to the logic of the market. But as Lynn Comella writes in her history of feminist sex toy shops, such spaces ultimately create "a viable counterpublic sphere for sex-positive entrepreneurship and retail activism," and so their blurriness must be embraced for what they manage to transgress.
Batteries required
An interactive caress, a technologized embrace. A toy designed for male anatomy. Yet little known, pricey, not visible on the shelves of pharmacies. No seat beside the bullet vibrators, cock rings, and pelvic floor massagers that lie neatly aligned under the "sexual health" banner, placed inconspicuously between baby products and pain medication. Advertised as new age, high tech, wifi enabled―this stroking device can connect to immersive VR (virtual reality) headsets. What is private and public here? What is real and what is fantasy? When discussing with a male friend, he stares incredulously, unconvinced by the price tag on this device promising pleasure and well-being.
Sex toys have long been the subject of awe, scandal, liberation, and shame, arousing fascination and amusement. Some popular TV shows in the 1990s (such as Sex and the City) put particular toys on the consumer agenda, leading to mass increases in sales and use. Condoms, lubricants, female products, and sex toys await the customer in the family planning aisles of many large pharmacy chains and supermarkets in the United Kingdom and Ireland. There is no loudness in this placement, no descriptors (the toys are labelled as "chemist goods" on the receipt), no artifice. Yet their presence is undeniably felt. There is a limitation on the types of toys that are present, however. Bullet vibrators are widely available in pharmacies and other outlets in the United Kingdom and Ireland, but internal sex toys seem to remain objects of mystery and secrecy, often only found in sex toy shops. Rabbits, dildos, or larger vibrators are also largely relegated to the realm of sex shops. While some sex toys have historically been deemed medical devices, Lieberman reminds us that sex toys sold for masturbation alone have historically been shrouded in shame and stigma, apparently undermining traditional mores and values.
This inherent gendered dimension translates to the discussion, promotion, celebration, and rejection of sex toys. Although sex toys for women are presently widely available (even in the context of highly morally policed societies like Northern Ireland and Ireland), many male sex toys are confined to sex toy shops and cloaked in shame, stigma, and ridicule. This legacy continues to be felt, to some degree or another, in the ways that different kinds of sexual pleasure can be regarded, dismissed, or even maligned, pushed deeply away from public view.
Womanizer
The sales assistant approaches us to see if we would like to purchase something. This colourful store is vast, filled with a broad range of sex toys and clothes. Part of a larger chain of stores, it has featured on Netflix's successful series, How to Build a Sex Room. Sexy, brightly coloured lingerie consumes a large part of this store, scattered here and there alongside erotic costumes. Tables filled with an array of sleek, attractive vibrators, butt plugs, and dildos sit directly in front of the sales desk; made of vibrant pallets and luxe materials―aesthetics galore. To the back of the store, a cornucopia of strap-ons, puppy play masks, adult babygrows, and nappies. Turn a corner to find a BDSM section. Pausing, we stop and examine the sex dolls tucked into the far corner of the store, some now with robotic elements and a hefty price tag. We start to speak with the sales assistant about Lily Allen's collaboration with the brand Womanizer. It leads us into a discussion about what it is like to work in a sex shop.
The sales assistant holds the Lily Allen collab up: a sleek red and silver clitoral vibrator. He asks us to put our finger gently over the toy, air vibrations and suction at different levels of intensity pull us in. As we slowly move our fingers on and off we are told that working in this place is about sexual and mental health, about increasing sex positivity, and about making people feel safe and empowered. We are told that learning how to approach people is key, about how being sensitive to discomfort, shyness, and anxiety about new sexual practices is all part of their everyday role. This sales assistant has many identities: educator, pleasure advocate, sensitive/sensitivity guide, and activist for health and well-being through sexual practice.
We finish by speaking about the importance of collaborations such as the Lily Allen one for breaking taboos and stigmas with her #IMASTURBATE campaign, for creating awareness about the orgasm and masturbation gap, for allowing people to rethink what sexual self-determination should look and feel like. We leave the store and a few blocks later; we see a poster on the window of another sex shop advertising for a sex educator to join their team. These are spaces brimming over with anticipation, joy, and pleasure but also education, affirmation, advocacy, and activism. We need more of such spaces in a world of cascading retractions. Spaces that allow that which is private and that which is public to work in concert.
Only good vibrations
Pleasure is not a fickle part of our everyday, even though it is too often regarded as such. For many of us, it is an essential part of maintaining our well-being and mental health. Sex positivity, playfulness, and joy, in their many different forms, should be more firmly bound up with health and well-being discourses. This is necessary for any discussion on how a more radical sexual politics can emerge.
Whether in their ridicule or celebration, sex toys have become politicized, medicalized, and commercialized, pointing to the interdependence of human (often women's) sexuality and the normalizing, disciplinary gaze of institutions and markets. To move this story beyond is to reanimate ideas of sexual desire and pleasure free of judgement, to strengthen positive sexual imaginaries. Sex toys anchored in innovation, advocacy, education, and pleasure play quite the role in this effort. In their joyful purr, they reveal many things, not least that in this uncertain world, sexual pleasure has its own place in recovery, remedy, and recharge.
Illustrator bio: Collen Pesci is a visual artist, educator, and curator/founder of The Casserole Series.