Article begins
1948–2021
Robert Jurmain, a physical anthropologist and professor emeritus of anthropology at San Jose State University (SJSU), passed away peacefully at 10:02 p.m. on November 14, 2021. He was 73 years old and predeceased in 2018 by his loving and spirited wife, physical anthropologist Lynn Kilgore.
Robert studied hominin ancestors, and related nonhuman primates, from an evolutionary perspective as an undergraduate at the University of California, Los Angeles, which led him to pursue a PhD in Biological Anthropology from Harvard University. He joined the SJSU faculty in 1975 until his retirement in 2004. His research was on degenerative disease, focusing on osteoarthritis. He was a productive scholar, authoring numerous journal articles and a well-received monograph, Stories from the Skeleton: Behavioral Reconstruction in Human Osteology (1999).
But it was his students at SJSU who inspired him to make a difference. In 1979, frustrated with the lack of teaching materials available for his students, Robert coauthored his first Introduction to Physical Anthropology textbook with Harry Nelson. It became a leading textbook in the field with 15 editions, the last printing in 2018. Robert also wrote two other textbooks: an abbreviated Essentials of Physical Anthropology for the community college market and Understanding Humans: An Introduction to Physical Anthropology and Archaeology. These textbooks, coauthored by Lynn and other scholars, were widely used for 40 years and had an enormous impact on generations of students and scholars. It was his desire to impart the latest information to his students that engendered in him a passionate curiosity to unravel the mysteries of the world.
Robert maintained an active teaching lab at SJSU where he trained his students in forensic anthropology. Committed to working with descendent communities in the Bay Area, his contracts included identifying remains discovered in the process of laying down roads and other public works projects and working on burial and other excavations sites throughout Santa Clara County and in state and national parks. Clients included CalTrans, the Santa Cruz Archaeological Society, Ohlone Families Consulting Services, California State Department of Parks and Recs, and the US Department of Interior National Park Service. Additionally, he worked with the Office of the Santa Clara County Medical Examiner-Coroner to analyze decomposed and macerated remains.
Outside of work, Robert had an active life with his wife, Lynn. They loved good food and travel, and maintained two residences while he taught at SJSU: a condo in Northern California and a country home in Berthoud, Colorado, where he and Lynn had horses and myriad other animals. In spring 2003, he went to Bath in the United Kingdom on a semester abroad program. Both Lynn and Robert fell in love with the area, and when he retired from SJSU in 2004, he and Lynn purchased a residence there, dividing their time between their home in Berthoud and Bath. Both Robert and Lynn loved animals and were committed to the preservation of biodiversity, wildlife, and their natural environs. They will be sorely missed by their many friends.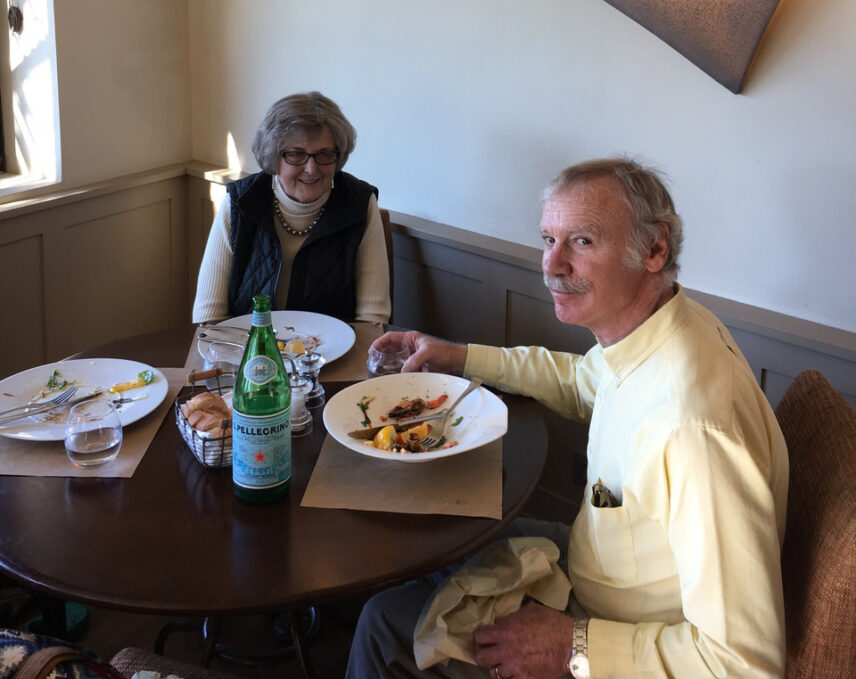 Robert Jurmain enjoying a meal with his wife, Lynn Kilgore, in France.
(Soo-Young Chin)
Cite as: Chin, Soo-Young. 2022. "Robert Jurmain." Anthropology News website, January 25, 2022.