Article begins
From Amann, Jordan, to the marine environments of the Dominican Republic, anthropologists open their field bags to reveal notebooks, recording equipment, reminders of home, and even a speargun. What's in your bag?
William M. Cotter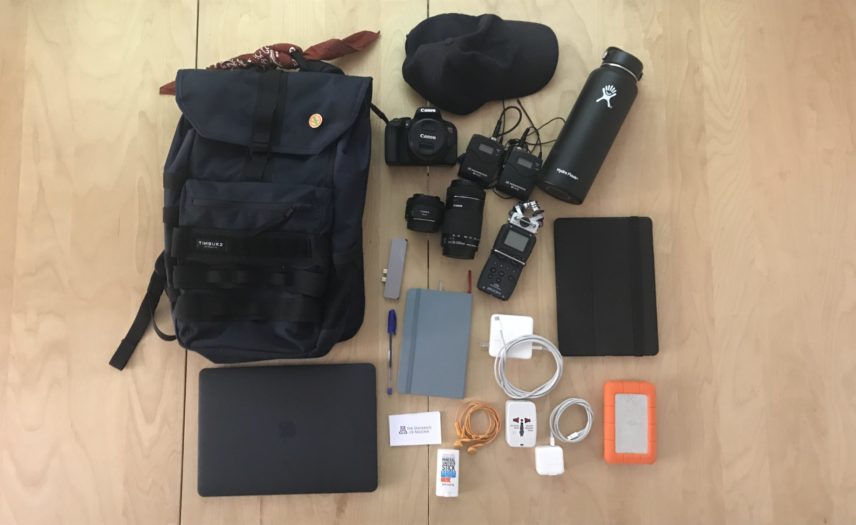 I've been doing fieldwork in Amman throughout 2018 and 2019. My bag is a Timbuk2 Spire backpack that has a cool saguaro cactus pin on it that my partner gave me. That rust-colored bandana matches the bandanas that my partner and puppy have, and it's a wonderful reminder of home.
My regular research equipment consists of a Zoom H5 recorder, Sennheiser wireless unit and microphones, headphones, and a Canon Rebel T7i with 18-55mm, 50mm, and 55-250mm lenses. I also usually have my laptop with me so I can back up notes and data. That means I carry multiple chargers and adapters to keep everything running. I carry my iPad primarily because I play an embarrassing amount of MLB 9Innings19 when I'm waiting for things to happen. Before leaving for Amman, my partner gave me a Moleskine and a flat pen that serve as my go-to for notes and questions to keep me on track during interviews. I've started carrying business cards with me so people can get ahold of me if they have questions about my work. It's also hot here, so I carry a hat and hydroflask. I try to carry sunscreen regularly too. Sunburn stinks.
William M. Cotter is a PhD candidate at the University of Arizona. His dissertation research focuses on language use and economic change in Amman, Jordan.
Kyrstin Mallon Andrews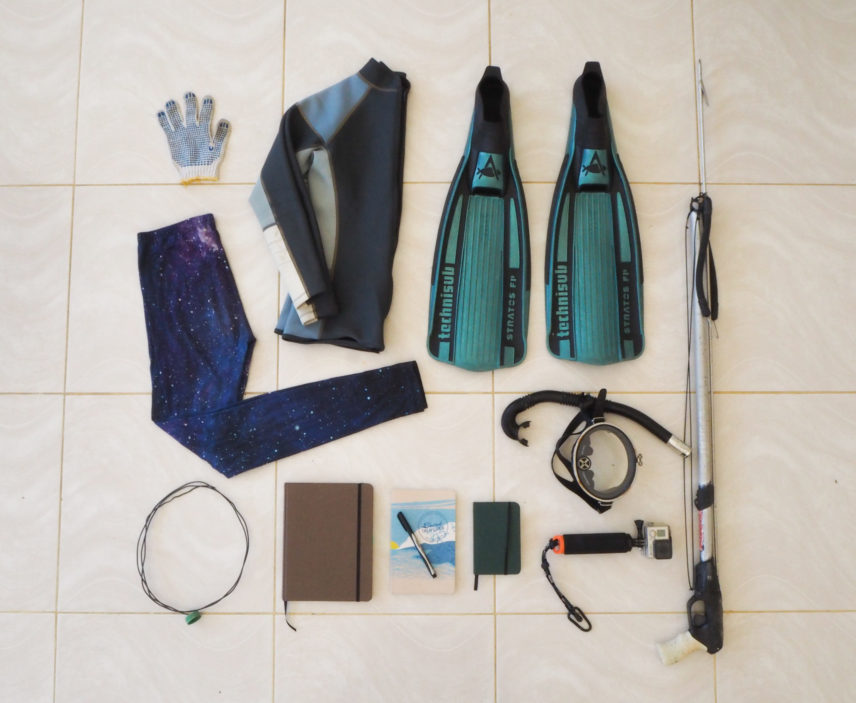 OLYMPUS DIGITAL CAMERA
The hardest part of packing for fieldwork is finding a bag that fits my speargun. One of the spearfishermen I work with gave me an oblong drawstring for the four-foot-long speargun. He also made me the speargun and taught me to fish with it. I came to the field with green Technisub fins that I found for $3 in a California thrift store, and a classic oval mask from another thrift store. Divers prefer these masks for their wide peripheral vision underwater, something that's useful when you're looking for skittish snapper in fire coral. My neoprene jacket keeps me warm on six-hour swims, and the garden glove is crucial for handling spiny lobster. Lycra pants are a trick I learned from fishermen for sun protection, but these galaxy ones also seem to attract barracuda, who have similar star-spangled bodies. A stray piece of metal wire with a bottle cap attached to the end works to string speared fish. I have two Shinola journals, one for longer entries and the other for on-the-go notes, alongside a third journal for creative writing. Finally, the Gopro is how I collect data at sea, since trying to take notes on a lurching skiff is a recipe for seasickness.
Kyrstin Mallon Andrews is a cultural anthropologist of oceans, health, and borders. Her research explores changing marine environments of the Dominican Republic.
Elisha Oliver
My fieldwork takes me to Texas, Oklahoma, and New Mexico. I'm back from fieldwork in rural Northwest Oklahoma where I'm (re)searching former All Black Towns.
I carry two bags. The first is a diaper bag for dads. I pack extra clothes in case I find myself covered in the red dirt that often coats everything at my sites. This bag contains writing supplies for notetaking, map making, and observations. My Surface Tablet, iPad mini, extra computer storage, a small digital camera, voice recorder, and assorted cables are also housed in this cool diaper bag.
My second bag is my utility bag. This Jansport Backpack contains items that make fieldwork in rural locations "easier." I carry water shoes because I often cross bodies of water in search for signs of spaces and places that were important to descendants of the towns I am researching. I carry multipurpose titanium scissors, a flashlight and headlamp, an army knife, a tape measure with level, and a compact screwdriver set so I can cut through thick brush, obtain accurate measurements of spaces at my sites, and peer into dark spaces.
As an anthropologist who values visual ethnography, I also carry my larger Nikon 35mm Camera with an assortment of lenses. Great photos enhance wonderful ethnographies!
Elisha Oliver is a biocultural anthropologist and visual ethnographer. Her research explores the intersections space and place, health, and language in rural and urban communities.
Marielle Risse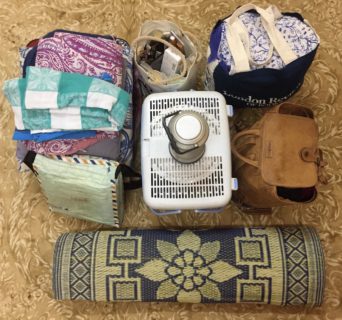 I wish I had only one bag! The plastic box contains picnic supplies including a kettle, tea cups, spoons, knives, matches, aluminum foil, soap, Kleenex, and metal plates. The round bag has food (tea, honey, sugar, salt, nuts, cookies, olive oil, instant coffee) and bug spray. The leather bag holds sunscreen, swim gear, extra clothes, and a first aid kit. The blue and white bag contains headscarves because I cover my hair when I am with the Arab, Muslim men in my research group and shawls for cold nights on the beach or in the mountains. I also keep a stack of blankets and shawls to share with the men. In my car I have a large plastic mat to sit on, firewood in a canvas bag, a battery-powered and a hand-crank lantern. In my purse I carry my wallet, cell-phone, notebook, pens, cough drops (the fires get smoky sometimes), antibiotic cream, Band-Aids, a Swiss army knife, hair ties and chocolate.
Marielle Risse does ethnographic research in southern Oman which means being prepared for cooking, camping, swimming, and fishing with the Dhofari men in her research group.
Cite as: Cotter, William M., Kyrstin Mallon Andrews, Elisha Oliver, and Marielle Risse. 2019. "What's in Your Bag? 2019 Edition." Anthropology News website, July 23, 2019. DOI: 10.1111/AN.1382
Update: Entry from Elisha Oliver added August 9, 2019. Entry from Marielle Risse added October 30, 2019.