Article begins
1927–2019
William Yewdale Adams, anthropologist/archaeologist known primarily for work on ancient Nubia, died August 22, 2019, in Lexington, Kentucky.
Bill Adams was born August 6, 1927, in Los Angeles, California, to William Forbes Adams and Lucy Mary (Wilcox) Adams. At his father's early death in 1935, his mother found employment on the Navajo Reservation; Bill and older brother Ernie moved with her to Window Rock, Arizona, where, as Bill wrote in his autobiography (The Road to Frijoles Canyon), experience of Navajo culture first sparked his interest in anthropology.
Bill entered Stanford at 16 but left in 1945 for a year in the Navy, returning to University of California, Berkeley to complete undergraduate work in anthropology. In 1955, while doing graduate work at University of Arizona, Bill married fellow anthropologist Nettie Kesseler of Tulsa, Oklahoma; they returned together to Shonto, Arizona, where fieldwork included running the trading post and living in a nearby hogan. In 1957, Bill earned his PhD with a dissertation on the role of the trader in the Navajo community.
Bill next worked for the Museum of Northern Arizona, for which he and Nettie—whom Bill said "shared a career"—surveyed the San Juan and Colorado rivers in anticipation of the Glen Canyon dam. Floating downriver on a wooden boat, camping by the water, they scouted sites requiring excavation. In 1959, Bill transferred that experience to Sudan as an aerial photographer for UNESCO, scouting excavation sites in advance of the Aswan High Dam, eventually excavating some of these sites himself. Working on potteries at Meinarti, Kulubnarti, and Faras, he devised a typology for Nubian pottery still used today to date archaeological discoveries in the region.
In 1966 Bill joined the University of Kentucky Department of Anthropology, and the family, by then including sons Ernest and Edward, moved to Lexington. Bill and Nettie continued to work around the world. In 1972 Bill instituted a partnership between UK and the Egypt Exploration Society (London), within which he excavated the town site of Qasr Ibrim periodically for sixteen years.
Bill published the comprehensive history Nubia: Corridor to Africa in 1977; in 2005, Sudan recognized his contribution to knowledge of its culture by awarding Bill its highest civilian honor—the Order of the Two Niles. He wears the medal in the accompanying photo.
Back in Kentucky, Bill was the first faculty member inducted into UK's College of Arts & Sciences Hall of Fame, founded the William Y. Adams Award for Excellence in Teaching by a Graduate Student, and completed 26 books, many of which carry his own technical illustrations. The publications he considered most important (other than those already mentioned) include Ceramic Industries of Medieval Nubia; Archaeological Typology and Practical Reality (with his brother, Berkeley philosopher Ernest W. Adams); Religion and Adaptation; and The Philosophical Roots of Anthropology.
Bill is survived by his wife, Nettie, and his sons, Ernest and Edward. As colleagues have said, "A world without Bill Adams feels like a world without the pyramids, or without Stonehenge—a terrible quiet has opened."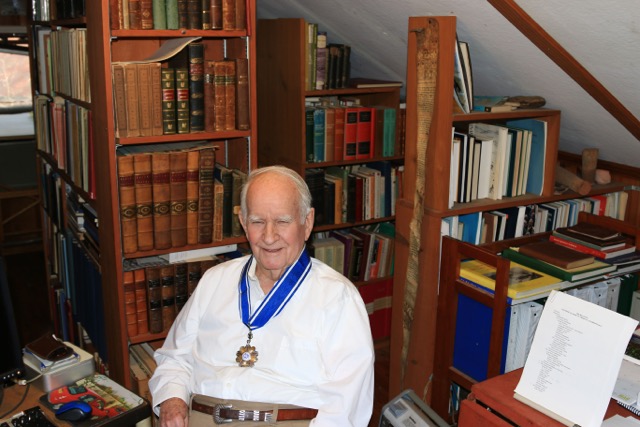 Bill wearing the Order of the Two Niles medals, Sudan's highest civilian honor, awarded to him in 2005.
(Monica Udvardy)
Cite as: Udvardy, Monica. 2021. "William Y. Adams." Anthropology News website, August 6, 2021